Body
Veterans Affairs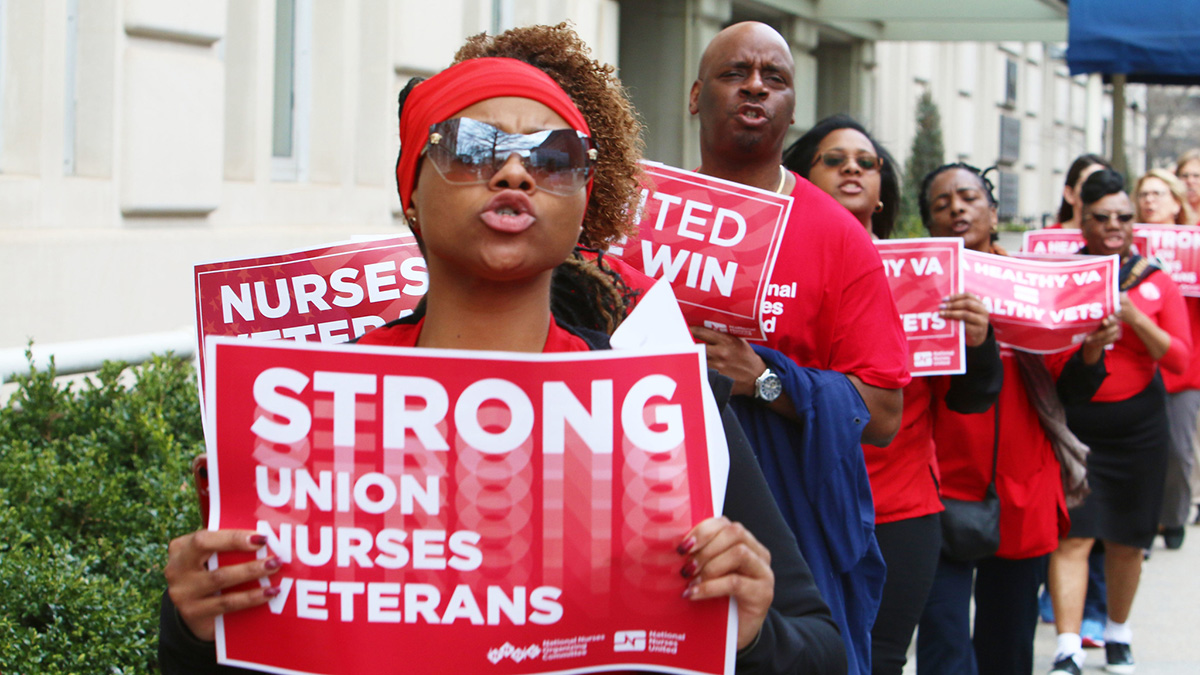 Take Action
The hospital industry is peddling programs to treat acute-care patients in their homes. Add your name to our petition to demand that the health care industry end all "Home All Alone" contracts!
Learn more about Home All Alone programs »
Use our form to contact your representative and ask them to do everything in their power to help nurses advocate for our veterans and their care, including co-sponsoring the VA Employee Fairness Act!
Learn more about the The VA Employee Fairness Act »
---
Additional Content
VA Hospitals by State
Tuscaloosa VAMC #679
3701 Loop Road East
Tuscaloosa,  AL 35404
VA San Diego Healthcare System
3350 La Jolla Village Dr.
San Diego, CA 92161
Denver VAMC # 554
Eastern Colorado Healthcare System
1055 Clermont St.
Denver, CO  80220
Lake City VAMC #573
NF/SGVHS
619 S. Marion Ave.
Lake City, FL  32025
Miami VAMC #546
1201 NW 16th St.
Miami, FL  33125
Tampa VAMC #673
J.A. Haley VA
13000 Bruce B. Downs Blvd
Tampa, FL 33612
Atlanta VAMC #508
1670 Clairmont Rd
Decatur, GA  30033
Charlie Norwood VAMC Augusta #509
#1 Freedom Way
Augusta, GA  30904
Edward Hines, Jr. VAMC #578
5000 S. 5th Ave.
Hines, IL 60141
James A Lovell #556
Federal Healthcare Facility
3001 Green Bay RD.
North Chicago, IL 60064
Jessie Brown VAMC #537
820 South Damon Ave
Chicago, IL  60612
Des Moines VA #636 A6
Central Iowa
Health Care System
3600 30th St.
Des Moines IA 50130
Lexington VAMC #596
1101 Veterans Dr.
Lexington, KY 40502
Durham VAMC #558
508 Fulton St.
Durham, NC 27705 Bronx VAMC #526

Bronx VAMC # 526
James J, Peters VA
130 West Kingsbridge Rd.
Bronx, NY 10468
VA Western Healthcare System at Buffalo #528
3495 Bailey Ave.
Buffalo, NY 14215
Samuel S. Stratton #528A8
VA HCS Upstate At Albany
113 Holland Ave.
Albany, NY 12208
VA NY Harbor HCS #630
Manhattan Campus
423 E. 23rd St. NY
Manhattan, NY 10010
NY Harbor Healthcare System #630A
Brooklyn Campus
800 Poly Place
Brooklyn, NY 11209
Cincinnati VAMC #539
3200 Vine St.
Cincinnati, OH  45220
Dayton VAMC #552
4100 W. Third St.
Dayton, OH  45428
Washington DC VAMC #688
50 Irving St NW
Washington, D.C. 20422
Martinsburg VAMC #613
510 Butler Ave
Martinsburg, WV 25405