Body
Safe RN-to-Patient Staffing Ratios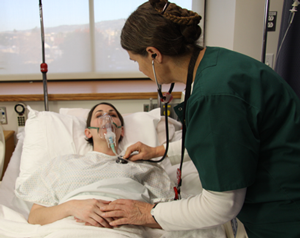 Numerous studies have shown that staffing ratios save patients' lives—and are crucial to preventing RN injuries, workplace violence, and infectious diseases. For 13 years, the California Nurses Association fought for safe nurse-to-patient ratios, eventually winning first-in-the-nation legislation. Find out how RNs nationwide are now actively working with NNU to win these crucial protections. 
Patient Handling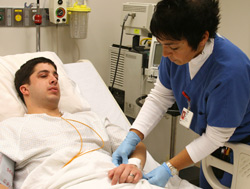 Sprains, strains, and tears, make up 52% of all injuries that result in days away from work for RNs. Unsafe patient handling causes the bulk of these injuries, some of which have ended nurses' careers. The solution? A safe patient handling program that includes appropriate equipment, education, and training. NNU regularly sponsors state and federal legislation, participates in the rulemaking process, and negotiates strong contracts to ensure that RNs are protected. NNU nurses sponsored landmark legislation that was signed into law in 2011 and completed the rule-making process in 2014.
Workplace Violence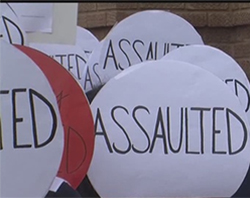 From verbal threats and being kicked, or bitten—to experiencing life-threatening or fatal injuries—nurses are no strangers to workplace violence. And it only seems to be getting worse. In 2014, NNU nurses in California won landmark legislation requiring all hospitals to have a workplace violence plan. NNU is also fighting for workplace violence prevention programs on all fronts, including collective bargaining and regulatory and legislative arenas.
Infectious Disease
The Covid-19 pandemic has rapidly spread around the world since the beginning of 2020. Nurses and health care workers are on the frontlines of the pandemic; their protection of of the utmost importance.
This page contains resources on Covid-19 and protecting nurses and other health care workers.
Visit the National Nurses United Covid-19 homepage >>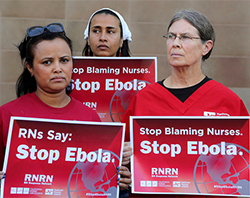 The first person infected with Ebola in the US - nurse Nina Pham - made infectious disease a major news story. And Ebola is just one high-profile example of the infectious diseases to which RNs can be exposed. NNU advocates for nurses to have the education, training, and personal protective equipment they need. Our successes include landmark mandatory Ebola guidelines in California and collective bargaining agreements with strong infectious disease protections.