Legislation
California Legislation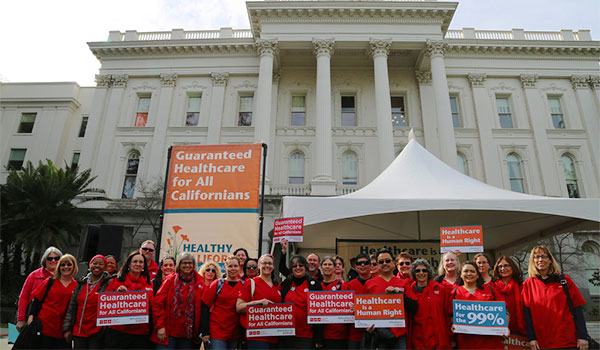 Bills of the 2017 Legislative Session
SB 562 (Lara and Atkins): When enacted, the Healthy California Act will guarantee that every resident of California will receive comprehensive healthcare services. It's like Medicare for All. Individuals will have free choice of licensed health professionals and services. Covered benefits will include services to keep people healthy—mentally and physically—as well as those services that diagnose and treat diseases. In addition to emergency services, surgeries, and hospital stays, services such as home health care, day care and hospice are covered. Vision and dental care are also included. The Healthy California Act has been crafted to provide a single high standard of safe, therapeutic care for all California residents in a manner that is financially sustainable:
A payroll and income premium, which is higher for upper income earners, would replace insurance company premiums, co-pays and deductibles—likely resulting in significant out-of-pocket net savings.
Choose any provider. No more surprise bills. No out-of-pocket costs for covered services.
Eliminates co-pays for Medicare Part B.
Lower prescription drug costs.
Regional planning to reduce overlap and duplication of expensive equipment and facilities.
Provider rates will be negotiated to ensure access, cost control and high-value services.
The advances from the Affordable Care Act will be folded into the new system.
Huge cost-savings from reduced bureaucracy. No more insurance company run-around. No more bill collectors.
Diverse participants including ordinary citizens and representatives of labor and business, as well as various health care professionals and health policy experts, will advise and help design the Healthy California program.
AB 402 (Thurmond): The heat-generated (thermal) destruction of human tissue via cutting during therapeutic removal and burning (cauterization) is commonplace in a wide range of medical procedures. When human tissue is destroyed in this way, a smoke byproduct or "plume" is created. The plume can contain toxic gases and vapors such as benzene, hydrogen cyanide, and formaldehyde, biological aerosols (a suspension of living bacteria, viral particles or fungal spores), and viruses and blood fragments containing blood borne pathogens, including multi-resistant strains. Surgical plume is also known to contain mutagenic (cancer producing) particles. One study equated the mutagenic condensate generated from one gram of tissue to three cigarettes from lasers and six cigarettes for electrocautery smoke. At high concentrations, plume is also known to cause ocular and upper respiratory tract irritation in health care personnel. Warnings that healthcare providers face a risk of occupational transmission during laser removal of warts because of exposure to smoke containing viral particles of the easily transmissible papilloma virus (warts) has been known for a very long time. AB 402(Thurmond) is needed because it will direct CalOSHA to develop the appropriate standard to evacuate harmful surgical plume smoke. The legislation will prove to be a benefit to both health care personnel and their patients.
---
Bills of the 2016 Legislative Session
SB 1076 (Hernandez):  More and more, hospitals are placing patients who cannot be safely discharged to their homes in "observation units" as an alternative to hospital admission. In these settings, patients are sometimes placed in this setting for prolonged periods of time. Many patients are not aware that they are in observation, leaving them to believe they are admitted as inpatients. This is especially concerning for patients who may need to be discharged to a long-term care facility, as Medicare requires patients to be admitted as inpatients for three days before coverage for long-term care will kick in. However, time spent in observation does not count, as observation services are outpatient services. SB 1076 (Hernandez) would requires observation services to meet the same staffing standards, including licensed nurse-to-patient ratios, as emergency rooms, requires hospitals to provide notice to patients that observation services are "outpatient" services and third-party reimbursement may be impacted and last, requires hospitals to report observation services to the Office of Statewide Health Planning and Development.
---
Celebrate 15 Years of California's Nurse-to-Patient Ratios!
Nurses fought long and hard for nurse-to-patient ratios because nurses care for their patients. Listen as RNs who were directly involved in the struggle for ratios talk about the fight, and the excitement of winning one of the landmark patient gains in the country…and the ONLY patient ratios law in the United States.
Governor Gray Davis signed ratios into law in California in 1999. They were finally implemented in 2004 after a long fight to win safe staffing and quality patient care. Nurses even took on Gov. Schwarzenegger and won. Their story of persistence in the face of adversity is one of the great political tales of our time.
Find out more about CNA/NNOC/NNU's National Campaign for Safe RN-to-Patient Staffing Ratios.
---
Please also see:
California / CNA Endorsements (Supported Candidates and Measures)
NNU Legislation (Supported Bills)
NNU Federal Candidate Endorsements
NNOC State and City Endorsements (Supported Candidates)