Supported California Legislation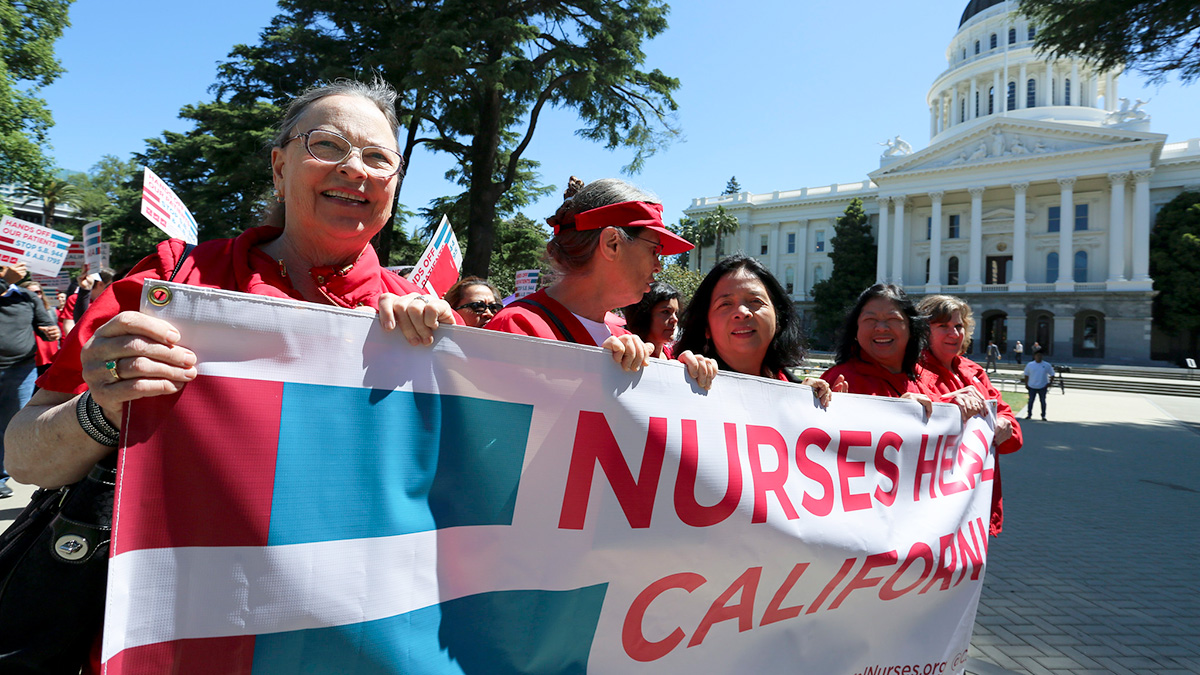 California Nurses Association is committed to building a broad movement for transformative social change and confronting the powerful interests that dominate our economic and political system. We are proud to support legislation that reflects nurses' values of caring, compassion, and community. Learn more about all our current supported California legislation.
---
A significant portion of patients with behavioral health care needs — including mental health and substance use considerations — enter California hospitals each year. In 2020, patients with behavioral health diagnoses represented one third of all inpatient hospitalizations and one fifth of all emergency department visits.
California must create hospital standards to ensure that hospitals have appropriate staff available and trained to respond to patients who may experience behavioral health emergencies. Additionally, California can create hospital standards to ensure timely treatment, admissions, and transfers of emergency department or observation unit patients with behavioral health needs. The state can also establish a fund to support state or county programs to hire and train psychiatric nurses or other psychiatric health care professionals who can respond to behavioral health emergencies within a hospital. Dedicating appropriately trained and licensed hospital staff to respond to behavioral health emergencies would help address the immediate care needs of hospital patients with behavioral health needs and would help address rising rates of workplace violence in emergency departments.
---
Surgical smoke generated during medical procedures contains toxic chemicals, gases, vapors, and particulates in addition to infectious particles and possibly even malignant and viable cancer cells. Surgical smoke can cause respiratory irritation, asthma exacerbation, infectious disease exposure, and other issues for health care workers. It also poses a threat to patients who may breathe in or be exposed to the toxic chemicals in surgical plume.
This bill would direct the Occupational Safety and Health Standards Board to adopt, within a certain time frame, an occupational safety and health standard mandating the removal of potentially dangerous surgical smoke generated during a variety of therapeutic procedures in acute-care setting.
This legislation requires regulations mandating the use of plume scavenging systems that capture and neutralize smoke at the site of origin sufficient to prevent ocular or respiratory contact.
---
For a few select professions, some workers do not have to prove that certain diseases and injuries were a result of their employment when they first file a workers' compensation claim: these are called workers' compensation presumptions. But, historically, these presumptions have not extended to nurses.
Workers' compensation presumptions should be available for all frontline professions, including nurses.
This bill would modernize outdated California laws by making it easier for registered nurses to access the workers' compensation system, just like the law currently protects other frontline health care workers like EMTs, paramedics, firefighters, and police officers; all of which are male-dominated fields. This would ensure all frontline health care workers have access to the same workers' compensation presumptions, and be a vital step in achieving economic and gender equality.
---
Today's U.S. health care system is a complex, fragmented multi-payer system that still leaves wide gaps of coverage and poses significant issues of affordability.
The California Guaranteed Health Care for All Act sets in motion a single-payer health care coverage system in California, called CalCare, for all residents, regardless of citizenship status. By streamlining payments and lowering per-capita health care spending, CalCare guarantees quality health care and long-term care without creating barriers to care or out-of-pocket costs.
---