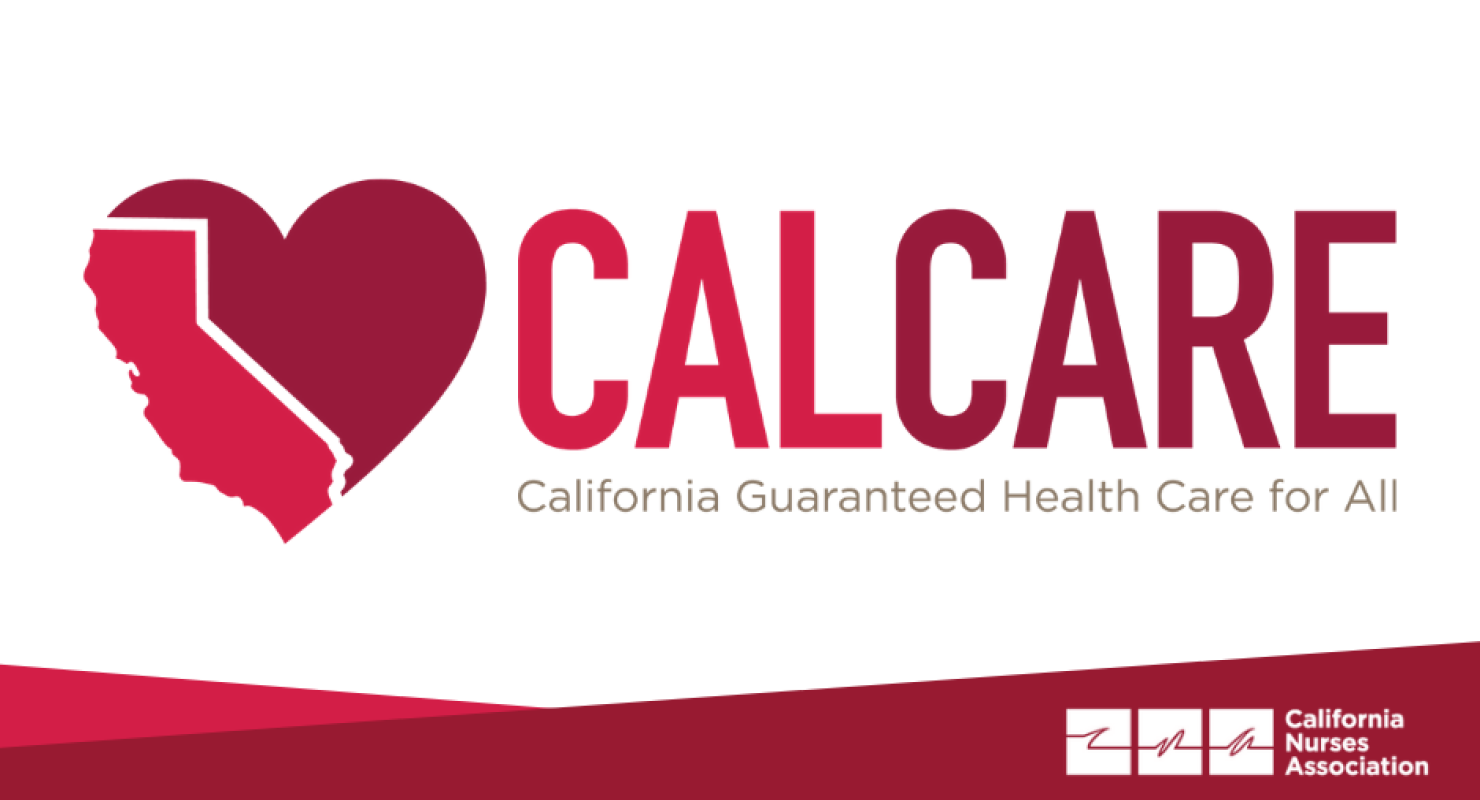 CA A.B. 1690 sets in motion a single-payer health care coverage system in California, called CalCare, for all residents, regardless of citizenship status. By streamlining payments and lowering per-capita health care spending, CalCare guarantees quality health care and long-term care without creating barriers to care or out-of-pocket costs. Read out fact sheet to learn more »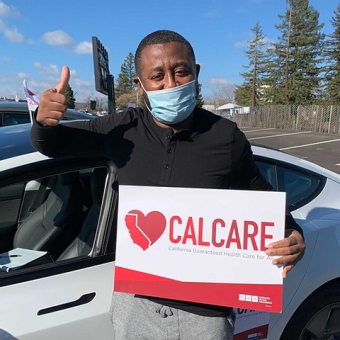 Join us in calling on the California legislature, all elected officials, and all political candidates to commit to fighting for the passage of single-payer guaranteed health care in California.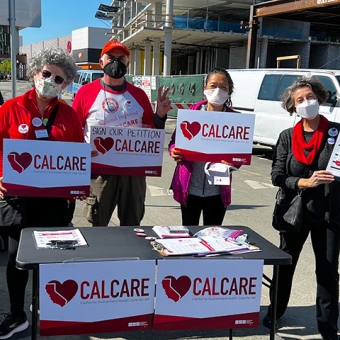 The California Nurses Association is looking for committed CalCare supporters all across the state to organize in their Assembly district. CalCare District Leaders will work closely with CNA staff and other volunteers on getting their legislators to actively support CalCare.
Resources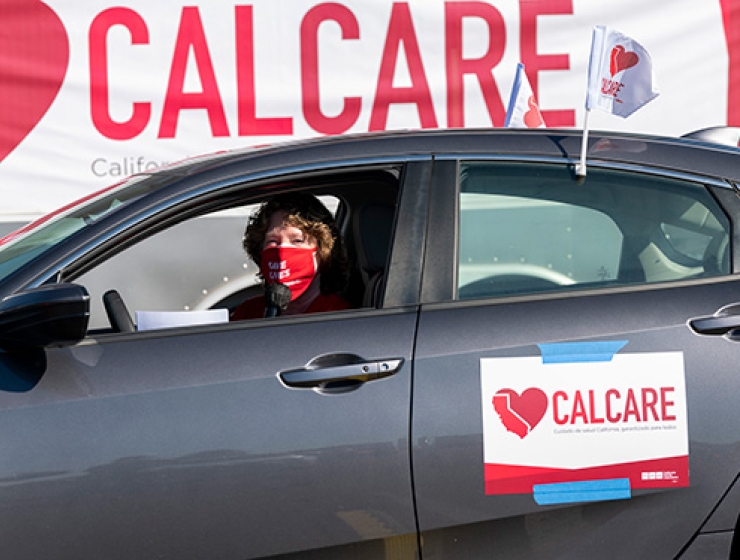 CalCare is the solution to our broken health care system. It will guarantee health care as a human right in the state of California by providing comprehensive, high quality health care to all, just like Medicare for All would do nationally.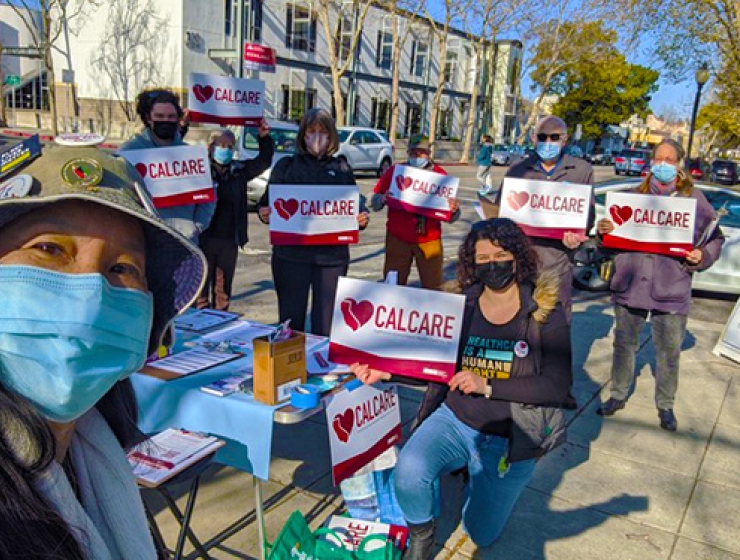 Building support in the labor movement is essential to getting CalCare passed. Learn more about why and how labor unions should support CalCare, and how it would affect existing health care plans.
Use our talking points on why CalCare is needed and how it would work.
We're asking elected officials and candidates to sign our pledge to do everything in their power to fight for the passage of single-payer guaranteed health care in California.
To capture federal health care dollars in a state single-payer system, states can obtain waivers for administering health care programs paid for with federal funding.
Blog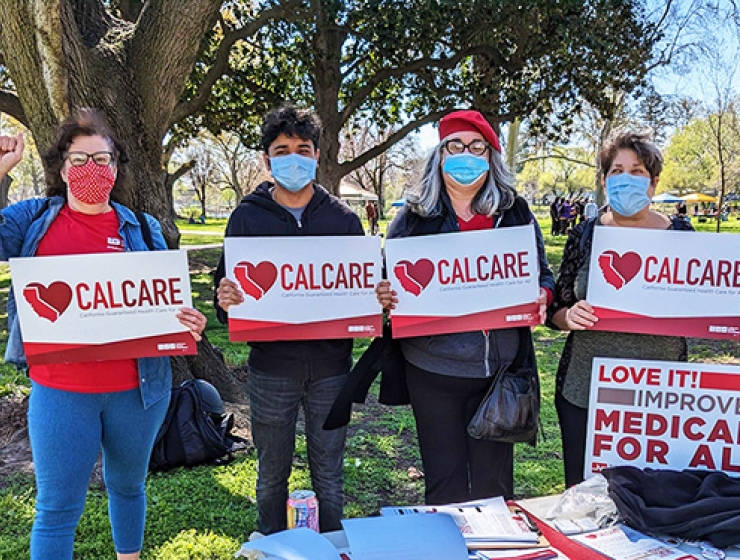 Nurses know that passing legislation to create CalCare is of life-and-death urgency and the most critical step towards guaranteeing health care for all Californians. That's why we don't support the approach proposed in SB 770, which would put the bureaucratic cart before the health care horse.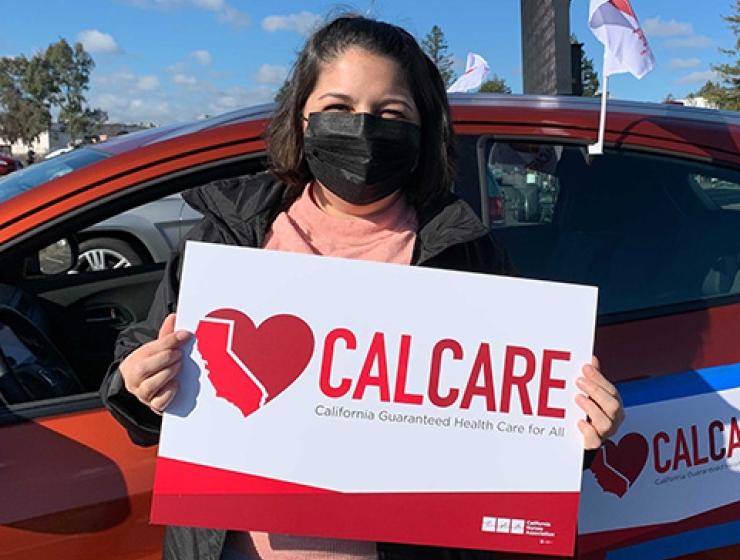 The California Nurses Association is dedicated to extending that care to everyone, and that's why we continue to work tirelessly to build a just health care system that is there for everyone when they need it. We are doubling down on our long-held commitment to fight for and win CalCare.
Read our blog post by California Nurses Association lead regulatory policy specialist and Healthy California for All Commission member Carmen Comsti to learn how the Commission did not fulfill its stated goal when the final report was delivered in April, 2022.
Read our blog post on what happened with AB 1400 and how we move forward together as a movement.

Sign up to join our movement of thousands of activists, volunteers, and supporters who are fighting for a single-payer health care system that prioritizes patients over profits.
The CalCare campaign is endorsed by:
ACLU California Action
AIM Associates
American Progressive Alliance
API for CalCare (Asian/Pacific Islanders for CalCare)
AWARE-LA/WP4BL
Bay Area for Bernie
Be A Hero
Berkeley Federation of Teachers
Black Lives Matter CA
Bonita Democratic Council
California Alliance of Retired Americans
California Nurses for Environmental Health and Justice
California OneCare/HEAL California
California Progressive Alliance
Caring Across Generations
Central Sierra Foothills DSA
Chinese Progressive Association
Contemporary Art League
Culver City Democratic Club
Democrats of Hemet-San Jacinto
DSA Long Beach
DSA San Diego
DSA San Luis Obispo
DSA Stanislaus
East Bay Echo
East Valley Indivisibles
Educators for Single-Payer
Federation of Retired Union Workers
Feel the Bern - San Fernando Valley Democratic Club
Feel the Bern Democratic Club, Los Angeles County
Green Party of Santa Clara County
Harriet Tubman Center for Social Justice
Health Care for All - CA Nevada County Chapter
Health Care for US
Hollywood4CalCare
Human Agenda
Humboldt Progressive Democrats
IATSE Local 611
IE Votes
Indivisible Californiate StateStrong
Indivisible Sacramento
Indivisible San Jose
Indivisible Westside Los Angeles
Inland Equity Community Land Trust
Inland Mendocino Democratic Club
Katharine Gale Consulting
La Defensa
LA Harm Reduction Network
Long Beach Gray Panthers
National Association of Social Workers (NASW) California Chapter
National Network of Healthcare Hygienists
NorCal Resist
One Payer States
Or Shalom Jewish Community
Our Revolution-Feel the Bern, Los Angeles County
Peace & Social Justice Committee, UU Congregation of Santa Monica
Peninsula DSA
Placer People of Faith Together
PNHP California"
PNHP Santa Barbara
PNHP South Bay Chapter
Progressive Asian Network for Action (PANA)
Progressive Victory
Rising Communities (formerly Community Health Councils)
Safer Together
San Diego and Imperial Counties Labor Council
San Francisco Senior and Disability Action
San Gabriel Valley Progressives
Santa Barbara DSA
Santa Clara County Single Payer Health Care Coalition
Santa Cruz for Bernie
Santa Monica-Malibu Classroom Teachers Association
San Mateo Labor Council
Santa Monica Democratic Club
Southern Alameda County Progressive Democrats
Topanga Peace Alliance
UAW Region 6
United Democrats of Southern Solano County
United Steelworkers Local 675
Wellstone Progressive Democrats of Sacramento
White People 4 Black Lives
White People 4 Black Lives
Women for Justice
World Interdependence Fund
YES WE CAN Democratic Club - Long Beach