Workplace stress is a serious concern for nurses, with impactful consequences for individual nurses' health as well as patient care, burnout, and turnover. Usually stress is talked about as an individual problem. Solutions proffered by employers generally focus on self-care and stress relief, "I have to make the situation work", and individual therapy/mental health treatment, "There must be something wrong with me".
Registered nurses are responsible for and accountable to practicing safely, competently, ethically, and compassionately in accordance with their scope of practice. This class will look at how workplace stress can be a barrier to that responsibility. We will look closely at the fundamental sources of physical, mental, and moral stress in nursing — including understaffing and under-resourcing, amongst others. In looking at the bigger picture of workplace stress, we will identify effective solutions to nurses' workplace stress.
Course Objectives : 
Upon completion of this program, participants will be able to:
Articulate root causes of nurses' work-related stress.
Describe how a stressful workplace affects patient outcomes.
Discuss the relation between stress and organizational constraints.
Locations
Kansas City - 8:00 am – 12:00 pm and 5:00 pm – 9:00 pm
May 21, 2019
Hampton Inn & Suites Kansas City Country Club Plaza
4600 Summit Street, Kansas City, MO 64112
El Paso - 10:00 am – 2:00 pm
June 3, 2019
NNOC Office
310 North Mesa Street, Suite 615, El Paso TX 79901
Silver Spring - 5:00 pm – 9:00 pm
June 6, 2019
NNU Headquarters
8455 Colesville Road, Suite 1100, Silver Spring MD 20910
Silver Spring - 10:00 am – 2:00 pm
June 7, 2019
NNU Headquarters
8455 Colesville Road, Suite 1100, Silver Spring MD 20910
Chicago - 10:00 am – 2:00 pm
June 17, 2019
Crowne Plaza Chicago Metro
733 W Madison Street, Chicago IL 60661
Corpus Christi - 10:00 am – 2:00 pm
July 9, 2019
Gulf Coast Office
321 Texan Trail, Suite 230 Corpus Christi, TX 78411
Las Vegas - 8:30 am – 12:30 pm
July 10, 2019
Green Valley Ranch
2300 Paseo Verde Parkway, Henderson NV 89052
New York - 10:00 am – 2:00 pm
July 23, 2019
New York Marriott Marquis
1535 Broadway, New York NY 10036
Fort Lauderdale - 8:00 am – 12:00 pm
July 25, 2019
Four Points by Sheraton Fort Lauderdale Airport/Cruise Port
1800 S Federal Highway, Fort Lauderdale FL 33316
St. Petersburg - 8:00 am – 12:00 pm
July 26, 2019
Hilton St. Petersburg Carillon Park
950 Lake Carillon Drive, St. Petersburg FL 33716
As a nurse, maybe you work in the same community in which you were born and raised. Or, maybe you've traveled to your current facility from another neighborhood, another state, or another region of the world. In all these cases, nurses reflect the communities they care for. As patient populations become increasingly diverse, nurses combine on-the-ground community knowledge with the global perspective that's needed to care for their patients.
This course will examine the role of RNs as global citizens. We will investigate how the nursing profession responds to an international "crisis of care" by pitting the values advocacy and compassion against the exploitative systems their patients face every day. From a historical standpoint, we will explore the ethical challenges and solutions that nurses have faced since the inception of the profession. We will also draw more modern comparisons between RNs and other global caring professions in order to understand how nurses are part of a broader struggle for care, health equity, and justice.
Course Objectives:
Upon completion of this class, participants will be able to:
Identify how global migration patterns shape patient and caregiver communities.
Explain how the nursing profession responds to the needs of a global crisis in care.
Enumerate the social and economic conditions faced by over 19 million nurses across the globe.
Articulate why the public holds trust and faith in nurses and how nurse ethics can continue to foster confidence in the profession.
Describe the connections between RNs and other care professionals who form a global movement for care justice.
COURSE TIME:
All class times 9:00 am – 4:00 pm, additional hour available.
Locations
Santa Rosa
June 4, 2019
Courtyard by Marriott Santa Rosa
175 Railroad Street, Santa Rosa CA 95401
Santa Cruz
June 6, 2019
Hilton Santa Cruz/Scotts Valley
6001 La Madrona Drive, Santa Cruz CA 95060
Burlingame
June 18, 2019
San Francisco Airport Marriott Waterfront
1800 Old Bayshore Highway, Burlingame CA 94010
Sacramento
June 20, 2019
Sheraton Grand Hotel
6001 La Madrona Drive, Santa Cruz CA 95060
Marina del Rey
June 25, 2019
Marina del Rey Marriott
4100 Admiralty Way, Marina del Rey CA 90292
San Diego
June 27, 2019
San Diego Mission Valley
8757 Rio San Diego Drive, San Diego CA 92108
Santa Clara
July 12, 2019
Santa Clara Marriott
2700 Mission College Boulevard, Santa Clara CA 95054
Newark
July 18, 2019
DoubleTree by Hilton Newark-Fremont
39900 Balentine Drive, Newark CA 94560
Granite Bay
July 23, 2019
Granite Bay Golf Club
9600 Golf Club Drive, Granite Bay CA 95746
Oakland
July 26, 2019
California Nurses Association Headquarters
155 Grand Avenue, Suite 100, Oakland CA 94612
Santa Monica
August 6, 2019
DoubleTree Suites by Hilton Santa Monica
1707 Fourth Street, Santa Monica CA 90401
Long Beach
August 8, 2019
Long Beach Marriott
4700 Airport Plaza Drive, Long Beach CA 90815
Garden Grove
September 25, 2019
Anaheim Marriott Suites
12015 Harbor Boulevard, Garden Grove CA 92840
La Jolla
September 27, 2019
Sheraton La Jolla
3299 Holiday Court, La Jolla CA 92037
San Francisco
October 21, 2019
JW Marriott San Francisco Union Square
515 Mason Street, San Francisco CA 94102
A Medicare for All Leadership Development Workshop (4 Contact Hours)
Workshop Times: 9am to 4pm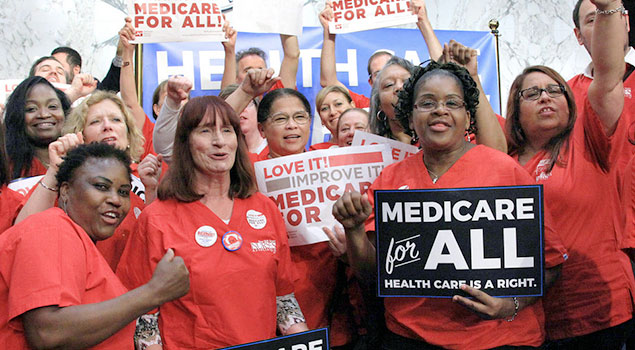 Nurses are on the frontlines of our acute healthcare crisis. They see the impact of our current healthcare system—driven by the private insurance industry, for-profit hospital systems, and big pharma—on their patients every single day. Because nurses work directly with human beings when they are in their most vulnerable, least dignified of states, nurses have a special vantage point into how to fix our broken healthcare system. This workshop develops, deepens, and broadens this vantage point by preparing nurses to (1) connect their experience at the bedside to the dire need for a more humane healthcare system based on the needs of their patients and not on private pain and profit; and (2) expand their patient advocacy beyond the bedside and into the public sphere.
This workshop consists of two parts:
Part I (for CEHs)
In the first part of this workshop, nurses will be introduced to basic tips and tactics for having challenging conversations about health care policy with their neighbors, communities, and in the media. Our emphasis will be on why nurses support the adoption of Medicare for All as a fundamental expression of their patient and community advocacy. Through participatory exercises, nurses will learn easy, practical, and effective ways to respond to difficult questions asked of them concerning Medicare for All: What is it, and is it the same thing as single payer? Why do we need it? How will it impact nurses? How will we pay for it, and will it really save us money? What will happen to my employer-based health insurance?
Upon completion of this program, participants will be able to:
Clearly connect the RN bedside experience to Medicare for All.
Respond effectively to the most commonly asked questions about Medicare for All.
Employ specific techniques to interview successfully about Medicare for All on television and radio news as well as in print media.
Part II:
During the second part of this workshop, nurses will engage in interactive training exercises to learn specific techniques and strategies for successfully advocating about Medicare for All to their Members of Congress and other legislators.
Upon completion of this program, participants will be able to:  Conduct successful meetings with Members of Congress and their staff, to provide relevant information on Medicare for All policy and support for a single payer system.
Locations
San Diego
March 27, 2019
San Diego Mission Valley
8757 Rio San Diego Dr, San Diego, CA 92108
Silver Spring
May 15, 2019
NNU Silver Spring Office
8455 Colesville Rd, Ste 1100, Silver Spring, MD 20910
Chicago
May 21, 2019
Crowne Plaza Chicago Metro
733 W Madison St, Chicago, IL 60661