Press Release
Registered nurses in Texas and Kansas represented by National Nurses United announce historic one-day strikes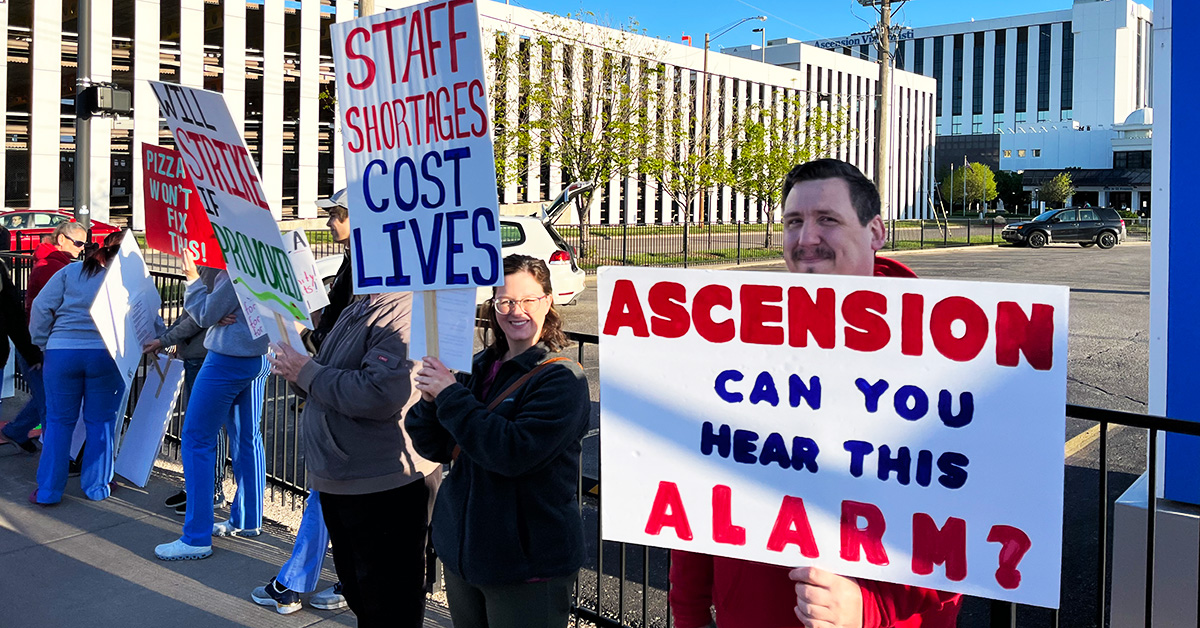 2,000 Ascension nurses will strike June 27 for strong contracts to combat health care giant's unsafe staffing practices
Registered nurses in Texas and Kansas at three Ascension hospitals will participate in historic one-day strikes on Tuesday, June 27 to protest the health care giant's refusal to address its endemic staffing crisis, announced National Nurses Organizing Committee/National Nurses United (NNOC/NNU). During contract negotiations, management has dismissed nurses' solutions for safe staffing protections and nurse recruitment and retention, both critical factors for ensuring patient safety.
In recent weeks, nurses at Ascension via Christi St. Joseph Hospital (Wichita, Kan.), Ascension via Christi St. Francis Hospital (Wichita, Kan.), and Ascension Seton Medical Center (Austin, Texas) have voted to authorize one-day strikes by overwhelming majorities. Nurses always give at least 10 days of advance notice to their hospitals to allow for alternative plans to be made for patient care.
"Ascension management pushed nurses to this position by failing to listen to or implement our solutions to address the staffing crisis," said Monica Gonzalez, a registered nurse in the neurology unit at Ascension Seton Medical Center in Austin, where nurses have been in negotiations for seven months. "Ascension management has the power to settle a strong contract now, if they are serious about staffing up and improving nurses' ability to provide safe patient care. "
In the past year, these 2,000 Ascension nurses have made history, creating some of the largest private-sector nurse unions in states with laws hostile to worker organizing. Driving the surge of unionization at Ascension is a systematic failure of the hospital system to invest its resources – including the tens of millions of dollars it does not pay in federal taxes, due to its nonprofit status – back into its communities and workforce.
"Ascension nurses are fighting for our patients and the sustainability of our profession," said Marvin Ruckle, a registered nurse in the neonatal intensive care unit at Ascension Via Christi St. Joseph Hospital in Wichita. "Our commitment to winning strong contracts is unbreakable, like our bond to our patients. Executives can't get away with empty promises while rejecting our commonsense solutions to improve staffing and patient care. Just as the nurse-patient relationship is important for healing, strong contracts are the best way for us to solve our staffing crisis for the sake of our patients' health and well-being."
Chronic short-staffing imposed by Ascension hospital management – a practice that began well before the Covid-19 pandemic to boost profits and executive compensation – makes it challenging for nurses to provide the highest quality of care to their patients because it drastically limits how much time a nurse can spend on each patient. Short-staffing also creates a revolving door of nursing staff, who suffer moral injury and distress because they can't provide the care they know results in the best patient outcomes.
"Union nurses across Ascension stand united for our patients and against management's profiteering," Lisa Watson, a registered nurse in the medical intensive care unit at Ascension via Christi St. Francis Hospital in Wichita. "It's disrespectful to be asked to take care of more patients with fewer resources. These conditions have everything to do with management's decision-making and nothing to do with the excuse of the so-called 'nursing shortage' that's actually a staffing crisis they created."
The latest data from the Bureau of Labor Statistics and the National Council of State Boards of Nursing shows that there are more than a million registered nurses with active licenses who are choosing not to work at the bedside. More information and data debunking the nurse "shortage" myth can be found here.
ASCENSION PRACTICES UNDER GROWING NATIONAL SCRUTINY
The conditions driving Austin and Wichita nurses to take unprecedented collective action at their hospitals are part of a broader pattern of Ascension negligence and greed, which has garnered the scrutiny of local and national news media and federal regulators, including:
"As a self-professed 'ministry' that claims a commitment to 'holistic care' that 'sustains and improves the health of individuals and communities', safe staffing is foundational to Ascension's moral and legal obligations," said Zenei Triunfo-Cortez, RN, and a president of NNU. "Nurses have every right to demand and strike for contracts that meet Ascension's own standards." 
Ascension is the second-largest and wealthiest nonprofit and Catholic health system in the country. In fiscal year 2021, Ascension reported a net income of more than $6.4 billion, and the system's CEO took home a compensation package worth more than $13 million. Additionally, according to a 2022 Securities and Exchange Commission filing, Ascension runs an investment company that manages more than $41 billion.
BACKGROUND ON NNOC/NNU AT ASCENSION
Ascension Seton Medical Center in Austin:
900 nurses represented
Sept. 21, 2022 - formed the largest private-sector nurse union in Texas by voting to join NNOC/NNU
Nov. 17, 2022 - held a rally to mark the start of their contract negotiations
April 6, 2023 - held an informational picket to call attention to retention crisis
June 1, 2023 - voted to authorize strike by 98 percent
Ascension via Christi St. Francis Hospital in Wichita:
650 nurses represented
November 10, 2022 - formed the first private-sector union in Wichita in the city's largest hospital by voting to join NNOC/NNU
February 13, 2023 - held a rally to mark the start of their contract negotiations
May 31, 2023 - voted to authorize strike by 93 percent
Ascension via Christi St. Joseph Hospital in Wichita:
300 nurses represented
March 9, 2023 - voted to join NNOC/NNU, making them the second Ascension-owned hospital in Wichita to create a nurses union
May 22, 2023 - held a rally to mark the start of their contract negotiations
June 13, 2023 - voted to authorize strike by 90 percent
---