Press Release
Nurses at Ascension Via Christi St. Joseph Hospital in Wichita, Kansas vote overwhelmingly to join nation's largest RN union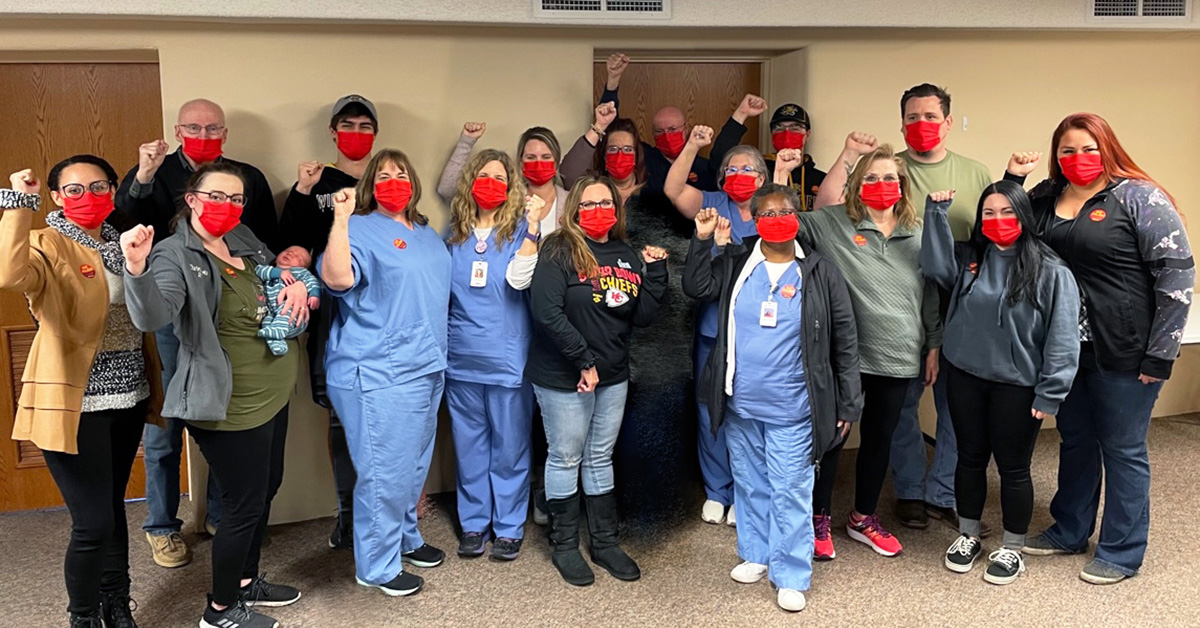 "We are thrilled to join the movement for the high-quality care our patients need, and our communities deserve!"
Registered nurses at Ascension Via Christi St. Joseph Hospital in Wichita, Kan. voted by 62 percent, 179 to 108, to join National Nurses Organizing Committee (NNOC), an affiliate of National Nurses United (NNU), the nation's largest and fastest-growing RN union. The secret ballot election was conducted by the National Labor Relations Board on March 8.
The nurses' vote at St. Joseph is the second hospital in Wichita to join NNOC/NNU in just four months. In November 2022, registered nurses voted to unionize at Ascension Via Christi St. Francis Hospital, the largest, and first private-sector hospital in Wichita to become unionized by registered nurses. Ascension Via Christi St. Joseph is also the third Ascension health hospital nationwide to join NNOC/NNU in six months after nurses at Ascension Seton Medical Center in Austin, Texas became the first Ascension hospital to vote to join NNOC/NNU.
"We celebrated March 8, International Working Women's Day, in the best way possible, by voting to become members of the largest nurses union in the country," said Whitney Steinike, RN in the adolescent psych unit at St. Joseph. "We are thrilled to join the movement for the high-quality care our patients need, and our communities deserve!"
The union will represent more than 350 RNs at the hospital, which is owned by Ascension, one of the largest not-for-profit and Catholic hospital chains in the nation, with 143 hospitals and other health care facilities in 19 states.
"On behalf of our 225,000 members, I am very pleased to welcome St. Joseph nurses to NNOC/NNU," said NNU President Deborah Burger, RN. "Your determination inspires us, and we look forward to working with you to achieve better conditions for nurses and patients at St. Joseph and across the country."
Nurses at St. Joseph pursued union affiliation to strengthen their capacity to advocate for much-needed change at the hospital and improve the recruitment and retention of RNs. The vote took place against a backdrop of growing national concern about the willingness of RNs to work under morally distressing and injurious conditions.
"This vote is a victory for our patients and the entire Wichita community," said Marvin Ruckle, an RN in the neonatal ICU. "As nurses, we want to provide our patients with optimal care, and union membership will support us as we fight for the resources we need to do that, including a contract that ensures safer staffing, workplace violence prevention, and local nurse retention."
Next, the nurses will elect a team to represent them in negotiations for a first contract with Ascension. To prepare for negotiations, they will survey the RNs about the key issues over which to bargain.
---
National Nurses Organizing Committee is an affiliate of National Nurses United, the largest and fastest-growing union and professional association of registered nurses in the United States with nearly 225,000 members nationwide.