Press Release
Nurses at Ascension Seton Medical Center in Austin to hold informational picket to demand safe staffing and quality patient care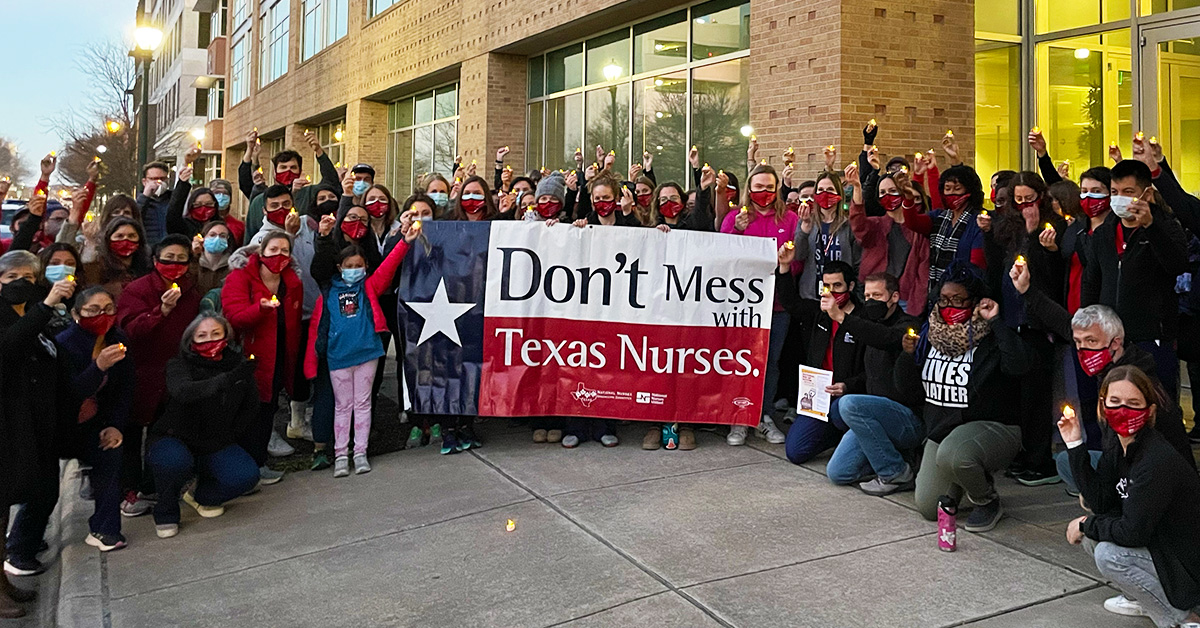 RNs say lack of retention jeopardizes patient care
Nurses at Ascension Seton Medical Center in Austin, Texas (ASMCA) will hold an informational picket on Thursday, April 6 to protest the administration's refusal to address RNs' deep concerns about patient care and safe staffing, announced National Nurses Organizing Committee/National Nurses United (NNOC/NNU) today.
"The care and well-being of our patients is the most important goal as we negotiate our first contract," said Lara Kettler, a registered nurse in the ICU. "We know that for our patients to get optimal care we need safe staffing with strong teams of nurses who can advocate without fear of reprisal for their patients. Ascension management has a moral and ethical responsibility and duty to put the needs of patients over their desire for profits."
Who:

Registered nurses at Ascension Seton Medical Center in Austin   

What:

Informational picket for patient safety and a fair contract

When:

Thursday, April 6, 7:30 a.m. to 9:30 a.m.

Where:

Ascension Seton Medical Center Austin, 1201 W. 38th St. Austin, Texas
ASMCA is owned by Ascension, one of the largest nonprofit Catholic health systems in the country. Ascension's mission statement says its stated goal is to provide "holistic care which sustains and improves the health of individuals and communities," yet nurses say they are constantly forced to care for patients without the resources they need, including appropriate nurse and ancillary staffing.
"We come into this profession to care for our patients holistically, caring for their mind, body, and spirit," said Monica Gonzalez, a registered nurse in the neuro unit and member of the RN negotiating team. "When we can't do that, we wake up in the middle of the night thinking we have failed, when in fact, the hospital is failing us by failing to live up to its own stated goals. On this Holy Thursday, we are demanding Ascension do better for our patients and better align our hospital to meet Ascension's own stated mission "rooted in the loving ministry of Jesus as healer" to advocate "for a compassionate and just society through our actions and our words."
According to a scathing New York Times investigation, Ascension has $18 billion in cash reserves, but has a long history of boasting about cutting labor costs by refusing to hire medical workers or fill open positions. Earlier this year, Sen. Tammy Baldwin of Wisconsin took Ascension CEO Joseph Impicche to task over numerous media reports of "disruptions to patient care, long wait times in the emergency department, delayed surgeries and staff concerns about patient safety" at Ascension hospitals.
ASCMA nurses report the same problems and disruptions are endemic at their hospital. RNs say chronic short staffing at the hospital, including a lack of ancillary support staff, make it very challenging for nurses to provide the highest quality of care to their patients in a timely fashion. They say the conditions lead to a revolving door of new graduates being hired, receiving their hands on-training at ASMCA and then leaving the hospital and even the bedside due to moral distress.
"We are caring for some of the most vulnerable patients in our community, tiny babies who are struggling to survive," said Sara Rancour, a registered nurse in the neonatal ICU. "No one should be making a profit by cutting the resources these newborns need as they start out in this world."
Sen. Baldwin noted that Ascension appears to be "operating like a private equity fund, Ascension is squeezing staff, closing facilities, and extracting cash from its member hospitals for dubious 'management fees' all to advance its investment activities and provide compensation to its executives."
According to a 2022 Securities and Exchange filing, Ascension runs an investment company that manages more than $41 billion. In 2021, the hospital system's CEO took home a compensation package worth more than $13 million.
"There is no doubt in my mind that Ascension has the deep pockets to do the right thing for our patients and nurses," said Megan Meier, a registered nurse in the ICU. "We know there are nurses who deeply love this community and want to stay at our hospital to provide the highest quality care. They also want the resources they need to give patients the care they deserve."  
ASMCA nurses have been in negotiations since November of last year for their first contract with NNOC/NNU. The nurses voted to form a union in September 2022. ASMCA is now the largest private-sector hospital in Texas to form a union, with more than 900 nurses represented by NNOC/NNU.
NNOC/NNU represents some 3,300 nurses in Texas and 2,000 nurses in three Ascension hospitals in Texas and Kansas. In their contracts, NNOC/NNU nurses in Texas have secured agreements from their hospitals, which mandated stricter enforcement of staffing grids and improved infection control measures, including a provision requiring single-use optimal protection with a suspected or confirmed Covid-19 patient. Other notable Texas wins have included wage increases of up to 19 percent over a three-year period and the creation of committees to promote diversity, equity, and inclusion in hospital recruitment, retention, and promotion.
---
National Nurses Organizing Committee is an affiliate of National Nurses United, the largest and fastest-growing union and professional association of registered nurses in the United States with nearly 225,000 members nationwide.