Press Release
El Paso RNs Ratify New Contract Cite Important Health, Safety, and Economic Gains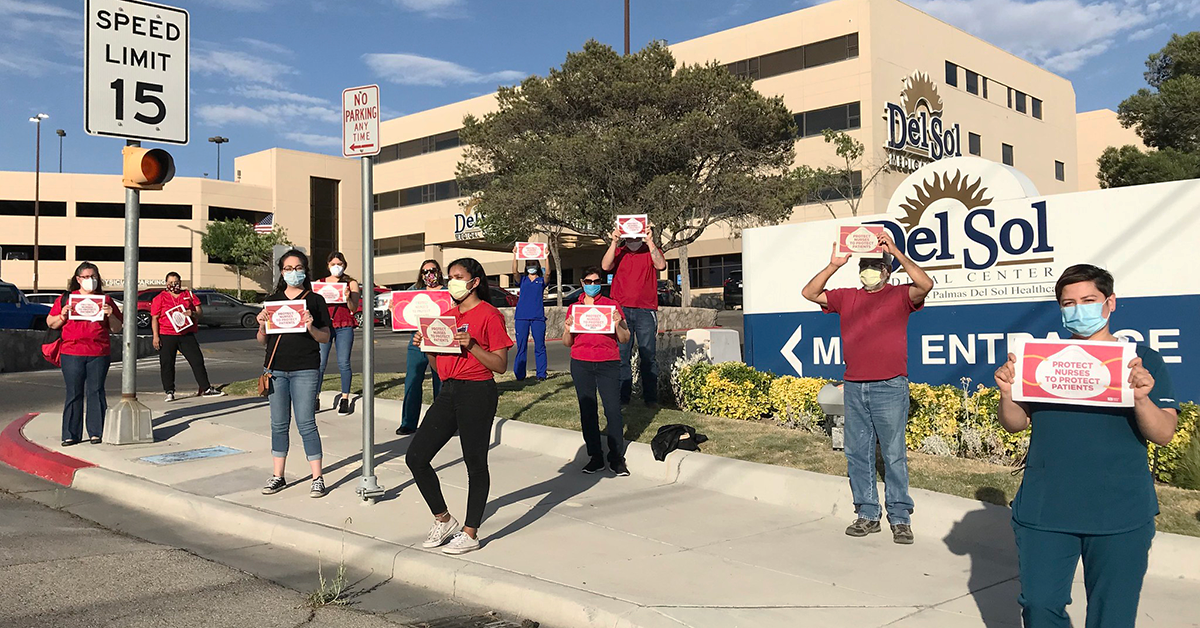 In membership meetings August 1 and August 2, registered nurses at Del Sol Medical Center and Las Palmas Medical Center in El Paso have approved by an overwhelming margin a new collective bargaining contract with HCA, announced National Nurses Organizing Committee-Texas/National Nurses United (NNOC/NNU), today.
The new three-year contract will strengthen Covid-19 safety measures at a time when the virus, via the highly infectious delta variant, is surging again statewide, as well as provide important economic gains for some 320 RNs at Del Sol and more than 330 RNs at Las Palmas represented by NNOC, an affiliate of NNU.
As of Monday, August 2, El Paso County was reporting 1,077 active Covid-19 cases, and 66 people hospitalized with the virus, 27 of them in intensive care. Texas, along with Florida, accounted for one-third of the new cases nationwide, the White House reported yesterday.
"This is a very solid contract that addresses significant health and safety protections for nurses and our patients," said Las Palmas RN Juan Anchondo. "These protections have been a very high priority following the pandemic crisis our nurses and our community have gone through over the past year." 
Under the agreement the hospitals will conduct universal screening of all patients, and nurses will be provided the same level of protection for caring for a suspected Covid-19 patient as for confirmed positive patients. This protection includes access to single-use optimal personal protective equipment (PPE) for every encounter with a suspected or confirmed patient. Both are significant safety precautions to reduce the spread of the virus in the hospital.
In addition, the nurses will have greater ability to negotiate with the hospital on novel infectious diseases, and department managers will be held to greater accountability on concerns raised by the nurses' patient care committee.
All Del Sol and Las Palmas RNs will receive wage increases of up to 19 percent over the life of the agreement, along with increases for nurses working weekend shifts. The contract also limits changes that would increase nurses' costs for health coverage and retirement plans.
Del Sol RN Ariana Lucio praised the economic measures that she said "will provide increased economic security for our members and our families, help us retain our experienced RNs, and prove helpful for recruiting new nurses."
In an especially diverse, multicultural community, the contract creates a new RN committee to promote diversity, equity, and inclusion on race, gender, age, and sexual orientation in hospital recruitment, retention, promotion, and training.
Further, the committee will address issues of structural racism in the nursing profession and barriers to practice, and it will promote a nursing workforce that is reflective of the community. Nurse representatives will also have greater ability to report issues of discrimination and harassment in the workplace.
NNOC/NNU represents 12,000 HCA RNs who are NNU members at 20 HCA hospitals from Florida to California. Overall, NNU represents more than 175,000 RNs from coast to coast.