Press Release
Ascension Seton nurses overwhelmingly vote to authorize strike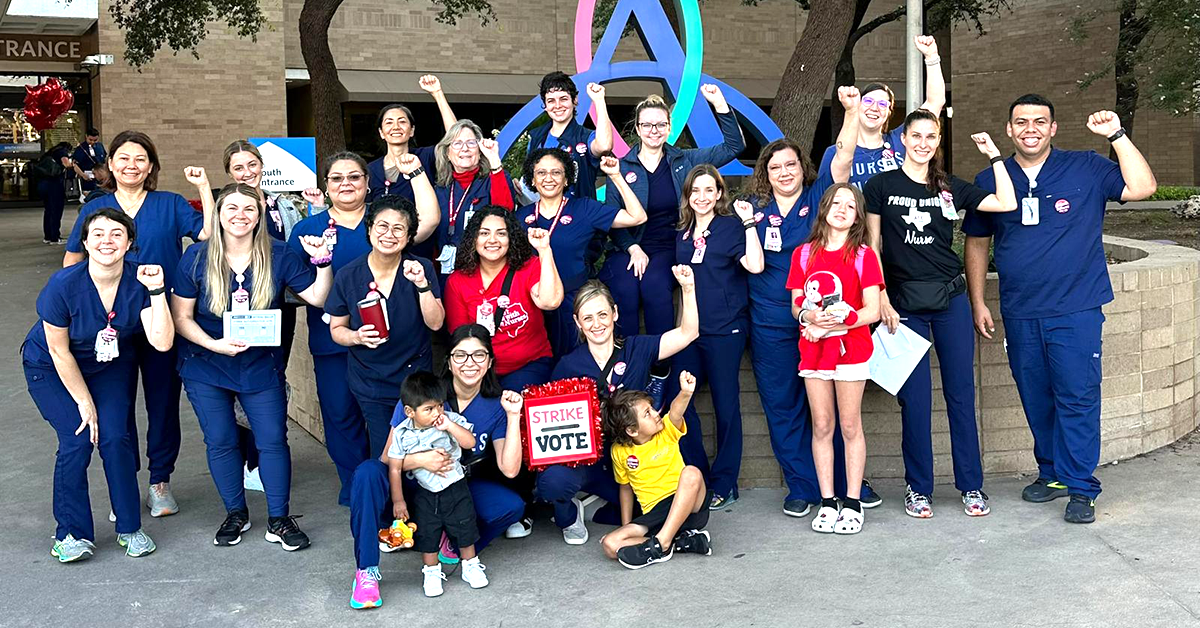 With 98% voting to strike, RNs authorize what would be the largest nurses strike in Texas history
The National Nurses Organizing Committee/National Nurses United (NNOC/NNU), representing 900 registered nurses at Ascension Seton Medical Center Austin (ASMCA), announced today the authorization of a one-day strike. Nurses voted on Wednesday, May 31 and Thursday, June 1, with 98% voting to strike.
"Our patients can't wait any longer," said Lindsay Spinney, a registered nurse in the neonatal intensive care unit, who has been at the bargaining table since the start of negotiations in November 2022. "Nurses are sending a message to management with this overwhelming strike authorization that we are ready to do what it takes to win a strong contract that protects our patients' safety." 
A strike at ASMCA would be the first nurses strike in an acute care setting and the largest nurses strike in Texas history. ASMCA nurses previously made history by forming the state's largest private-sector nurses union in September 2022. If nurses move forward with a strike, they will provide notice at least 10 days in advance.
Fueling the potential strike is ASMCA management's unacceptable and delayed responses to nurses' contract proposals, which would ensure the highest level of patient care in Austin, by improving nurse recruitment and retention so that every unit has safe staffing levels.
"Management's behavior during negotiations has been nothing short of disrespectful, to nurses and the patients we are fighting for," said Monica Gonzalez, a bargaining team member and registered nurse in the neurology unit. Gonzalez has been at the hospital for nearly two decades. "Nurses' proposals are driven by a strong commitment to improving care at the hospital. Our hope was that management would be driven by the same goal. But when they take weeks, if not months, to respond to the solutions we've proposed, based on what we experience and observe on the floor day in and day out, it tells us they are prioritizing profits over patient care."
ASCENSION PUTTING PROFITS OVER PATIENTS
ASMCA is owned by Ascension, one of the largest nonprofit and Catholic health systems in the country, with deep financial resources to address the chronic short-staffing issues plaguing patient care at Austin Medical Center and other hospitals it owns. In Wichita, Kan., nurses at Ascension Via Christi St. Francis hospital authorized a strike earlier this week over similar issues.
"With our contract negotiations and strike authorization vote, Austin nurses are holding Ascension accountable to their own goals," said Matthew Clark, a registered nurse in the intensive care unit, referencing Ascension's mission statement of providing "holistic care which sustains and improves the health of individuals and communities."
Clark continued, "It's morally distressing to work tirelessly for a nonprofit, Catholic system that consistently puts profits over its own patients and staff. We believe it is our duty to exercise our union power to ensure Ascension invests its deep financial resources back into its staff, patients, and the Austin community." 
In fiscal year 2021, Ascension reported a net income of more than $6.4 billion and the system's CEO took home a compensation package worth more than $13 million. According to a scathing New York Times investigation, Ascension has $18 billion in cash reserves and has a long history of boasting about cutting labor costs by refusing to hire medical workers or fill open positions. Additionally, according to a 2022 Securities and Exchange Commission filing, Ascension runs an investment company that manages more than $41 billion.
'REVOLVING DOOR' OF NURSE STAFF AT ASMCA
Ascension is under increasing national scrutiny for the problems and disruptions that nurses in Austin and Wichita report are endemic at their hospitals, including chronic short-staffing, which makes it very difficult for nurses to provide the highest quality of care to their patients in a timely fashion and even threatens their licenses. Earlier this year, U.S. Sen. Tammy Baldwin of Wisconsin took Ascension CEO Joseph Impicche to task over numerous media reports of "disruptions to patient care, long wait times in the emergency department, delayed surgeries and staff concerns about patient safety" at Ascension hospitals.
ASMCA nurses say the conditions lead to a revolving door of new graduates getting hired, receiving their hands on-training at ASMCA, and then leaving the hospital and even the bedside due to moral injury. 
"We know Ascension will bring up the supposed 'shortage' of nurses as an excuse for its short-staffing, but we know there is only a shortage of nurses willing to risk their licenses working in unsafe conditions," said Kris Fuentes, a registered nurse in the neonatal intensive care unit.
Recent analysis conducted by National Nurses United, using 2023 data from the Bureau of Labor Statistics and the National Council of State Boards of Nursing, found that there are over a million registered nurses with active licenses who are choosing not to work at the bedside.
In fact, over the next decade, the national RN workforce will not only replace the expected 500,000 retiring RNs, but also expand the workforce by almost one million registered nurses. However, due to deliberate short-staffing by Ascension and other large hospital systems, such as HCA Healthcare, the analysis found that "the entirety of growth in RN employment during that period occurred outside of hospitals."
NNOC/NNU represents some 3,300 nurses in Texas and 2,000 nurses in three Ascension hospitals in Texas and Kansas. In their contracts, NNOC/NNU nurses in Texas have secured agreements from their hospitals that mandate stricter enforcement of staffing grids and improved infection control measures, including a provision requiring single-use optimal respirator protection with a suspected or confirmed Covid-19 patient. Other notable Texas wins have included wage increases of up to 19 percent over a three-year period and the creation of committees to promote diversity, equity, and inclusion in hospital recruitment, retention, and promotion.
---
National Nurses Organizing Committee is an affiliate of National Nurses United, the largest and fastest-growing union and professional association of registered nurses in the United States with nearly 225,000 members nationwide. NNU affiliates also include California Nurses Association, DC Nurses Association, Michigan Nurses Association, Minnesota Nurses Association, and New York State Nurses Association.