Press Release
Nurses caring for Covid-19 patients are at high risk for moral injury due to betrayal by health care employers and public health and safety agencies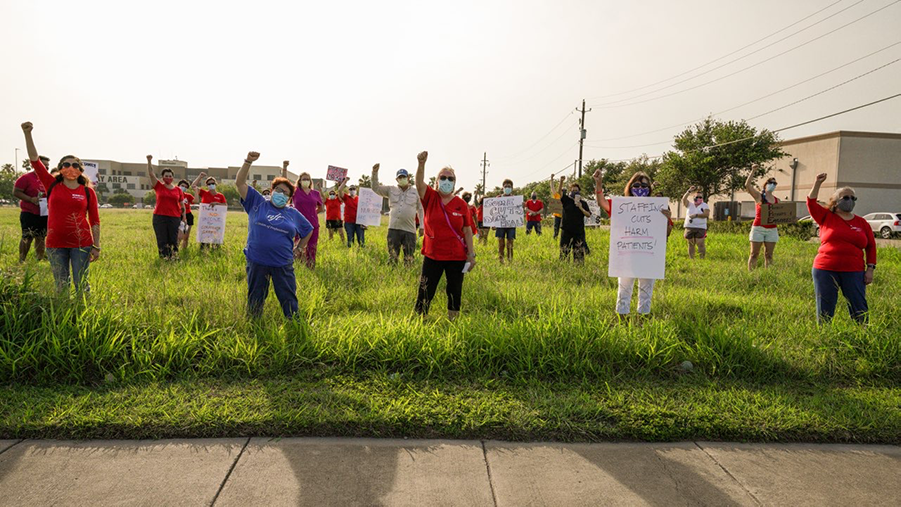 NNU's white paper "Deadly Shame" offers solutions to achieve care work equity and justice for nurses, which is essential to public health, saving lives, and beating back this pandemic.
"Acute moral distress is widespread among nurses caring for Covid-19 patients and they are at significant risk of moral injury," according to "Deadly Shame: Redressing the Devaluation of Registered Nurse Labor Through Pandemic Equity," a new white paper by National Nurses United (NNU). "Deadly Shame" provides an in-depth analysis of the devaluation of nurses' care work, their experiences  on the pandemic's front lines, and ways to redress these issues through collective action.
"Deadly Shame" provides contextualization and history for why moral distress and moral injury are happening to the most trusted profession in the United States. The white paper discusses how the "care work" of registered nurses, a woman-dominated profession, is devalued by employers and government. In our capitalist system, which treats health care as a market commodity, "employers have taken advantage of every opportunity presented during the pandemic to maximize profits," stated "Deadly Shame." Immorally, the corporate health system treats nurses and other health care workers as expendable.
"This paper explained and validated what I have been feeling and experiencing because it points out how our society calls us heroes, but in reality we are treated more like martyrs or sacrificial afterthoughts," said NNU President Zenei Cortez, RN. "We are the backbone of the health care system, and if we are not protected, we will never get out of this Covid mess."
Several studies strongly suggest that SARS-Co-V2 is airborne, which means respirators are critical to prevent Covid-19 infection among health care workers. However, health care employers and public health and safety agencies, such as the Centers for Disease Control and Prevention (CDC) and state and federal occupational safety and health agencies, have failed to meet their responsibilities to ensure workers' health and safety.
"Nurses face profound moral injury from employers' reckless disregard for nurses' health and safety as this white paper points out," said NNU Executive Director Bonnie Castillo, RN. "For example, this happens when employers fail to provide sufficient personal protective equipment (PPE), forcing nurses to reuse disposable items that are meant for single-use and leaving them vulnerable to infection. Because of this, RNs fear that they may contract the virus. Their greatest fear, however, is infecting their patients or family members."
"Standing together, our union nurses successfully fought to get airborne protections and to stop their hospitals from using decontaminated N95 respirators," continued  Castillo. "It is through collective action and collective bargaining that nurses have improved their working conditions and won strong workplace protections."
"Nurses also may experience moral distress and moral injury from working under crisis standards of patient care," states "Deadly Shame." "These standards include rationing care because of an insufficient number of qualified staff and rationing resources such as PPE, ICU beds, ven­tilators, and medications." During the current surge, nurses are seeing patients die who could have been saved, if they had the proper staffing and supplies.  
"Deadly Shame" offers concrete solutions to safeguard nurses by mitigating care work inequities during the pandemic: reducing Covid-19 exposure risk to nurses and their families through optimal PPE, enforceable occupational safety and health standards, and other exposure-reducing measures; and implementing policies to address the impact of RNs' exposure to or contraction of Covid-19, such as paid sick and precautionary leave, presumptive eligibility for workers' compensation, and essential worker pay. Through collective action, union nurses can address and fight back against employer and government failures to protect workers during the pandemic that leave them susceptible to physical illness, death, moral distress and injury, and mental health effects such as anxiety, depression, and post-traumatic stress disorder. NNU is fighting to protect all nurses by advocating for a federal OSHA Covid-19 emergency temporary standard and fully invoking the Defense Production Act to mass produce sufficient PPE and testing equipment.
Correcting this travesty against nurses is key to saving lives and bringing Covid-19 under control. NNU calls on employers and the leaders of local, state, and federal governments to act now to miti­gate both the risks and the effects of the Covid-19 pandemic on nurses and other health care workers.
You can learn more about the report here.