Deadly Shame White Paper
"Deadly Shame: Redressing the Devaluation of Registered Nurse Labor Through Pandemic Equity" is a new white paper by National Nurses United (NNU) which provides an in-depth analysis of the devaluation of nurses' care work and resulting inequities, their experiences on the pandemic's front lines, and ways to redress these issues through collective action.
Key concepts in NNU's white paper include: 
why moral distress and moral injury are happening to the most trusted profession in the United States;  

how the "care work" of registered nurses, a woman-dominated profession, is devalued by employers and government; and  

how to safeguard nurses by mitigating care work inequities during the pandemic.
In our capitalist system, which treats health care as a market commodity, "employers have taken advantage of every opportunity presented during the pandemic to maximize profits," states "Deadly Shame." Immorally, the corporate health system treats nurses and other health care workers as expendable.
Correcting this travesty against nurses is key to saving lives and beating back Covid-19. NNU calls on employers and the leaders of local, state, and federal governments to act now to miti­gate both the risks and the effects of the Covid-19 pandemic on nurses and other health care workers.
Deadly Shame: Animated Shorts
Developed in collaboration with award-winning artist Molly Crabapple and Sharp As Knives, NNU presents a series of three animated shorts: Care Penalty, Moral Distress, and Nurse Power.
You can view closed captioned versions of all three videos on the collection page.
Deadly Shame: Red Scrub Talk
Deadly Shame: Red Scrub Talk is a powerful, intimate conversation among four nurses that explores their experiences on the front lines of this crisis. Led by Michelle Mahon, registered nurse and NNU Assistant Director of Nursing Practice, the conversation surfaces what nurses have faced: the frustrations, the disappointments, the anger, the loss. It names the parties responsible: health care employers who've put profits before people and the elected officials who've failed us when we needed leadership most. And most importantly, it's about recognizing the power we have when we take collective action together to fight back.
Moral distress and moral injury
During the Covid-19 pandemic, nurses are experiencing moral distress and injury on several fronts, including fear of contracting Covid-19 due to lack of personal protective equipment (PPE) and infecting their family members or patients, betrayal by employers and government agencies that have gaslighted nurses by ignoring scientific evidence about how the virus is transmitted and failing to provide appropriate PPE. Nurses may also experience moral injury from working under crisis standards of patient care because of an insufficient number of qualified staff and limited resources such as PPE, ICU beds, ven­tilators, and medications.
"Nurses providing patient care during the pandemic often experience a range of other effects including moral distress and injury and mental health issues such as insomnia, psychological distress, depression, anxiety, and post-traumatic stress disorder (p. 15)."
Portraits of the Frontline
Nurses share their experiences with moral distress and moral injury on the front lines of the Covid-19 pandemic.
Portrait of an Illinois Nurse
Portrait of a Texas Nurse
Portrait of a California Nurse
Devaluation of "care work"
The Covid-19 crisis has exposed how employers, lawmakers, and society at large have systematically devalued "care work," labor that provides life-sustaining care to human beings and society. This is the work of registered nurses, a profession dominated by women. Because nursing is historically characterized as "women's work," nurses pay a "care penalty" resulting in unfair wages and unsafe working conditions. Employers have failed to provide safe workplaces and other workplace protections to nurses while government has failed to fulfill its responsibility to ensure that protective workplace standards are created, maintained, and enforced.
"The failure of employers to provide sufficient and appropriate PPE to nurses and other health care workers, although by no means the only workplace issue, continues to be a central concern (p. 20)."
Equity and collective action
"Deadly Shame" offers concrete solutions to safeguard nurses by mitigating care work inequities during the pandemic: reducing Covid-19 exposure risk to nurses and their families through optimal PPE, enforceable occupational safety and health standards, and other exposure-reducing measures; implementing policies to address the impact of RNs' exposure to or contraction of Covid-19, such as paid sick and precautionary leave, presumptive eligibility for workers' compensation and essential worker pay. Acting collectively, union nurses can address and fight back against employer and government failures to protect workers during the pandemic  that leave them susceptible to physical illness and death, moral distress and injury, and mental health effects such as anxiety, depression, and post-traumatic stress disorders.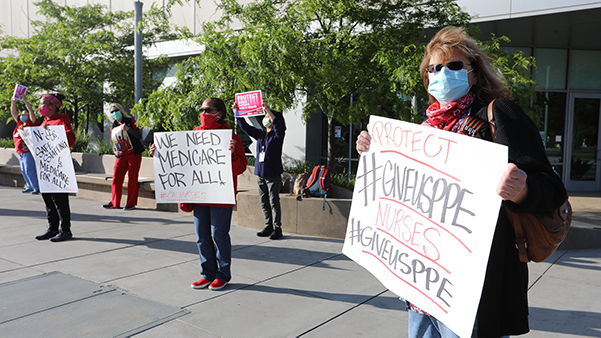 "Acting collectively, union nurses have the power to demand that their employers and government fulfill their legal obligation to protect nurses and other health care workers as they care for Covid-19 patients (p. 53)."
The report also finds there are significant racial and ethnic disparities among nurses who contract and perish from Covid-19.
"During this pandemic, Congress has failed to ensure not only that the lives of nurses and other health care workers' matter, but it has failed to ensure that the lives of Black and Brown people matter (p. 46). "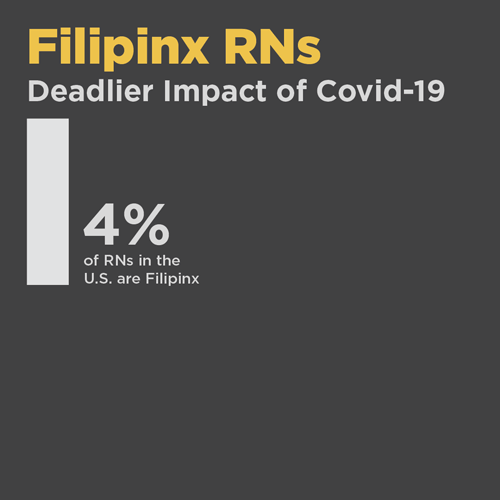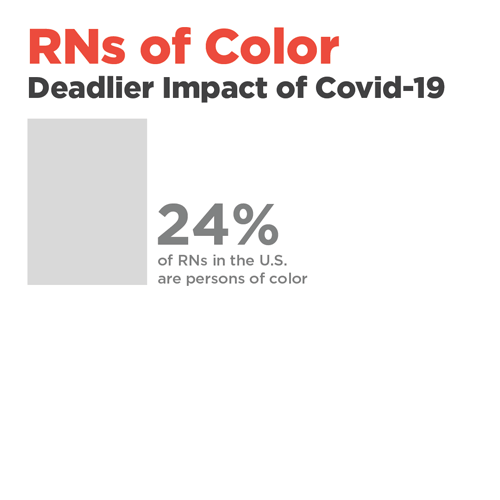 What happened at the CDC?
NNU Presidents Deborah Burger, RN, and Jean Ross, RN, on the weakening of CDC guidelines and their effect on nurses in the pandemic.
A tribute to fallen health care workers -Remembering Filipina RN Estrella Maliban
National Nurses United reports that 31.5% of RN's who have died of Covid-19 are Filipinx. Filipinx nurses make up only 4% of RN's in the United States.