Press Release
Nurses at Ascension Seton Medical Center in Austin, Texas, vote by landslide to join National Nurses Organizing Committee/National Nurses United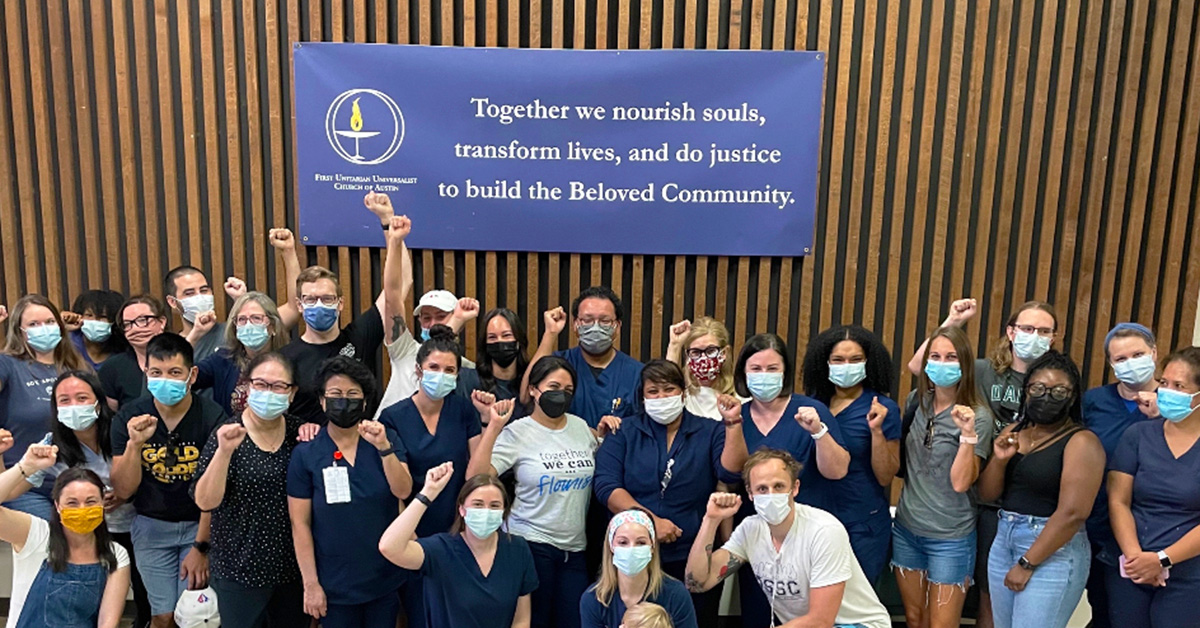 Nurses at Ascension Seton Medical Center in Austin, Texas, (ASMCA) this week voted overwhelmingly, with 72 percent in favor, to join the National Nurses Organizing Committee/National Nurses United (NNOC/NNU), the largest nurses' union in the United States. Nurses said they formed a union to win improved patient care standards and strong contracts, and they have seen NNOC/NNU's proven track record of doing just that in Texas and throughout the country.
"This victory is just the beginning," said Geovana Hill, a registered nurse in the renal unit. "As nurses, we always have and always will stand committed to providing the highest quality of care to our patients. We are looking forward to bargaining for a fair contract to improve patient safety, as well as competitive wages to keep Austin nurses working here in our community. We are more than ready to win a strong first contract, which will help with nursing staff retention."
ASMCA is now the largest private-sector hospital in Texas to form a union.
"We are so proud of the nurses at ASMCA who are coming together and using their collective power to benefit their community in Austin," said Jean Ross, RN and NNU president. "We know it is difficult to organize a union, and some people may be unfamiliar with the benefits of unionization. But I can proudly share that NNOC/NNU has been able to secure contract provisions, as well as legislation, that improve the working conditions for nurses and the patient care that nurses are able to provide. ASMCA nurses will join that proud legacy to fight for their patients in Austin."
The 800 nurses at ASMCA will join more than 2,500 other Texas-based members of NNOC/NNU in El Paso, Corpus Christi, and Brownsville. In their contracts, these NNOC/NNU nurses have secured agreements from their hospitals which mandated stricter enforcement of staffing grids, improved infection control measures, including a provision requiring single-use optimal protection with a suspected or confirmed Covid-19 patient. Other notable Texas wins have included wage increases of up to 19 percent over a three-year period and the creation of a committees to promote diversity, equity, and inclusion on race, gender, age, and sexual orientation in hospital recruitment, retention, and promotion.
"We're thrilled that we won our union election here at Ascension Seton Medical Center Austin and get to join our fellow union nurses across the state in Corpus Christi, El Paso, and Brownsville," said Taylor Critedon, a registered nurse in the intensive care unit. "We hope that more nurses in Austin will organize and join us in fighting for the highest standards of care here in the state capital and throughout Texas."
Nurses say they are looking forward to working with ASMCA to address issues such as short-staffing and nursing staff recruitment and retention.
"During the pandemic, we saw lots of staff leave our hospital because of the worsening conditions," said Matthew Clark, a registered nurse in the intensive care unit. "Ascension has more than enough money to retain nurses and provide better conditions. We are excited to use our collective voice to advocate for our patients by fighting for safer staffing and better working conditions."
ASMCA is owned by Ascension, one of the largest non-profit and Catholic health systems in the country. In fiscal year 2021, Ascension reported a net-income of more than $6.4 billion dollars.
Following the ratification of this week's vote, the nurses at ASCMA will form a bargaining committee and begin negotiating a first contract with the hospital administration.
National Nurses Organizing Committee is an affiliate of National Nurses United, the largest and fastest-growing union and professional association of registered nurses in the United States with more than 175,000 members nationwide.