Press Release
Nurses at Ascension Via Christi St. Francis Hospital in Wichita, Kansas vote overwhelmingly to join nation's largest RN union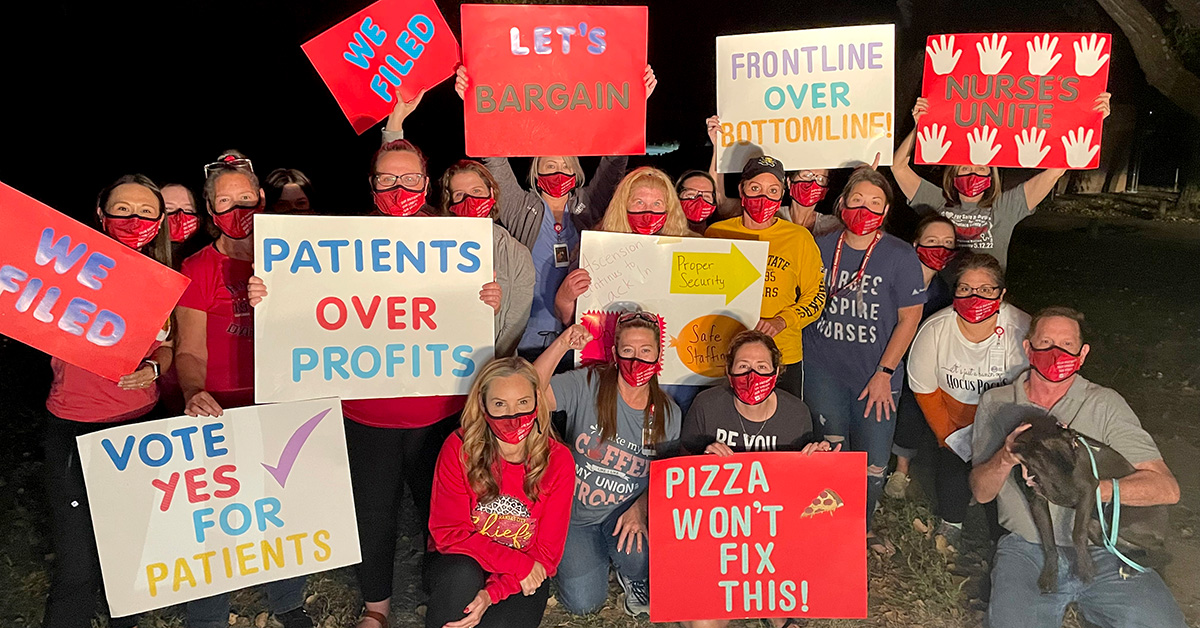 St. Francis RNs are first to unionize a private sector hospital in Wichita
Registered nurses at Ascension Via Christi St. Francis Hospital in Wichita, Kan. voted by 66 percent, 378 to 194, to join National Nurses Organizing Committee (NNOC), an affiliate of National Nurses United (NNU), the nation's largest and fastest-growing RN union. The secret ballot election was conducted by the National Labor Relations Board, on Nov. 9 and 10.
Ascension Via Christi St. Francis Hospital is the largest hospital in Wichita and the first private-sector hospital to become unionized by registered nurses.
"It's a historic day for the Wichita nurses and our community," said Angela Cammarn, RN in the cardiac critical care unit at St. Francis. "We are joining a strong community of union nurses in Kansas and across the United States. As nurses, we are committed to providing excellent care to our patients. NNOC/NNU nurses have a track record of fighting for safer conditions so they can provide safe care to their communities. We plan on doing the same here!"
The union will represent more than 650 RNs at the hospital, which is owned by Ascension, one of the largest not-for-profit and Catholic hospital chains in the nation, with 143 hospitals and other health care facilities in 19 states.
NNU President Deborah Burger, RN, extended a warm welcome on behalf of the union to the St. Francis RNs. "We salute your impressive and enthusiastic campaign and look forward to working with you to achieve better conditions for nurses and patients at St. Francis and across the country."
Nurses sought union affiliation so they can more effectively advocate for improved conditions in the workplace and better economic standards for their colleagues and their families. This, say nurses, is how to keep experienced RNs at the bedside and recruit nurses at a time of growing national concern about the willingness of RNs to work under morally distressing and injurious conditions.
"Winning our union election is just the beginning," said Angela de Souza, RN in the post-anesthesia care unit. "We are elated to bargain with management as St. Francis nurses. Safer staffing, workplace violence prevention, and local nurse retention will be at the forefront of our campaign. As union nurses, we will fight for a first contract that will protect both our patients and staff."
Next, the nurses will elect a team to represent them in negotiations for a first contract with Ascension. To prepare for negotiations they will survey the RNs about the key issues over which to bargain.
---
National Nurses Organizing Committee is an affiliate of National Nurses United, the largest and fastest-growing union and professional association of registered nurses in the United States with nearly 225,000 members nationwide.