Press Release
Nurses call off strike as San Joaquin County agrees to bargain in good faith to reach agreement on contract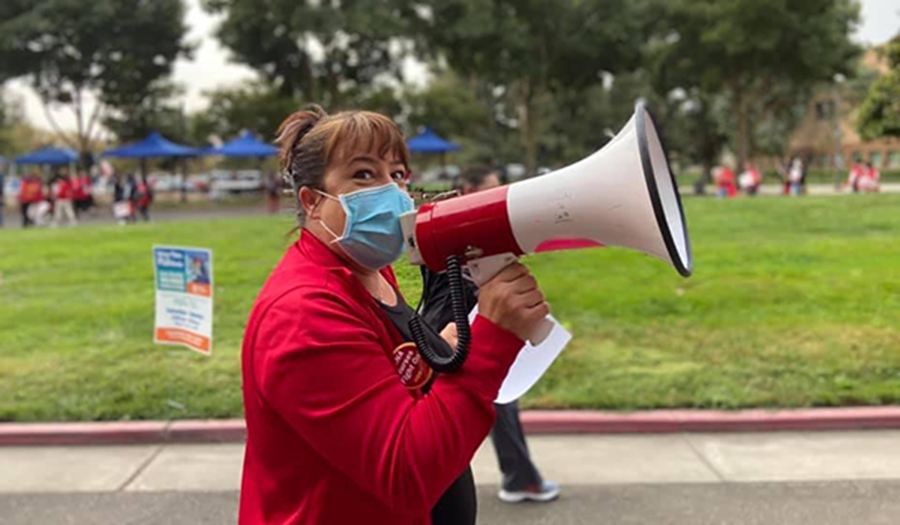 Registered nurses in San Joaquin County's health system have temporarily called off the three-day strike, that was set to start on Feb. 27, as the county stated that it is committed to bargain in good faith to reach a final contract agreement, announced California Nurses Association (CNA) today.
"We nurses are pleased to get back to the bargaining table," said Kelly Mertz, RN at San Joaquin General Hospital. "It is unconscionable that we nurses have been without a contract for two years. We cannot recruit and retain experienced nurses without a fair contract. We have had 160 nurses leave San Joaquin County's health system since the pandemic began."
After CNA submitted a notice to strike on Feb. 17, the San Joaquin County Board of Supervisors held a special session the next day to approve $4.3 million for contract nurses to work during the strike, which was set to begin on Feb. 27 at 7 a.m. and end on March 2 at 6:59 a.m. Nurses spoke out strongly in opposition to spending millions on strike nurses instead of redirecting funds to the county's nurses and settling a fair contract. San Joaquin County has already spent $8 million on contract nurses to work during two previous strikes last year: a two-day strike in March 2020 and a five-day strike in October 2020.
"San Joaquin County could have settled a fair contract last year, but instead, the county spent millions of dollars to pay contract nurses to work during our strikes," said Stacey Lo, RN in labor and delivery at San Joaquin General Hospital. "We are short staffed because the county administration has cut positions and nurses are leaving for better pay and better working conditions."
The San Joaquin Board of Supervisors also held an additional special closed-door session on Feb. 19 to meet with its labor negotiating team to discuss the strike and contract. The county has committed to return to the bargaining table this week. In response, the nurses have agreed to temporarily call off the strike to resume negotiations.  
See San Joaquin nurses' stories in these videos here.
To date, San Joaquin nurses have:
The California Nurses Association represents nearly 800 nurses at San Joaquin County system, consisting of public health and county jail nurses as well as nurses at San Joaquin General Hospital, the only trauma center in the county.