Press Release
Nurses in San Joaquin County's health system to hold three-day strike, starting Feb. 27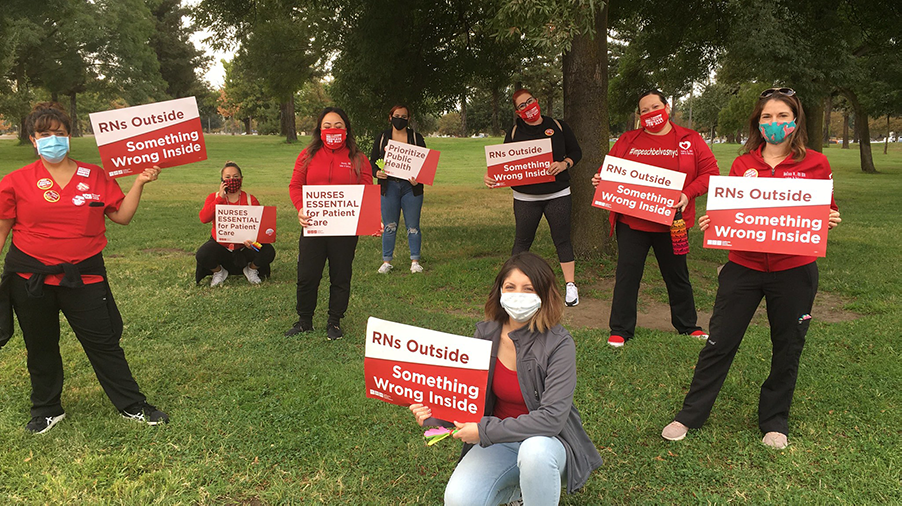 RNs denounce the San Joaquin County Board of Supervisors' refusal to address concerns about patient care, safe staffing, and personal protective equipment
Registered nurses in San Joaquin County's health system will hold a three-day strike, starting Feb. 27 at 7:00 a.m. to demand the San Joaquin County Board of Supervisors' address RNs' deep concerns about patient care, safe staffing, and personal protective equipment (PPE), announced California Nurses Association (CNA) today.
After more than two years of bargaining, management has demonstrated an overwhelming disrespect for nurses, at and away from the bargaining table. The San Joaquin Board of Supervisors needs to fulfill their responsibilities as the elected body to support nurses and the community that uses county health care services and address the staffing crisis at San Joaquin General Hospital. Since the start of the pandemic, more than 160 nurses have left San Joaquin County's health system, which includes the hospital, public health, and jail, due to terrible working conditions.
The Board of Supervisors let former County Administrator Monica Nino run the health system to the ground resulting in the loss of more than 160 RNs within a year. The board needs to demonstrate leadership by holding the interim administration accountable. The supervisors' inability to act is costing taxpayers millions of dollars and putting communities in danger.
Who: Registered nurses in the San Joaquin County system (San Joaquin General Hospital, public health, and jail)
What: Three-day strike for patient safety and a fair contract
Where: San Joaquin General Hospital, 500 W. Hospital Road, French Camp, CA 95231 and San Joaquin County Administration Building, 44 North San Joaquin St., Stockton, CA 95202
When: Saturday, Feb. 27, 7:00 a.m. to Tuesday, March 2, 6:59 a.m.
At San Joaquin General Hospital, the nursing administration has reduced core staffing levels and eliminated nursing positions in some units. Instead of focusing on long-term staffing solutions, such as settling a fair contract, which would help recruit and retain nurses, the county has spent more than $14.7 million on travel nurses.
The county will hold a special session later today to approve $4.3 million to pay for contract nurses to work as strike breakers starting on Feb. 27. The county has already spent $9 million on contract nurses to work during the previous San Joaquin nurses' strikes in 2020. The county also spent $4.3 million to retrain nurses.  
"During the pandemic instead of giving us the resources and the extra staffing that we need, the county is cutting positions, said Stacey Lo, an RN who works in labor and delivery at San Joaquin General Hospital. "Nurses are leaving for other hospitals in the area so they don't have to put their licenses on the line and take more patients than they can safely care for. This is dangerous for patients and nurses."
Management is violating state staffing laws by understaffing critical-care units, which puts patients and nurses at risk; failing to provide sufficient PPE for RNs to do their jobs safely; and has been demanding cuts to their contract throughout negotiations that would result in high nurse turnover.
"We are wearing the same N95 respirator mask for our entire 12-hour shift," said Feneesa Simmons, an ICU registered nurse at San Joaquin General Hospital. "Every day it's a surprise what N95s we have. We are consistently out of the smaller N95s so then we'll have to change their patient assignment because they don't have an N95 that fits them. The San Joaquin Board of Supervisors have shown that they don't care about the frontline nurses who are saving the lives of our community members during the pandemic."
See San Joaquin nurses' stories in these videos here.
To date, San Joaquin nurses have:
submitted two petitions of no confidence in their Chief Nursing Officer, including a February 2021 call to fire the CNO,
held a five-day strike in October 2020,
convened a town hall in September 2020,
a two-day strike in March 2020, and
picketed San Joaquin General Hospital in July 2019 to highlight their concerns about patient safety, staffing, and public health.
The California Nurses Association represents nearly 800 nurses at San Joaquin County system, consisting of public health and county jail nurses as well as nurses at San Joaquin General Hospital, the only trauma center in the county.