Press Release
Nurses to Hold Informational Picket at San Joaquin General Hospital for Patient Safety and Safe Staffing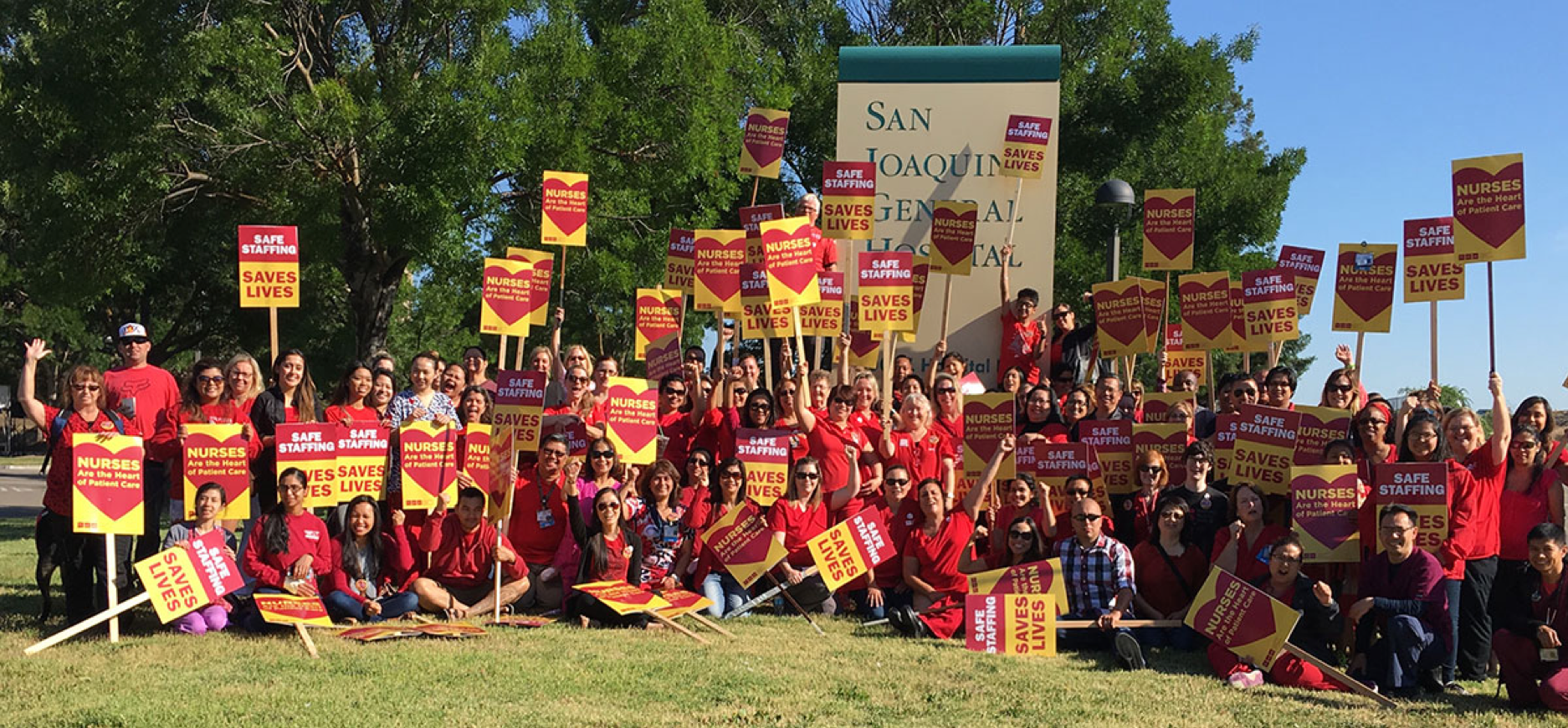 Registered nurses at San Joaquin General Hospital in French Camp, Calif. will hold an informational picket on July 31 to fight for safe patient staffing and a fair contract, announced California Nurses Association (CNA).
"In 2015, the county was facing a dangerous nurse staffing crisis," said Kelly Mertz, RN in the trauma department."Through a mutual agreement we made great strides in improving the recruitment and retention ability of the county. But now the county wants to walk back some of those improvements which will only drive nurses away and put patient safety at risk."
The RNs urge San Joaquin County management and the Board of Supervisors to focus on cost containment measures that do not threaten patient care and safe staffing levels.
What: Nurses to Hold Informational Picket on Safe Patient Staffing
When: Wednesday, July 31, 6:30 am – 9:00 am 
Where: San Joaquin General Hospital - 500 W. Hospital Road, French Camp, CA
San Joaquin County nurses have been negotiating with San Joaquin County management and the Board of Supervisors for the past nine months for a new contract. RNs are deeply concerned that proposed cuts to the nurses' union contracts would cause experienced and skilled nurses to leave the health system and result in dangerous nurse staffing levels the county faced three years ago.
"Nurses are the heart of patient care," said Marissa Lozano, public health nurse, California Children Services. "We county nurses serve the most vulnerable populations in our community. What the county has done and is doing is threatening the safety of care for our community. Our patients deserve better our community deserves better."
California Nurses Association represents 740 nurses at the hospital. CNA has represented San Joaquin General Hospital nurses for more than 20 years.
CNA has 100,000 members and is affiliated with National Nurses United, the largest and fastest growing union and professional association of registered nurses in the United States with more than 150,000 members nationwide. CNA/NNU plays a leadership role in safeguarding the health and safety of RNs and their patients and has won landmark legislation in the areas of staffing, safe patient handling, infectious disease, and workplace violence prevention.