Press Release
Nurses to deliver petition calling for firing of Chief Nursing Officer Belva Snyder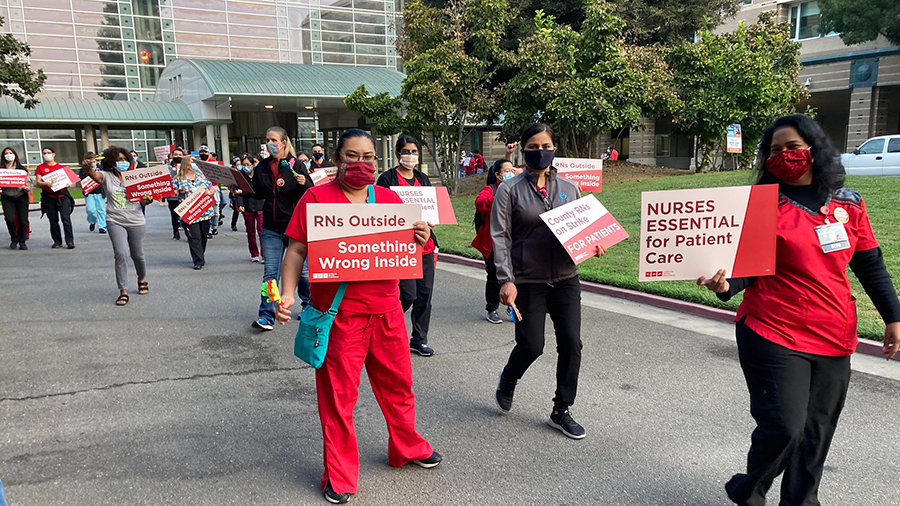 The petition will be delivered to San Joaquin County supervisors and San Joaquin General Hospital CEO David Culberson at the virtual board meeting on Feb. 9.
Registered nurses at San Joaquin General Hospital in French Camp will deliver a petition to the hospital's CEO David Culberson and the San Joaquin County Board of Supervisors tomorrow, calling for the termination of Chief Nursing Officer (CNO) Belva Snyder, announced California Nurses Association/National Nurses United (CNA/NNU) today.
The petition was signed by 80 percent of nurses who fall under CNO Snyder's direct oversight. Nurses say that Snyder's failed leadership throughout the Covid-19 pandemic has been dangerous for patients and nurses. Her inadequate response to the pandemic has resulted in nurses and patients being unnecessarily exposed to the deadly virus and falling ill.
What: Nurses to deliver petition calling for firing of CNO Belva Snyder
When: Tuesday, Feb. 9, 9:00 a.m. during public comment
Where: San Joaquin County Board of Supervisors virtual meeting, public comment section – watch here: http://sanjoaquincountyca.iqm2.com/Citizens/default.aspx
Snyder's lack of leadership has also resulted in a severe and dangerous staffing crisis in San Joaquin County's health system. Nurses say that 151 RNs have left county service in 2020 due to poor working conditions and the lack of a contract. "The county has spent $4.5 million in taxpayer funds on retraining costs due to those departures instead of focusing on long-term solutions, such as settling a fair contract," said Karen Campbell, RN in the neonatal ICU at San Joaquin General Hospital. "We have been in contract negotiations for more than two years."
"During the pandemic instead of giving us the extra staffing we need to prevent fatigue and medical errors, management has cut positions," said Stacey Lo, RN in the labor and delivery unit at San Joaquin General Hospital. For more comments from Lo, watch her video interview.
Snyder's solution to the staffing crisis at San Joaquin General Hospital has been to hire short-term traveler nurses rather than settling a contract with the RNs who care about their community and their patients. In 2020, the county spent $14.7 million on traveler contracts and an additional $8 million on replacement nurses when San Joaquin nurses went on strike for two days in March 2020 and for five days in October 2020 to protest terrible working conditions and the lack of a contract.
Snyder has refused to respond to nurses' deep concerns about the working conditions that are jeopardizing the health and welfare of the community and undermining the effectiveness and security of the county's health system. "We don't have negative pressure rooms for all of our moms so to make it safer, they have given us HEPA filters," said Stacey Lo, RN. "But when we have a lot of moms who are positive, we don't have enough. Our CNO knows about this but nothing has been done. So nurses are leaving for better working conditions."
Nurses and patients deserve real, empathetic, and compassionate leadership in this time of crisis.
CNA represents nearly 800 nurses at San Joaquin County system, consisting of public health and county jail nurses as well as nurses at San Joaquin General Hospital, the only trauma center in the county.