Body
Ratios Flashback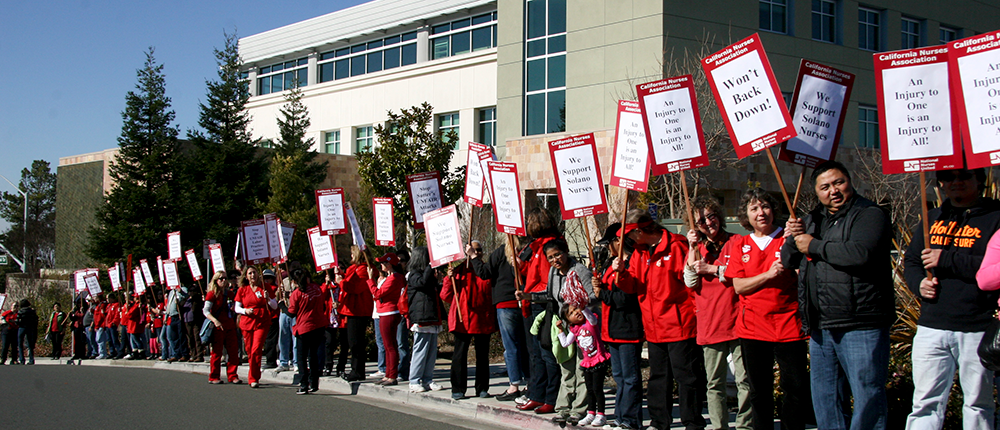 Sutter Solano Medical Center registered nurses had carefully laid the groundwork for a hugely successful action that forced their hospital to staff according to the new safe staffing law and generated major media coverage. A petition pledging to refuse unsafe assignments was signed by nearly every RN and involved shift-by-shift, unit-by-unit organizing and education by the dozens of nurses who had attended the CNA scope of practice CE. This is their story!
The RNs who worked the day shift on the third and fourth medical surgical floors of the hospital were sitting in report as they did every morning, sipping their coffee, making small talk, sharing holiday mishaps and waiting. They were, however, not taking report from the previous shift as they did every other day.
It was day five of the historic first-in-the-nation RN safe staffing ratios and their usual assignment of 10 to 12 patients was no longer acceptable. No longer would they have to accept unsafe patient assignments. When the dust settled two and one half hours later, each RN had no more than six patients.
"We were not the most outspoken unit by any means," said Myrna Aquino, RN, who has worked on the third floor for over a decade. "Many of the nurses have worked under these horrendous staffing conditions for 25 and 30 years.
"We know it's the law, which we have fought long and hard for and when we showed up to work five days into the new ratios with double the mandated ratios, enough was enough. Several of us work at Kaiser and we know the difference.
"Hospital administrators had been adamant for weeks that they could never meet the staffing ratios, so we were prepared. I was one of the several nurses who were present on site on all shifts, dressed in scrubs and ready to work an extra shift in order to meet the ratios. We moved about the hospital, checking in periodically with units as managers of every stripe circled around us," said Aquino. It was to be an amazing 48 hours.
At one point management ordered an RN to take 12 patients covered by two LVNs or go home and be replaced by a traveler "willing to do the job." All the RNs refused and said that no one would work under these dangerous circumstances. RNs from all units were present in support of the nurses. It was a very emotional scene. At one point they stationed three big, burly security guards outside the report room.
Finally at 9:30, management agreed to a maximum of six patients per RN and the RNs on both floors took report. But it was a hollow victory as they soon found out. "The LVNs had been sent home (paid) to 'teach the RNs a lesson' and drive a wedge between us," said Aquino. "But that did not slow us down for long. We had the evening shift call in early to demand assurance that proper staffing ratios and ancillary staff would be provided and SEIU Local 250 encouraged the LVNs to come to work even if they were called off. All shifts were fully staffed that day and the next. Right now it's day by day and we will continue to use every means possible to ensure the ratios are met. We are very optimistic -- the era of safe staffing has begun!"
Reprinted from January 2004 issue of California Nurse magazine