About National Safe RN-to-Patient Staffing Ratios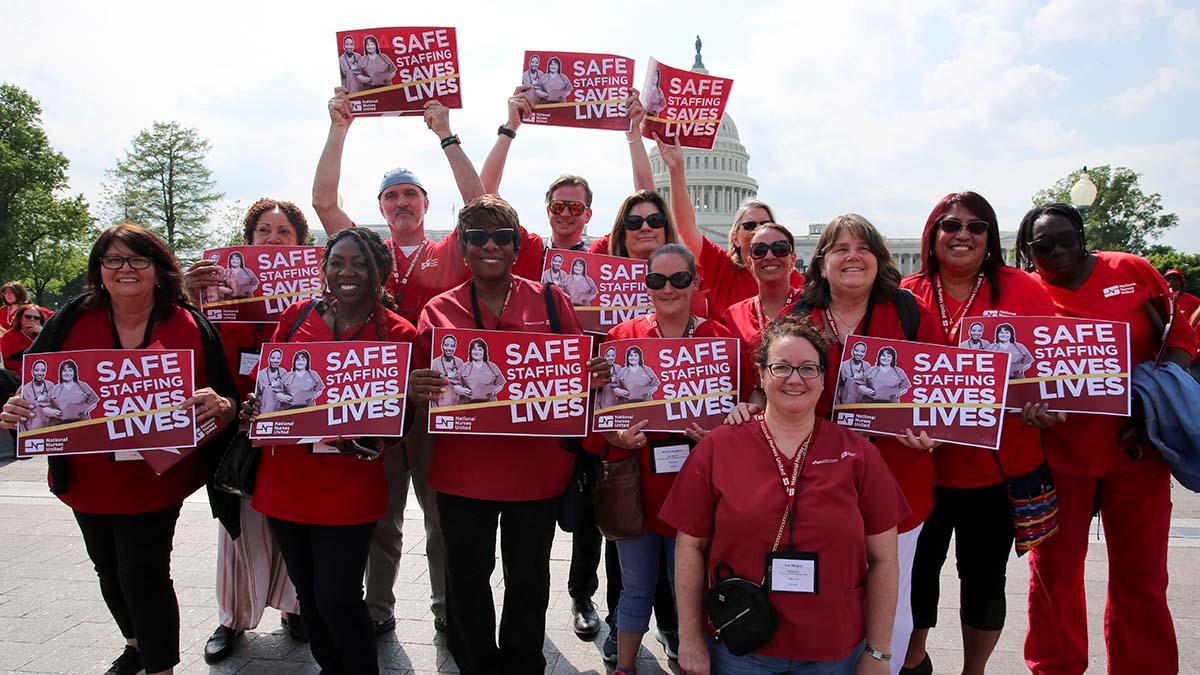 To be a nurse is to care for people in their most vulnerable moments, to bring comfort to those in pain, and to bring hope and compassion to those who feel hopeless or forgotten. To be a nurse is to watch for subtle changes and to attend to tiny details. It is a job that requires endless stamina, an iron will, and the time to get it right. As registered nurses who work at the bedside, we know the importance of attending to the needs of a sick child, a frightened cancer patient, or a patient in the throes of a mental health crisis. We also know the pain of feeling you don't have the support you need to provide the care that your patients need. With all the cutbacks, we know that the solution lies in our fight back.
NNU's proposal for minimum, mandated, nurse-to-patient staffing ratios protect our patients' right to nursing care. We know that every patient deserves a single standard of high-quality care. The ratios, coupled with nurses' powerful voice of advocacy secured in collective bargaining, protect our patients from complications that arise from missed care such as medical errors, health care disparities, infections, and so much more. We have also learned from the California experience that the pathway to winning lies in building a powerful organization where nurses have the right to advocate to their fullest potential.
Currently, California is the only state to enact an enforceable RN-to-patient staffing law, thanks to the determined, multi-year efforts of members of the California Nurses Association (CNA). Since the law went into effect in all California acute-care hospitals in 2004, nurses have come back to the bedside to provide patient care that more fully reflects the art and science that our profession is founded upon.
CNA was the author, sponsor, and driving force behind the landmark law, which was signed in 1999. The hospital industry and its allies have tried repeatedly to overturn or weaken the law, but CNA members continue to successfully defend ratios.
When CNA founded National Nurses Organizing Committee (NNOC) in 2005 to represent and advocate for nurses outside of California, NNOC continued the fight to expand the protections of ratios across the nation. Today, CNA/NNOC and the national nursing union it belongs to, National Nurses United, fight to pass ratios laws at both the state and federal level.
A seminal 2010 University of Pennsylvania study showed that the California law saves thousands of patient lives, and that if California's 1:5 ratios were matched, surgical units in New Jersey hospitals would have 14 percent fewer deaths and Pennsylvania 11 percent fewer deaths. Consequently, we worked with NNU members across the nation and with federal legislators to introduce bills that would make these same lifesaving protections the law from coast to coast.
As elected leaders of NNU, we are proud to stand side by side with nurses across the nation who have been inspired to rise up together and demand the best care for their patients by joining with NNU to have the right to fight for ratios through collective bargaining. We have watched with great hope as nurses from coast to coast build a movement for safe staffing starting in their own facilities and continuing on to our nation's capital.
As the authority on nurse-to-patient ratios, NNU is poised to broaden the victories won by California nurses and patients. Now is the time for every nurse to become a part of the national movement for safe staffing!