Body
Nurses Talk About Ratios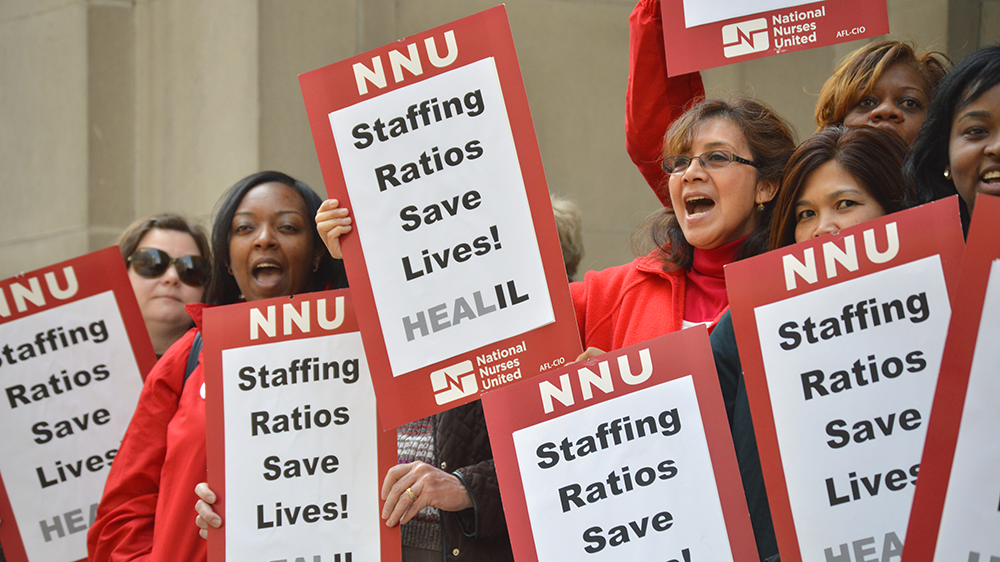 "I work in a medical unit where a majority of our patients are diabetic and require lots of teaching and monitoring. Our night-shift RNs used to have nine to 12 patients before the ratios were in effect. We could never keep a core nursing staff on nights. As a result of the ratios law we don't have more than five patients, which gives us the time we need to do patient teaching and has dramatically improved patient outcomes and nurse retention. Our hospital has added 500 new RN positions and we rarely use registry or travelers."
                        - Mary Bailey, RN
                          Long Beach Memorial Hospital, Long Beach, California
"One less patient makes a big difference. The fewer patients you have, the more time you have to spend with a patient. And if you're the patient, you want your nurse to give you all the care you need."
                        - Shirley Toy, RN
                          University of California Davis Medical Center, Sacramento, California
"When ratios came, I was like 'Hallelujah!' because we were able to give true patient care."
                        - Paula Lyn, RN
                          Alta Bates Summit Medical Center, Oakland, California
"The other day we had a woman who was just diagnosed with breast cancer and because I didn't have 10 other patients, I got her some booklets and printed out some local resources for her from the Internet and sat on the edge of her bed and held her hand. Later another nurse who survived breast cancer came to talk to her. Pre-ratio days, that would never happen."
                        - Leslie Neely-Smith, RN
                          Sierra Vista Hospital, San Luis Obispo, California
"I only went back to working in the ERs because of the ratios. If the ratios go away, it's not worth it. There's too much risk there, to your income, your license, your family. And it's not just risk from liability, but when you're involved in something that impacts outcomes, it's not worth that on your psyche...Patients really deserve the best you can be. Not suboptimum care. The truth is if you work beyond your limits, you're going to make mistakes, and ratios help provide that safety net so we're not working beyond our limits."
                        - Mark Monroe, RN
                          Sutter Delta Medical Center, Antioch, California
"RNs need a reasonable workload that allows us to fully assess and monitor our patients. Nurses are not asking for luxury. RNs currently work at a frantic pace. Our patients are incredibly sick. We now have patients on a medical-surgical floor who would have only been in ICU 20 years ago...The ratios have helped tremendously, because they protect the patient's right to always have an RN present to provide care."
                        - Amy Dillon-Sewell, RN
                          St. Joseph Hospital, Eureka, California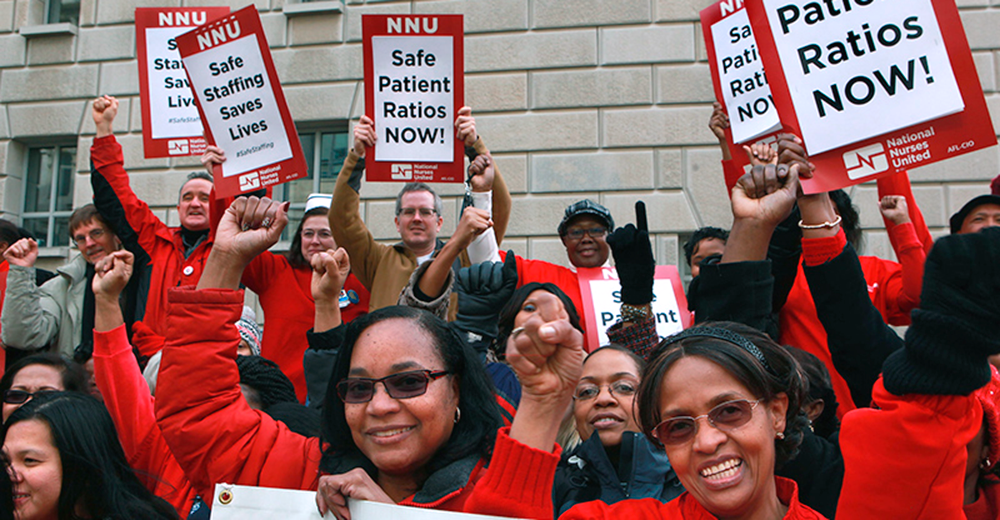 "The most dedicated, experienced nurse in the world with the keenest powers of observation and skills in intervention cannot do more than time and physical limitation allow her or him to do. The whole point of staffing ratios as expressed in our state law is to acknowledge that very basic fact. Excellent research studies have demonstrated it again and again and it is, thankfully, something we need not spend more time in studying. We already know enough about the topic."
                        - Charles Witherell, RN
                          UCSF Medical Center, San Francisco, California
"It's really changed everything. Before ratios, when I worked in med-surg, I never had less than a six to eight patient load and we just ran and ran. It's just so much better than before. Before, nursing felt more like an assembly line: Get 'em in, get 'em out. You became like a robot and shut down emotionally. If you spoke up before, you were considered to be whining, complaining, and told to just 'suck it up.' Now having proper staffing is really more respected, and nurses know it."
                        - Rita Batchley, RN
                          Ventura County Medical Center, Ventura, California
"I can't imagine in this day and age not having ratios. With the acuity of our patients all across the country increasing, ratios boil down to one thing: better outcomes for our patients."
                        - Kathy Dennis, RN
                         Mercy General Hospital, Sacramento, Calif.
"It really was a joy [when ratios went into effect]. I noticed the difference right away, the time I could spend with a patient and get tot know them. I knew I was going to be my best, and that I wasn't going to be totally exhausted at the end of a shift."
                        - Millie Borland, RN
                          Alta Bates Summit Medical Center, Oakland, Calif.
"My personal dream is to have ratios all across America. Because that little old lady in Florida deserves the same type of care as that little old lady in San Francisco does."
                        - Debra Amour, RN
                          Seton Medical Center, Daly City, Calif.