Press Release
Wichita nurses deliver petition demanding safe staffing to Ascension management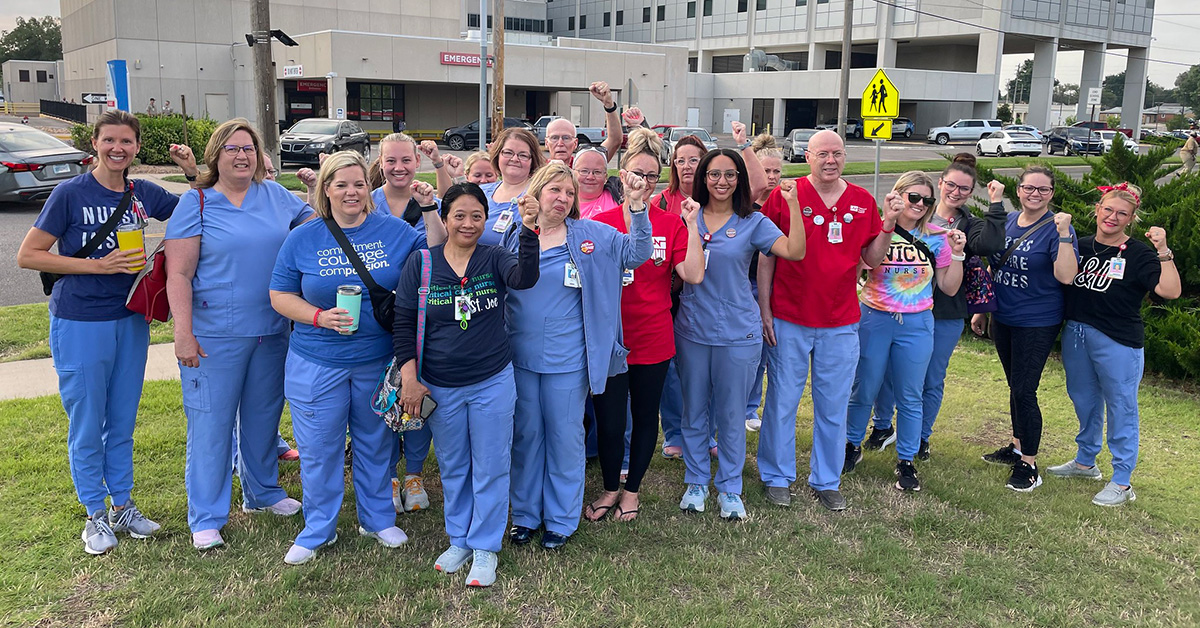 Nurses at Ascension Via Christi St. Francis and Ascension Via Christi St. Joseph hospitals in Wichita, Kansas, delivered a petition demanding a reversal of staffing cuts degrading patient care and safety, announced National Nurses Organizing Committee/National Nurses United (NNOC/NNU) today. Nurses say that a new policy from management impacting patient care technicians (PCTs) at their hospitals is a move that will worsen their hospitals' existing staffing crises and hurt patient care and working conditions for RNs.
"As registered nurses, we rely on our patient care techs to help ensure every patient gets the care they need," said Shelly Rader, RN in the emergency department at Ascension Via Christi St. Francis Hospital. "Just like nurses, their familiarity with the units they work on is an asset that helps improve patient care. Telling these workers that they must either resign or join a float pool is unacceptable, and it will only worsen the issues we're trying to solve with management at the bargaining table."
PCTs are essential to nurses' ability to heal their patients and take on critical responsibilities like bathing, washing, walking, and taking vitals. Without PCT support, nurses will be responsible for this additional work, meaning they will have less time for the clinical, lifesaving work of monitoring, assessing, and providing therapies for their patients.
"This move by management has a direct, immediate, and huge impact on our working conditions," said Marvin Ruckle, RN in the neonatal ICU at Ascension Via Christi St. Joseph Hospital. "Nurses rely on our PCTs. That's why we are asking the hospital not to move forward with this plan. We want to meet with management and discuss better solutions, just as we remain open to bargaining a strong contract that will protect our patients, our nurses, and our entire staff from exactly these kinds of short-sighted moves."
Nurses at St. Francis began bargaining their first contract with management in February 2023, and St. Joseph nurses began bargaining their first contract shortly after, in May. Nurses at both facilities staged a historic strike in June 2023, the largest nurses strike in Kansas state history, and they were joined in their strike on the same day by over 900 nurses from Ascension Seton Medical Center Austin in Austin, Texas, where nurses won a landslide union election to join NNOC/NNU in September 2022 and began bargaining their first contract in November.
In March 2023, St. Joseph nurses voted to join NNOC/NNU, making them the second Ascension-owned facility in Wichita to join. Mere months earlier, in November 2022, St. Francis became the largest Wichita hospital and first private-sector hospital in the city to unionize when nurses there voted by a nearly two-to-one margin to join NNOC/NNU.
Ascension is one of the largest not-for-profit and Catholic hospital chains in the nation.
National Nurses Organizing Committee represents nearly 1,000 nurses in Wichita at Ascension Via Christi St. Francis and St. Joseph hospitals.
---
National Nurses Organizing Committee is an affiliate of National Nurses United, the largest and fastest-growing union and professional association of registered nurses in the United States with nearly 225,000 members nationwide.