Press Release
Wichita nurses to return to work after biggest nurses strike in Kansas history and Ascension's three-day lockout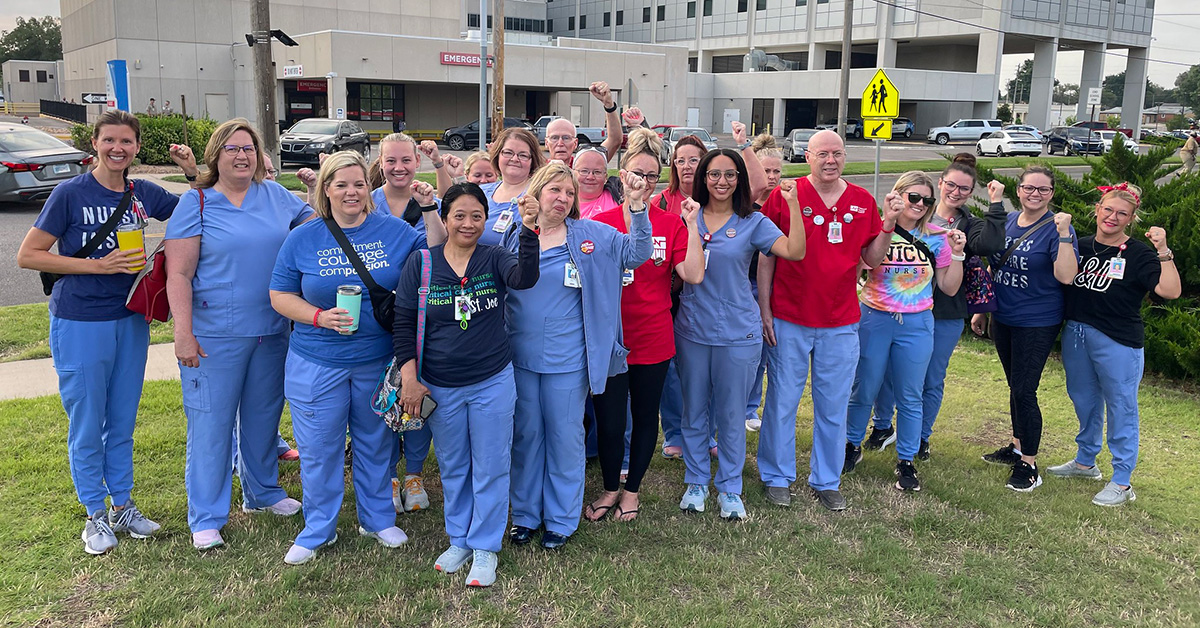 Nurses to march on the boss, showing commitment to win strong contract for safe staffing and improvements to patient care conditions
After the biggest nurses strikes in Kansas history and the first strikes at Ascension Via Christi St. Francis and St. Joseph hospitals in Wichita, nurses will be returning to their patients' bedsides on Saturday, July 1, announced National Nurses Organizing Committee/National Nurses United, the largest and fastest-growing union of registered nurses in the country.
"We union nurses at St. Francis deeply appreciate the Wichita community and our local labor movement for standing in solidarity with us on the strike line," said Lisa Watson, RN in the medical intensive care unit at St. Francis. "This is our community and we want to ensure that they get the care they deserve — and that means safe staffing and retaining our experienced nurses."
When the St. Francis and St. Joseph nurses tried to return to work on Wednesday, Ascension security and management blocked them from entering. Nurses called this a union-busting, retaliatory tactic.
"We really care about our patients and our community and that means being patient advocates and speaking up to improve patient care," said Carol Samsel, RN in the intensive care unit at St. Joseph. "That is why we are fighting for a strong union contract. After the strike and the lockout, we are even more committed to winning a contract that will improve nurse retention and patient safety."
What: Return-to-work march on the boss by NNOC/NNU registered nurses
When: Saturday, July 1, 6:30 a.m. 
Where: Ascension Via Christi St. Joseph, at the intersection of S. Clifton Ave. and E. Harry St., Wichita, Kan.
Ascension Via Christi St. Francis, nurses gathering at the intersection of Francis and Murdock, Wichita, Kan.
Interview Availability: Nurses will be available for interviews at the march.
In the past year, Ascension nurses have made history, creating some of the largest private-sector nurse unions in states with laws hostile to worker organizing. Driving the surge of unionization at Ascension is the blatant hypocrisy of the nonprofit, Catholic hospital chain – one of the nation's largest that has $19.5 billion in cash reserves, an investment arm that manages $41 billion, and a private equity operation worth $1 billion.
Chronic short-staffing imposed by Ascension hospital management – a practice that began well before the Covid-19 pandemic to boost profits and executive compensation – makes it challenging for nurses to provide the highest quality of care to their patients because it drastically limits how much time a nurse can spend on each patient. Short-staffing also creates a revolving door of nursing staff, who suffer moral injury and distress because they can't provide the care they know results in the best patient outcomes.
For more information on St. Francis and St. Joseph nurses' union contract campaign and one-day strike – which coincided with one-day strikes by Ascension nurses at Ascension Seton Medical Center in Austin, Texas – and for extensive background on Ascension's well-documented record of putting profits over patients, please read the press release here.
Nurses will not be sharing details of negotiations publicly, out of respect for the process and to ensure Ascension will settle strong contracts as soon as possible.
Photos of this week's actions are also available for media use on NNU's Flickr account, with attribution to National Nurses United. 
---
National Nurses Organizing Committee is an affiliate of National Nurses United, the largest and fastest-growing union and professional association of registered nurses in the United States with nearly 225,000 members nationwide. NNU affiliates also include California Nurses Association, DC Nurses Association, Michigan Nurses Association, Minnesota Nurses Association, and New York State Nurses Association.