Press Release
San Joaquin County nurses ratify a new contract with protections to improve patient safety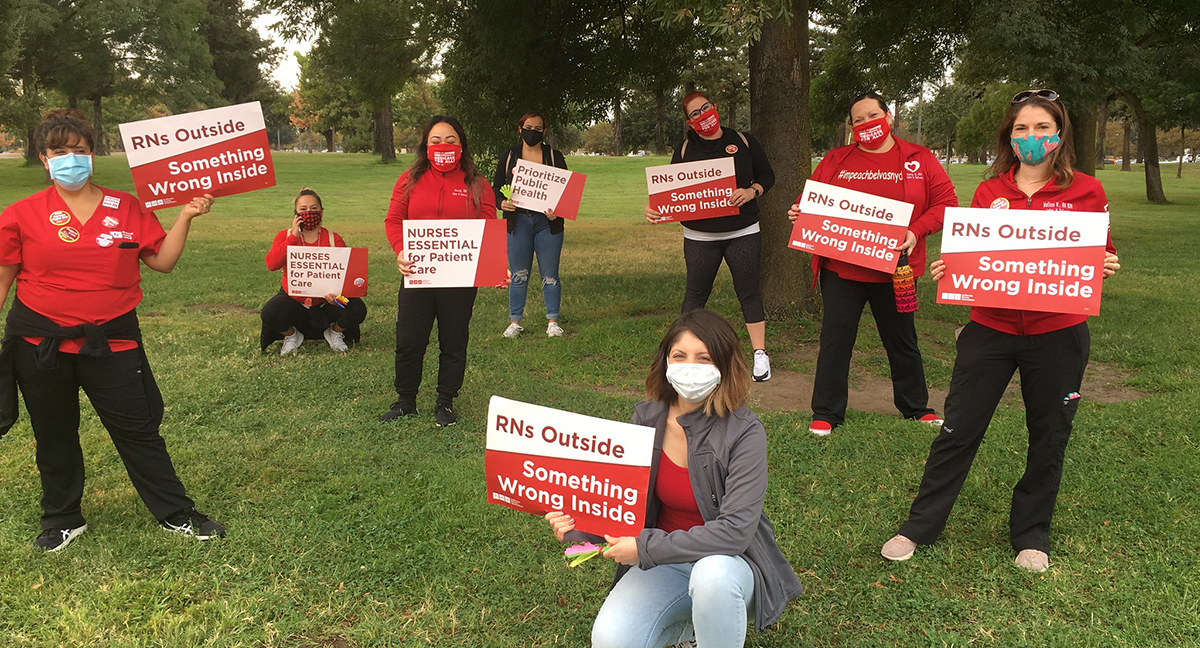 Nurses claim victory after a two-year fight that included two strikes and a picket
Registered nurses at San Joaquin General Hospital in French Camp, Calif., overwhelmingly ratified a new two-year contract today, winning protections to improve patient safety, announced California Nurses Association (CNA). The agreement is the result of a long and protracted fight that included two years of bargaining, an informational picket in July 2019, a two-day strike in March 2020, and a five-day strike in October 2020. The nurses called off a three-day strike that was set to start on Feb. 27, 2021.
A tentative agreement was reached last week between CNA and the San Joaquin County Board of Supervisors. The contract will go into effect after the San Joaquin Board of Supervisors votes for approval at its April 20, 2021 board meeting.
"We are proud that we stayed united during this long fight," said Fazia Richmond, RN in the ICU step-down unit and a member of the bargaining team. "We didn't give up, even during the pandemic, because we are committed to our patients and the community. We wanted to make sure nurses would have the personal protective equipment we need to do our jobs safely. And we won protections that are so important for our patients and for safe staffing."
"This agreement is so important for recruitment and retention of experienced nurses," said Stacey Lo, labor and delivery, post-partum RN and a member of the bargaining team. "We want to retain experienced nurses because their expertise and knowledge greatly benefits our patients. This is why we fought so hard for a fair contract."
Highlights of the contract include:
Health and safety provisions, including requirements on the county to provide and maintain all safety equipment and to provide personal protective equipment based on the need for the specific infectious diseases.
Workplace violence protection language.
Economic gains and health benefit protections to help retain and recruit experienced nurses. The new contract includes annual across-the-board pay increases of 4 percent. The majority of in-patient experienced nurses will also receive a 3 percent equity pay increase. Maintains standards and benefits of previous contract, with no takeaways.
"We picketed and held two strikes because we knew the county's takeaways would have put patients in danger," said Vicki Hoge, RN in the neonatal intensive care unit and a member of the bargaining team. "We also fought off takeaways that would have eroded our rights and protections as well as our voices in selecting our health care plan. Now we can focus on caring for our patients."
CNA represents nearly 800 nurses at San Joaquin County system, consisting of public health and county jail nurses as well as nurses at San Joaquin General Hospital, the only trauma center in the county.