Press Release
Registered Nurses at San Leandro and Alameda Hospitals Ratify New Contracts After Years-Long Fight to Improve Patient Care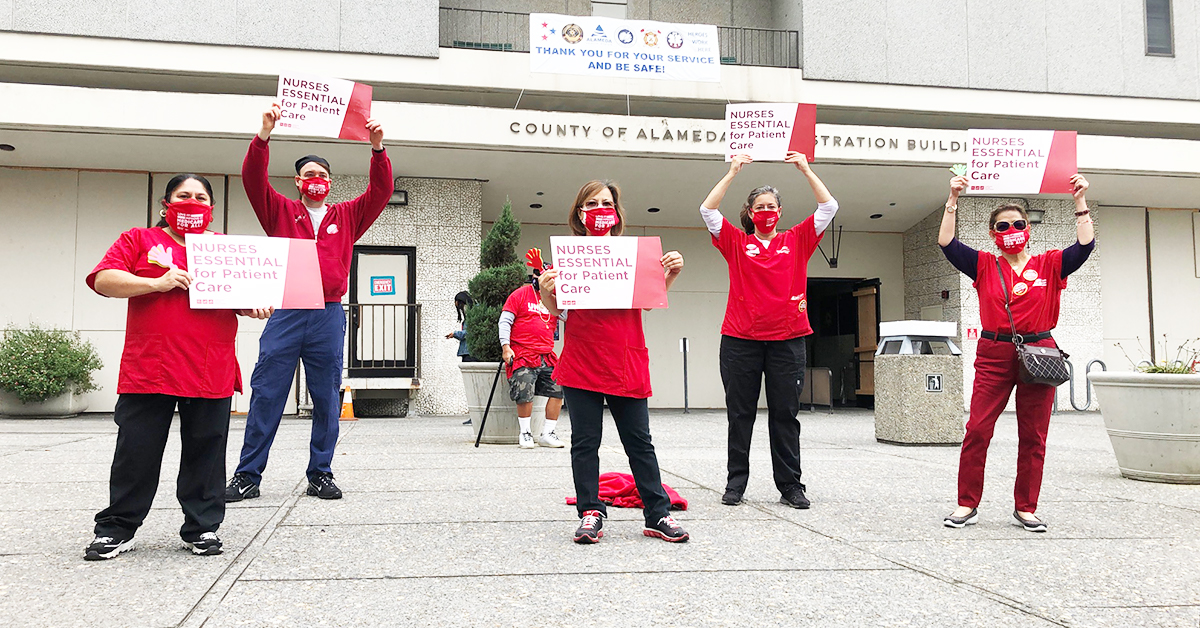 Five-year labor contracts bolster patient safety and other workplace protections
Registered nurses at Alameda Hospital in Alameda, Calif. and San Leandro Hospital in San Leandro, Calif., recently ratified a pair of collective bargaining agreements that will improve their ability to provide safe patient care as well as recruit and retain experienced nurses at these two public facilities. These new labor contracts conclude a years-long series of negotiations that included two RN strikes, the ousting of the former trustees, and other actions to protest management's bad-faith bargaining in addition to unsafe workplace conditions that jeopardize the safety of nurses and patients during the Covid-19 pandemic.
The RNs on Saturday, March 13, ratified the contracts that cover about 175 registered nurses at Alameda Hospital and 150 registered nurses at San Leandro Hospital. Both facilities are managed by Alameda Health System (AHS).
The nurses also stand committed to seeing a completed governance change by the Alameda Board of Supervisors (BOS), which would remove the AHS Board of Trustees (BOT) model. This would result in a transparent public health system that will ensure that the patients, who are predominantly from communities of color, receive care that is centered around their well-being.
The ratified contracts cement some provisions that management sought to remove during negotiations that started two years ago, cuts that would have undermined the ability of nurses to advocate for safe patient care. The new contracts include improved staffing provisions, as well as rejects management's proposed reduction of representatives and the rights of the Professional Performance Committee, which is an all-RN panel tasked with improving patient care, staffing, and safety measures. The ratified pacts also retain retiree health insurance, education leave, assignment of extra shifts based on seniority, and RN licensure & certification protections.
"This victory comes after over two years of fighting to protect and maintain the current rights and benefits for nurses despite efforts to gut and rewrite our contract," said Karen Rothblatt, a registered nurse at Alameda Hospital. "After two strikes, and several collective union actions, we were able to hold the Alameda County Board of Supervisors accountable to our public health system. It has taken the power of nurses and the nurses' solidarity with the community to win a fair contract and begin the necessary culture change at AHS."
The nurses at San Leandro Hospital and Alameda Hospital held a five-day strike in October, and a one-day strike in Sept. 2019. The actions were to protest what RNs described as punitive management actions when nurses spoke out on behalf of patients, which hinder recruitment and retention of experienced nurses, and persistent short staffing which jeopardizes safe patient care.
The nurses also successfully encouraged the Alameda County Board of Supervisors to accept the resignation of the Alameda Health System's Board of Trustees, an action that restarted labor contract talks. In addition to bargaining in bad faith, nurses accused the AHS administrators of poor safety measures like chronic short staffing and limiting access to personal protective equipment during the Covid-19 pandemic.
"After over two years of contract negotiation with Alameda Health System, nurses are very proud that the fight is finally over. This would not have been possible without the dedication and commitment of RNs to overthrow an anti-union board of trustees and management team," said Mawata Kamara, a registered nurse at San Leandro Hospital and a member of the CNA board of directors. "We are very excited to preserve much of our contract and win strong gains that protect the voice of RNs to stand up for their patients."
Both ratified labor contracts also retain pension provisions and continue current health insurance benefits, with additional health options available in 2022.
The contract for RNs at Alameda Hospital includes enhanced health and safety language that addresses infectious diseases, in addition to more paid leave provisions, and a mediation step in the grievance process.
The contract for San Leandro RNs includes provisions like giving nurses in the same unit priority before hiring RNs from the outside and changes to the policy of floating RNs to other departments.
Both contracts include a 14.5 percent pay increase for the term of the deal. That includes an across-the-board 2.5 percent retroactive pay increase to January 2019, a 3 percent increase within 60 days of the March 13 ratification, and a 3 percent increase in October.
The California Nurses Association/National Nurses United is the largest and fastest growing union and professional association of registered nurses in the nation with 100,000 members in more than 200 facilities throughout California and more than 170,000 RNs nationwide.