Press Release
Registered nurses claim victory for their Alameda County patients following the ousting of the Alameda Health System Board of Trustees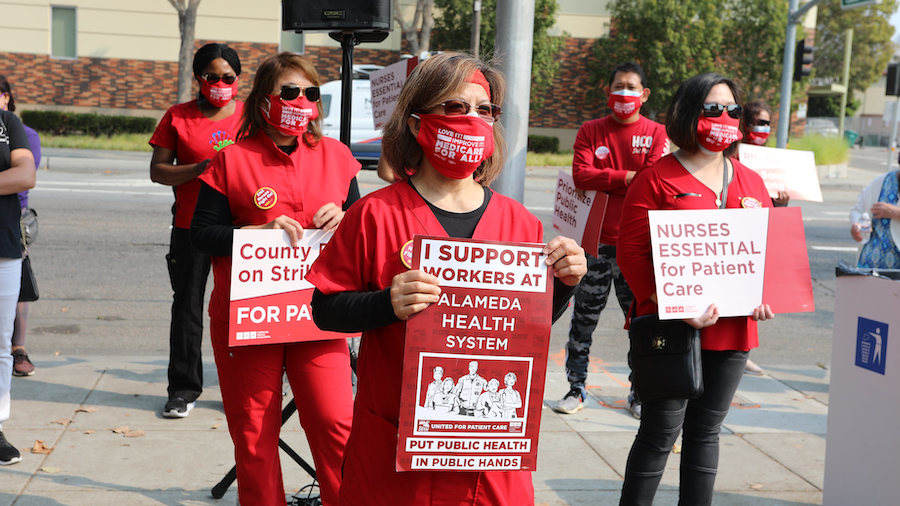 RNs welcome the opportunity to restart contract negotiations 
The Alameda County Board of Supervisors today voted overwhelmingly to accept the resignation of the Alameda Health System's Board of Trustees after registered nurses demanded the dissolution of the board during a five-day strike, announced California Nurses Association (CNA) this evening.
"This is a great step in the right direction," said Lisa LaFave, a registered nurse at San Leandro Hospital. "We look forward to sitting down at the table with newly appointed negotiators in order to ensure our patients can get the care they need and deserve."
Contract negotiations are set to resume on Friday.
Alameda Health System (AHS) is made up of three hospitals: San Leandro Hospital, Alameda Hospital, and Highland Hospital in Oakland.
CNA represents nurses at both San Leandro Hospital and Alameda Hospital. The nurses at San Leandro Hospital and Alameda Hospital held a five-day strike earlier this month, and a one-day strike last fall in an effort to secure a contract that addresses the patient safety needs of the community.
The nurses at the two hospitals have been in contract negotiations for nearly two years. The nurses accused AHS of bargaining in bad faith and want to ensure that patient safety issues are addressed in their new contract. These patient safety issues include chronic short staffing that results in delayed care and puts patient safety at risk, concerns over access to personal protective equipment during the Covid-19 pandemic, and retaliatory and punitive actions directed at nurses who advocate for changes in their facilities.
"We hope this important change paves the way for a true dialogue with the nurses that takes into account their expertise and their commitment to provide care on the frontlines of this pandemic," said Linda Strack, a registered nurse at Alameda Hospital.