Press Release
Nurses at San Leandro and Alameda Hospitals give notice for five-day strike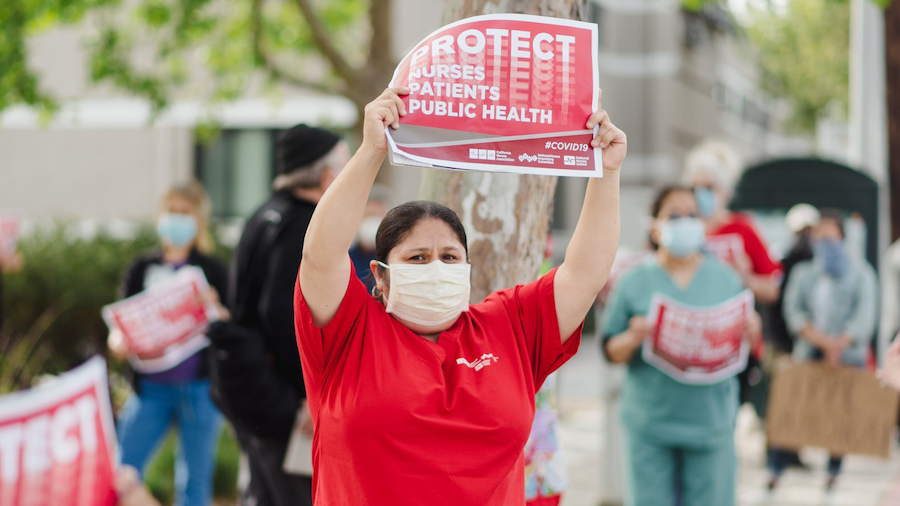 RNs cite patient safety, bad faith bargaining, and call on Board of Supervisors to intervene
Registered nurses at Alameda Hospital in Alameda, Calif. and San Leandro Hospital in San Leandro, Calif. are scheduled to begin a five-day strike tomorrow Oct. 7, 2020 at 7:00 am, announced California Nurses Association (CNA) today. Both hospitals are managed by Alameda Health System (AHS). The nurses authorized the strike, citing concerns over patient safety during the Covid-19 pandemic, management's bargaining in bad faith with nurses at the table for nearly two years, punitive management actions, which hinder recruitment and retention of experienced nurses, and persistent short staffing which jeopardizes safe patient care.
"Our patients are some of the most marginalized people in our communities and we have an obligation to stand up for them and to demand that the county provide us the tools we need to keep ourselves safe, our patients safe, and our communities safe," said Mawata Kamara, a registered nurse at San Leandro Hospital and a member of the CNA board of directors. "We do not take lightly the decision to strike during a pandemic, but we feel we have no choice if we are going to get the changes we need to provide the very best care for our patients during this critical time."
Please find videotaped comments from Alameda Health System nurses at this link.
Who: Registered nurses at San Leandro Hospital and Alameda Hospital
What: Five-day strike for patient safety and a fair contract
When: Wednesday, Oct. 7, 7:00 a.m. to Monday, Oct. 12, 6:59 a.m.
Where: San Leandro Hospital, 13855 E 14th St, San Leandro, Calif.
             Alameda Hospital, 2070 Clinton Ave, Alameda, Calif.
Events:
Wednesday, Oct. 7. Hospital Pickets: 7 a.m. to 5 p.m.
                                  Rallies: 11:30 a.m.
                                  Community Car Caravans: 3:00 p.m.
Thursday, Oct. 8.     Hospital Pickets: 7 a.m. to 5 p.m.
Friday, Oct. 9.          Joint Picket: Alameda Health Systems Headquarters
                                  7677 Oakport St., Oakland 2 p.m. to 6 p.m.
Saturday, Oct. 10     Hospital Pickets: 2 p.m. to 8 p.m.
                                  Vigils for Fallen Nurses: 6:30 p.m.
Sunday, Oct. 11       Hospital Pickets: 11:00 a.m. to 3:00 p.m.
                                  Rallies: 12 noon
                                  Community Car Caravans: 1:00 p.m.
Elected officials, community activists, and patients will participate in the Wednesday rallies.
Liz Ortega, the Alameda Central Labor Council Secretary Treasurer will speak at the Wednesday rally at Alameda Hospital. "The Alameda Labor Council unequivocally rejects Alameda Health System's (AHS) aggressive anti-union tactics," said Ortega. "Just in the last week alone, workers have been threatened with retaliatory actions and the imposition of healthcare takeaways. It has become apparent that the AHS Board of Trustees and CEO Delvecchio Finley have absolutely no desire to commit to bargaining in good faith or address the serious concerns about job security, safety, and patient care that union members have raised. If we want AHS to be operated under real democratic accountability, we need for the Alameda County Board of Supervisors to fire and replace the AHS Board of Trustees at once."
Vinnie Bacon, the Fremont City Councilmember and the Alameda County Board of Supervisor Candidate for District 1, will speak at the Wednesday rally at San Leandro Hospital. "The nurses at Alameda Health System (AHS) who dedicate themselves day in and day out to protecting the well-being and health of our communities deserve to work under safe conditions and under a fair contract that appropriately acknowledges the value of their service," said Bacon. "It's appalling to me that the AHS leadership has continued to drag their feet on this for nearly two years. We can't have our nurses going out into the front lines in the middle of a pandemic feeling demoralized and disrespected. This is a critical moment that demands immediate action."
During one of the most dangerous pandemics in history, AHS management has repeatedly put nurses and patients at risk by making unilateral changes such as deciding to cut emergency room staff in the midst of the Covid-19 pandemic, or having nurse managers perform the work of bedside nurses because of severe short staffing. In addition, the union has filed multiple charges against AHS for bargaining in bad faith for a number of violations, including failing to provide relevant information necessary for contract negotiations and insistence on proposals that nurses could not agree to because it would result in the erosion of the standard of patient care.
Since contract negotiations began nearly two years ago, nurses have repeatedly met with and informed the Alameda County Board of Supervisors (BOS) of the problems at the two hospitals. In these conversations, the nurses outlined their concerns about the multiple Cal/OSHA complaints filed by nurses against AHS due to insufficient PPE, lack of proper isolation rooms for Covid patients, and other safety failures during this Covid-19 crisis.
Even after nurses staged a one-day strike at both Alameda and San Leandro hospitals last fall, the BOS refused to take meaningful action to support nurses in securing a contract and have been absent as AHS management cuts staff and violates California law, putting patients and nurses who provide care at risk.
"Our hospitals are public resources, and the Alameda Board of Supervisors must hold AHS management accountable for its failures to protect nurses and the public," said Lisa Lafave, a registered nurse at San Leandro Hospital. "We are calling on the public and the supervisors to join us in demanding change in how AHS operates these vital community resources. AHS must respect the health and well-being of its nurses and recognize our expertise when making decisions on Covid-19 protocols or considering cuts to staffing."
In addition, the nurses say AHS has fostered a punitive and retaliatory management culture where nurses who advocate for better patient safety face disciplinary actions. CNA has filed charges with the Public Employment Relations Board, the state agency governing public employee and employer relationships, over these punitive actions.
"We are putting our lives on the line coming to work because we care about our patients and our community," said Karen Rothblatt, a registered nurse at Alameda Hospital. "As advocates for our patients, we are obligated to speak out about patient safety issues.  We should never face retaliation or unfair discipline for fighting for the best possible care for our patients."
AHS is made up of three hospitals: San Leandro Hospital, Alameda Hospital, and Highland Hospital in Oakland. CNA represents the nurses at both San Leandro and Alameda hospitals. The Highland Hospital nurses are represented by SEIU Local 1021. They, too, are set to go on strike on Oct. 7.
CNA represents 175 registered nurses at Alameda Hospital and 150 registered nurses at San Leandro Hospital. CNA also represents 800 registered nurses working in San Joaquin County who are scheduled to go on strike at the same time over similar concerns.