Press Release
Nurses at Alameda and San Leandro Hospital to Hold One-day Strike on Sept. 20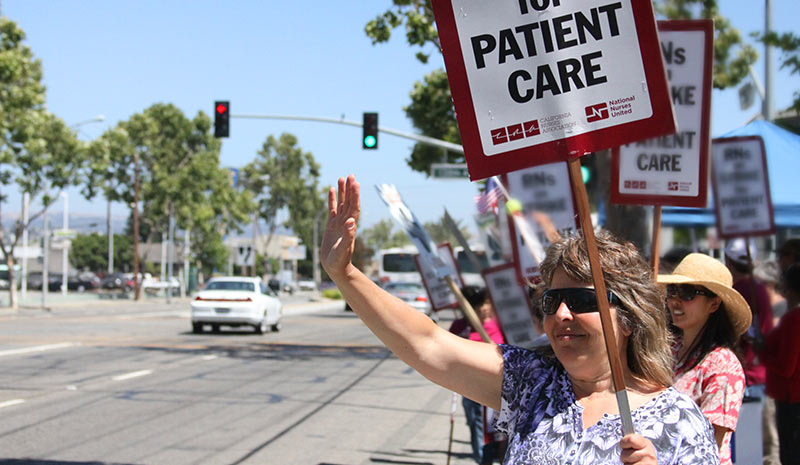 Registered nurses at Alameda Hospital (AH) and San Leandro Hospital (SLH) will hold an Unfair Labor Practice (ULP) strike starting at 7 a.m. on Sept. 20 and ending at 6:59 a.m. on Sept. 21, announced California Nurses Association (CNA).
CNA has filed multiple charges with the California Public Employee Relations Board against both hospitals for violating state law by failing to bargain in good faith. After many months of negotiations, AH and SLH management continues to violate the law. They are proposing wholesale elimination of longtime contract provisions, some of which have been in place for more than 40 years, instituting unilateral changes without bargaining with the union, and changing the hiring practices of new hires, among other changes.
What: Nurses to Hold Unfair Labor Practice Strike
When: FRIDAY, Sept. 20, 7 am to SATURDAY, Sept. 21, 7 a.m., RALLY at 12 p.m. at both locations
Where: Alameda Hospital, 2070 Clinton Ave., Alameda, CA 94501
             San Leandro Hospital, 13855 E. 14th St., San Leandro, CA 94578
Nurses and community leaders will speak at the rally at 12 p.m. at AH and SLH.
To interview a nurse, contact Laura Watson, 510-508-8555 for Alameda Hospital; Lili Marquez-Wing, 510-220-5683 for San Leandro Hospital; or Chuleenan Svetvilas, 510-631-5337.
Nurses have repeatedly expressed their concerns at the bargaining table and directly to the Alameda Health System (AHS) Board of Trustees about the approach AHS is taking, but management refuses to bargain in good faith. The nurses' contract expired in December 2018.
"As nurses who work for a public hospital, we know too well the severe circumstances under which our patients come to the hospital to receive care," said Linda Strack, RN at Alameda Hospital. "The attacks being employed by Alameda Health System on nurses, patients, and the community will forever have damaging impacts. AHS is being unfair to nurses and patients and that is why I believe it is important for us to take a stand as nurses and support the strike."
"We have witnessed the AHS hospital administrator prioritize their bottom line over providing quality patient care," said Laurie Mandel, RN, San Leandro Hospital. "AHS administrators have already made so many changes without listening to our concerns, which has resulted in the loss of good nurses. They continue to disrespect our contract and are being unfair, at and away from the bargaining table, which is why I believe it is important for us nurses to be united and stand up for justice for our patients and our families."
California Nurses Association represents nearly 400 nurses at AH/SLH.