Press Release
Nurses spotlight hypocrisy of Ascension at gala event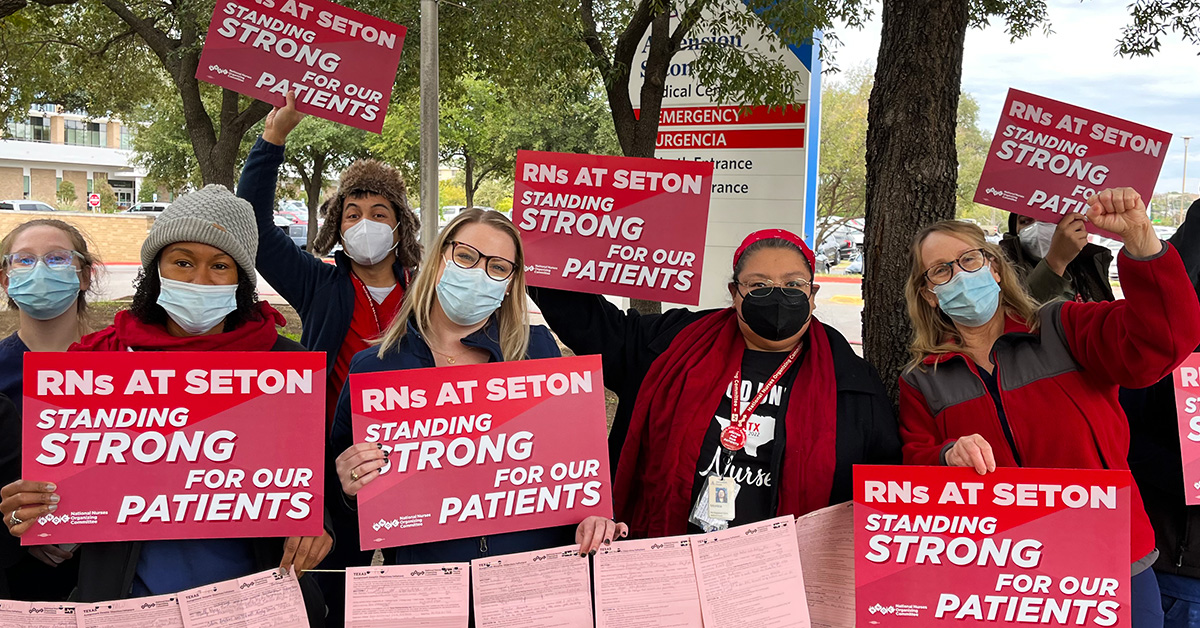 Elizabeth Ann Seton Board Gala to raise funds for women's and reproductive services that Ascension has gutted at other facilities around the country
Registered nurses employed by Ascension Seton Medical Center in Austin, Texas (ASMCA), will greet and educate attendees of the Elizabeth Ann Seton Board Gala, an event to raise funds in support of women's and reproductive health services, including postpartum care, neonatal intensive care, and other programs at the hospital. The nurses will be handing out informational flyers to call attention to the hypocrisy of Ascension, one of the largest nonprofit Catholic health care systems in the country: fundraising in the name of women's and reproductive health services when Ascension has closed five such units nationwide over the last year. In addition, Ascension fails to safely staff these units at ASMCA.
The ASCMA nurses, union members of National Nurses Organizing Committee (NNOC), an affiliate of National Nurses United, voted to join NNOC last September and are bargaining for a first contract. The RNs held an informational picket on April 5 to demand safe staffing and quality patient care.
Who: Registered nurses employed by Ascension Seton Medical Center
What: Action to spotlight hypocrisy of Ascension
Where: Elizabeth Ann Seton Gala at Camp Mabry, 2200 W. 35th St. Austin, Texas
When: Saturday, April 22, 6 p.m.
ASMCA is now the largest private-sector hospital in Texas to form a union, with more than 900 nurses represented by NNOC/NNU.
NNOC/NNU represents some 3,300 nurses in Texas and 2,000 nurses in three Ascension hospitals in Texas and Kansas. In their contracts, NNOC/NNU nurses in Texas have secured agreements from their hospitals that mandate stricter enforcement of staffing grids and improved infection control measures, including a provision requiring single-use optimal protection with a suspected or confirmed Covid-19 patient. Other notable Texas wins have included wage increases of up to 19 percent over a three-year period and the creation of committees to promote diversity, equity, and inclusion in hospital recruitment, retention, and promotion.
---
National Nurses United is the largest and fastest-growing union and professional association of registered nurses in the United States with nearly 225,000 members nationwide.