News
US Nurses Plan Widespread Strike Over Lack of Ebola Prep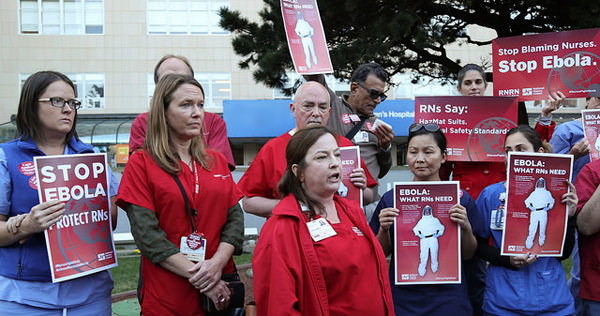 Nurses in at least 14 states and the District of Columbia plan strikes and a national day of action to protest for better patient care and Ebola preparedness on November 11 and 12, according to a statement from National Nurses United (NNU), a nursing union with 155,000 members.
At least 18,000 nurses from at least 66 Kaiser Permanente hospitals and clinics in California will strike on both days to protest what they see as a lack of resources to properly care for their patients, as well as to demand better training and protective equipment when caring for patients with Ebola virus infection. They will picket at their hospitals on November 11 and participate in the national day of action on November 12, Katy Roemer, RN, from Kaiser Oakland and a member of the California Nurses Association (CNA) bargaining team, told Medscape Medical News.
Both Kaiser Permanente and the American Hospital Association disagree with the nursing union's position.
Patient Care Paramount
"This is really about safe patient care for us, and Ebola is part of that," Roemer said. "We believe that we deserve to have the right equipment to be able to deal with Ebola, and we have made proposals about that, and Kaiser has not responded adequately to those proposals; they have not agreed to give us the optimal equipment that we're requesting.
"We are not going to put up with that; we are going to fight to make sure our patients get what they need," she said. "If we're going to put our lives on the line, we believe that we need the equipment that will allow us to do that as safely as possible, for ourselves and our communities."
Roemer added that they have given Kaiser Permanente more than 10 days' notice so that they can make adequate patient care arrangements in the striking nurses' absence.
Nurses Distressed About Lack of Ebola Preparedness
Another 400 registered nurses will strike at Providence Hospital in Washington, DC, on November 12, and Roemer said she believes nurses from at least one other hospital will be going on strike as well. Nurses at many other hospitals will participate in an informational national day of action for Ebola preparedness on November 12 that will include picketing outside their facilities. These activities are tentatively planned at hospitals in Augusta, Georgia; Bar Harbor, Maine; Chicago; Durham, North Carolina; Houston; Kansas City; Las Vegas; Lansing, Michigan; Massilon, Ohio; Miami; St. Louis; St. Paul, Minnesota; and St. Petersburg, Florida.
"With the refusal of hospitals across the country to take seriously the need to establish the highest safety precautions for when an Ebola patient walks in the door, and the failure of our elected leaders in Washington to compel them to do so, America's nurses say they have to make their voices heard a little louder," RoseAnn DeMoro, NNU executive director, said in the NNU statement.
Nurses Demand Adherence to Precautionary Principle
NNU is demanding that all hospitals in the United States comply with the precautionary principle in Ebola safety measures, which says that the highest level of safeguards must be followed when there is no "scientific consensus that a particular risk is not harmful, especially one that can have catastrophic consequences," the NNU statement reads.