Body
Program Overview
The First Academic Program Built from the Values of Direct Care RNs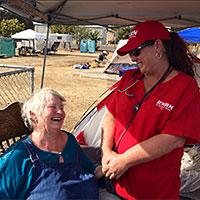 National Nurses United offers a university program in Women's Global Health Leadership in collaboration with the Department of Women's and Gender Studies and the Institute for Women's Leadership at Rutgers, the State University of New Jersey. Classes prepare students to understand and heal the root causes of economic inequality, environmental injustice, uneven distribution of necessary food and medicines and global health care disparity. The certificate program was designed by the NNU Education Department and courses are taught by NNU educators. Because Rutgers University is accredited, course credit will fulfill general education requirements at most universities and colleges throughout the country. All classes are semester length and taught entirely online allowing nurses to easily fit classes into their busy schedules.
This academic program is the first ever built from the values of Direct Care RNs: compassion for the world's sick and suffering, a single-standard of care for all people, just distribution of life's basic necessities, equal opportunities to fulfill our human potential, and commitment to building solidarity with all who share these core values. Students will come to understand patient advocacy as advocacy for humanity. Through this program of courses, NNU continues to work for a world more aligned with RN values.
The Institute for Women's Leadership at Rutgers University
The Institute for Women's Leadership (IWL) at Rutgers University is an internationally renowned consortium of academic-activist centers. The IWL is distinguished for providing leadership training to some of the world's most formidable women leaders and is considered one of the best research institutes on women in the country. Programs at the IWL include the Center for American Women and Politics, the Institute for Research on Women, the Center for Women's Global Leadership, and the Center for Women and Work. The Rutgers' Department of Women's and Gender Studies is also part of this consortium.
Tuition and Scholarships
NNU RN members may apply for full tuition scholarships for any classes offered in the certificate program.
RNs are encouraged to pursue the full five class certificate program at a pace that works with their schedules. However, you can also apply for single class scholarships without the intent of completing the entire program. The online scholarship application is available here.
University Certificate Requirements
Earning a Women's Global Health Leadership Certificate requires completion of two core courses, Women's Global Health Movements and Gender, Economic Inequality & Health, and three elective courses offered online through Rutgers University.
Testimonial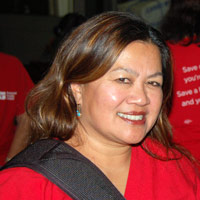 RN, Jane Sandoval's resolve to fight inequality extends well beyond the Bay Area. In 2013, she traveled to the Philippines with the Registered Nurse Response Network (RNRN). While treating patients in the devastating aftermath of Typhoon Haiyan/Yolanda, Jane's eyes were opened to the vast scale of global health inequities. Read more >>
More Information
For additional information, please email CertificatePrograms@NationalNursesUnited.Org or download our Printable Brochure.
Related Links
Rutgers University
Rutgers University, Department of Women's and Gender Studies