Press Release
Nurses to hold national day of action Jan. 13 to demand employers, Biden administration protect RNs, health care workers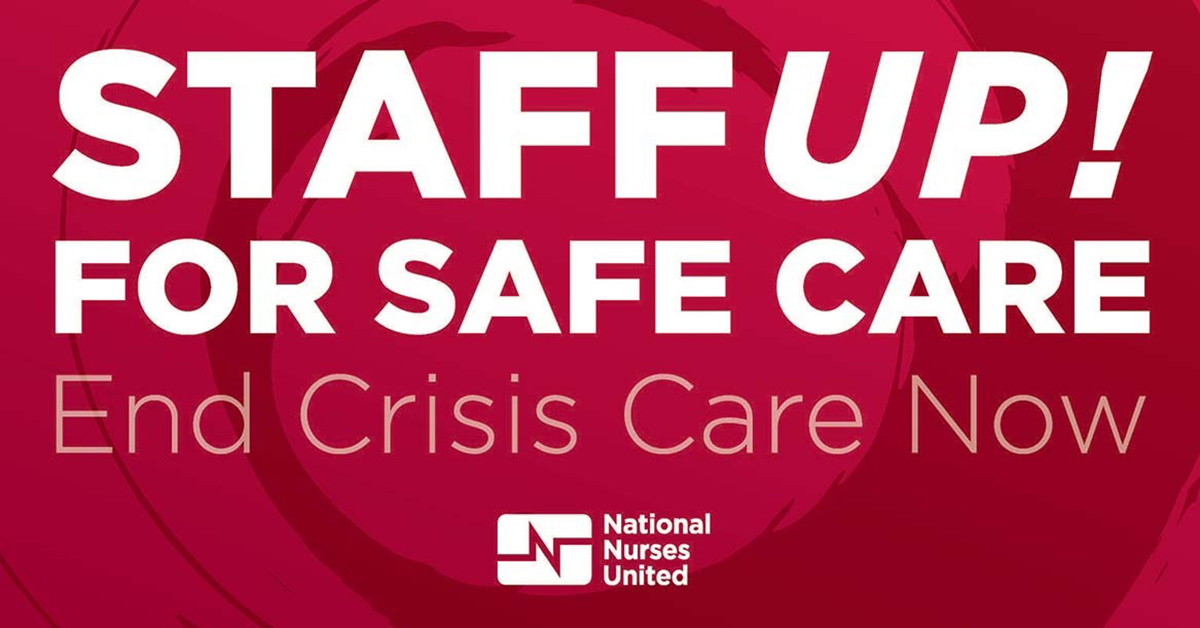 Planned actions include 6 p.m. ET candlelight vigil in Washington, D.C. and 1 p.m. ET virtual press conference, featuring stories from frontline registered nurses across the country
Registered nurse members of National Nurses United (NNU), the nation's largest union of RNs, will hold actions across the country on Thursday, Jan. 13—including a candlelight vigil in Washington, D.C. for nurses who lost their lives to Covid-19, and a national virtual press conference—to demand the hospital industry invest in safe staffing, and to demand that President Biden follow through on his campaign promise to protect nurses and prioritize public health.
NNU nurses emphasize that in recent weeks, the Biden administration has ripped away critical protections from health care workers and the public, with the Centers for Disease Control (CDC) weakening Covid isolation guidelines and the Occupational Safety and Health Administration (OSHA) announcing that it intends to withdraw critical Covid protections for health care workers—right when the Omicron variant is exploding across the country and hospitalizations are skyrocketing. Nurses emphasize that being left unprotected by the government and by their profit-driven hospital employers which have failed to invest in safe staffing and provide critical health and safety protections, has created such unsafe working conditions that nurses are being driven away from the profession.
"As we enter year three of the deadliest pandemic in our lifetimes, nurses are enraged to see that, for our government and our employers, it's all about what's good for business, not what's good for public health," said NNU President Zenei Triunfo-Cortez, RN. "Our employers claim there is a 'nursing shortage,' and that's why they must flout optimal isolation times, but we know there are plenty of registered nurses in this country. There is only a shortage of nurses willing to work in the unsafe conditions created by hospital employers and this government's refusal to impose lifesaving standards. So this is a vicious cycle where weakening protections just drives more nurses away from their jobs."
What:   

Virtual press conference, featuring national nurse stories
When:   Thursday, Jan. 13, 1 p.m. ET/ 10 a.m. PT
Who:     Registered nurses from across the United States
What:    NNU nurses hold Washington, D.C. candlelight vigil for fallen nurses
When:   Thursday, Jan. 13, 6 p.m. ET
Where:  Lafayette Square, Pennsylvania Ave. NW and 16th St. NW, Washington, D.C., 20001
Click here to see a list of NNU local Jan. 13 actions across the United States.
NNU conducted a survey of thousands of registered nurses across the country from October to December, 2021. Of the nurses who responded, 83 percent said at least half of their shifts were unsafely staffed, and 68 percent said they have considered leaving their position. RNs say nurses would stop leaving the profession if hospitals immediately improved working conditions by increasing staffing levels and followed nurses' advice to grow the pool of available nurses. According to nurses, hospitals must actively hire permanent staff nurses and consider a wider range of educational qualifications; stop canceling nurses; properly crosstrain current staff nurses so that they are competent to work in other departments, especially critical care, and institute optimal occupational health and safety protocols to protect nurses, other health care workers, and patients.
Nurses also call on the CDC to strengthen isolation guidelines for health care workers and the public, and on OSHA to institute a permanent Covid health care standard without delay. On Jan. 5, NNU joined leading labor organizations and unions representing the country's nurses and health care workers to petition the United States Court of Appeals for the District of Columbia Circuit to order OSHA to issue a permanent standard and to retain the emergency temporary standard until the permanent standard goes into effect. Without the protections of a permanent standard, RNs emphasize that the health and well-being of nurses, other health care workers, patients, and the general public is in grave danger.
"Everyone will need medical care at some point in their lives, and when our loved ones are in the hospital, we want nurses to be able to deliver the focused care that all patients deserve," said Bonnie Castillo, RN, NNU executive director. "But the working conditions that our employers and the federal government are telling nurses and health care workers to endure are both grossly unfair and unsustainable, and we are standing up on Jan. 13 to say, 'Enough!' We need permanent protections based on science, and we need them now because when nurses and health care workers aren't safe, we cannot keep our patients safe."
National Nurses United is the largest and fastest-growing union of registered nurses in the United States with more than 175,000 members nationwide.