Press Release
Nurses applaud 21 senators for urging Biden to immediately issue permanent OSHA protections for health care workers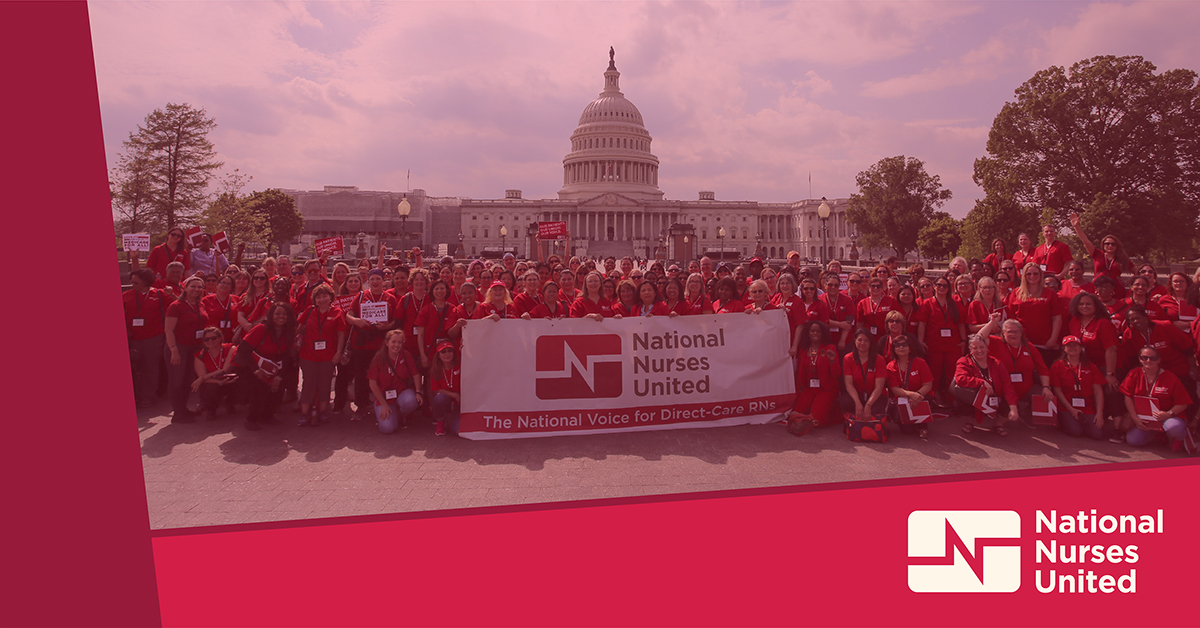 National Nurses United (NNU), the nation's largest union and professional association of registered nurses, today commended the 21 U.S. senators, led by Senator Kirsten Gillibrand (D-NY), who sent a letter to President Biden and Secretary Walsh urging the administration to quickly issue a final permanent Covid-19 OSHA standard for health care workers. This letter follows a similar letter sent to the President by Congresswoman Debbie Dingell (D-MI-12) and signed by 115 members of the House of Representatives.
The letter was signed by Senators Warren (D-MA), Baldwin (D-WI), Sanders (I-VT), Brown (D-OH), Wyden (D-OR), Duckworth (D-IL), Blumenthal (D-CT), Smith (D-MN), Whitehouse (D-RI), Markey (D-MA), Schumer (D-NY), Padilla (D-CA), Menendez (D-NJ), Hirono (D-HI), Booker (D-NJ), Peters (D-MI), Kaine (D-VA), Van Hollen (D-MD), Stabenow (D-MI), and Murphy (D-CT).
On Dec. 27, OSHA announced its plan to rescind a hard-won emergency temporary standard (ETS)—adopted in June to mandate health care worker protections—with no permanent standard in place. The letter sent by the senators today states, "...[T]he lapse of the temporary standard signals that OSHA no longer retains the necessary robust enforcement authority to provide adequate protections for health care workers, nor will there be a standard to provide adequate transparency or predictability for employees and their employers in evaluating health care workplace practices." The letter acknowledges what nurses already know — that leaving nurses and health care workers without an enforceable standard in the midst of another catastrophic Covid surge across the country is dangerous for both workers and their patients.
In recent weeks, Covid-19 infections have been surging across the country, and nurses are witnessing a steep increase in hospitalizations. The existence of an enforceable federal standard to protect health care workers is fundamental to ensuring that nurses and health care workers are given the protections they need to do their jobs safely during this surge. The letter follows the legal petition filed in the U.S. Court of Appeals for the District of Columbia by NNU, the AFL-CIO, and other health care worker unions, to require OSHA to issue a permanent standard to protect health care workers and retain the emergency temporary standard until the permanent standard goes into effect.
"It is critical that the federal government ensures that nurses and other health care workers are getting the protections we need to do our jobs safely, without putting ourselves or our families at risk of Covid exposure," said NNU Executive Director Bonnie Castillo, RN. "We can't safely care for our patients if we are sick ourselves. We thank Senator Gillibrand, Leader Schumer, and every senator who signed this letter, for standing in solidarity with nurses across the country, and for fighting for the protections that we need to do our jobs safely during this pandemic. The Biden Administration must quickly issue a final permanent Covid-19 health care standard—and retain the emergency temporary standard until the permanent standard goes into effect—before one more nurse is sidelined, lost to the profession, or lost to this world for good."
"OSHA's emergency standard was absolutely necessary to protect our nation's health care workers. Implementing a permanent standard will both ensure health care workers have the protections needed to continue their lifesaving work and mitigate the spread of Covid-19," said Senator Gillibrand. "I urge the Biden administration to take immediate action to issue a rule that will protect health care workers serving on the front lines of this pandemic. As we continue to see record burnout among our health care workforce two years into the pandemic, it is necessary to keep these protections in place to provide the accountability and transparency needed to keep our patients, workers, and communities healthy."  
To draw attention to the failure of the federal government and health care employers to protect patients, nurses, and other health care and frontline workers, National Nurses United is holding a national day of action and virtual press conference on Jan. 13. RNs emphasize that optimal protections save lives. As of Jan. 11, 481 RNs have died of Covid-19, among 4,760 health care worker deaths overall, according to NNU tracking data. To date, more than 1.1 million U.S. health care workers have been infected. In Washington, D.C., the day of action will include a candlelight vigil outside of the White House to honor those nurses who have died during this pandemic.  
National Nurses United is the largest union and professional organization of registered nurses in the United States, with more than 175,000 members nationwide.