Press Release
Nurses applaud 115 Members of Congress for urging Biden to immediately issue permanent OSHA protections for health care workers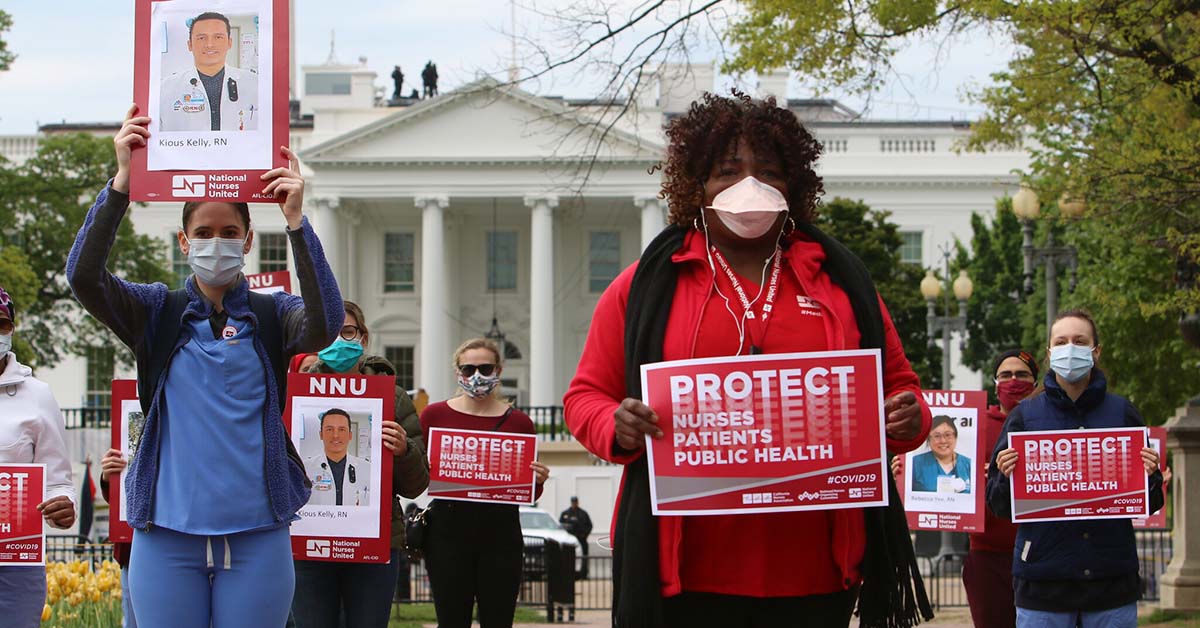 National Nurses United (NNU), the nation's largest union and professional association of registered nurses, today applauded the 115 Members of Congress, led by Congresswoman Debbie Dingell (D-MI-12), who sent a letter to President Biden urging the administration to quickly issue a final permanent Covid-19 OSHA standard for health care workers and to retain the emergency temporary standard until the permanent standard takes effect. The letter comes at a critical moment, following OSHA's announcement that it will be rescinding the emergency temporary standard that has been in effect since June 2021, leaving nurses and health care workers without an enforceable standard in the midst of a catastrophic Covid surge across the country. The letter follows the legal petition filed in the U.S. Court of Appeals for the District of Columbia by NNU, the AFL-CIO, and other health care worker unions, to require OSHA to issue a permanent standard to protect health care workers and retain the emergency temporary standard until the permanent standard goes into effect.
On Dec. 27, OSHA announced its plan to rescind a hard-won emergency temporary standard (ETS)—adopted in June to mandate health care worker protections—with no permanent standard in place. The letter sent by the members of  Congress today states, "The removal of this OSHA standard as hospital resources and workers are strained from grappling with record-breaking numbers of cases of COVID-19 and increasing hospitalizations underscores the dire need for a permanent standard – and retention of the emergency temporary standard until the permanent standard takes effect – for the duration of the pandemic to protect our health care professionals."
In recent weeks, Covid-19 infections have been surging across the country, and nurses are witnessing a steep increase in hospitalizations. The existence of an enforceable federal standard to protect health care workers is fundamental to ensuring that nurses and health care workers are given the protections they need to do their jobs safely during this surge.
"Registered nurses and other health care workers are currently caring for patients during the worst Covid surge we have seen since the pandemic began," said NNU President Zenei Triunfo-Cortez RN. "We are in desperate need of continued federal standards to ensure that we get the protections we need to do our jobs safely in this pandemic. NNU is grateful to Congresswoman Dingell and to the 115 Members of Congress who signed this letter, for fighting for the protections health care workers need. It is critical that the Biden Administration quickly issue a final permanent Covid-19 health care standard, so that we can deliver quality patient care without putting ourselves and our families at risk."
"In Michigan and across the country, our nurses and health care workers continue to be stretched too thin with little protection or support in the midst of a raging pandemic," said Rep. Debbie Dingell (MI-12). "Today, I was proud to lead 115 of my colleagues in sending a letter to the Occupational Safety and Health Administration (OSHA) urging them to issue a permanent health care standard for the workers who risk their lives to keep us healthy. With the rise of the Omicron variant, Michigan has reached a record high of over 5,000 Covid-19 hospitalizations – our nurses and health care workers are keeping us going right now and they need proper support. I'm thankful for National Nurses United's advocacy and partnership on this and I'm hopeful we can work with OSHA to permanently protect workers during the pandemic."
To draw attention to the failure of the federal government and health care employers to protect patients, nurses, and other health care and frontline workers, National Nurses United is holding a national day of action and virtual press conference on Jan. 13. RNs emphasize that optimal protections save lives.  As of Jan. 11, 481 RNs have died of Covid-19, among 4,760 health care worker deaths overall, according to NNU tracking data. To date, more than 1.1 million U.S. health care workers have been infected. In Washington, D.C., that action will include a candlelight vigil outside of the White House to honor those nurses who have died during this pandemic.
The letter was also signed by Representatives Adams, Axne, Barragán, Bass, Blumenauer, Blunt Rochester, Bonamici, Bowman, Boyle, Brown (A.), Brownley, Bush, Carson, Case, Castro, Chu, Cicilline, Clark, Clarke, Cohen, Connolly, Correa, Courtney, Craig, Crist, Crow, Davids, Dean, DeFazio, DeLauro, DeSaulnier, Deutch, Doggett, Escobar, Espaillat, Frankel, Gallego, Garamendi, García, Gomez, Grijalva, Hayes, Horsford, Huffman, Jacobs, Jayapal, Johnson (E.), Jones, Kaptur, Keating, Khanna, Kildee, Krishnamoorthi, Larson, Lawrence, Lawson, Lee (B.), Levin (A.), Lieu, Lofgren, Lowenthal, Lynch, Maloney (C.), Matsui, McBath, McCollum, McEachin, McNerney, Meng, Moore, Moulton, Napolitano, Neguse, Newman, Norcross, Norton, Ocasio-Cortez, Omar, Pascrell, Payne, Pingree, Pocan, Porter, Pressley, Price, Quigley, Raskin, Roybal-Allard, Sánchez, Sarbanes, Scanlon, Schakowsky, Schiff, Sires, Slotkin, Smith, Speier, Stevens, Suozzi, Takano, Thompson (B.), Titus, Tlaib, Torres (N.), Torres (R.), Trahan, Trone, Vargas, Velázquez, Waters, Watson Coleman, Welch, Williams (N.), Wilson.
National Nurses United is the largest union and professional organization of registered nurses in the United States, with more than 175,000 members nationwide.