Press Release
National Nurses United testifies at OSHA's hearing on occupational exposure to Covid-19 in healthcare settings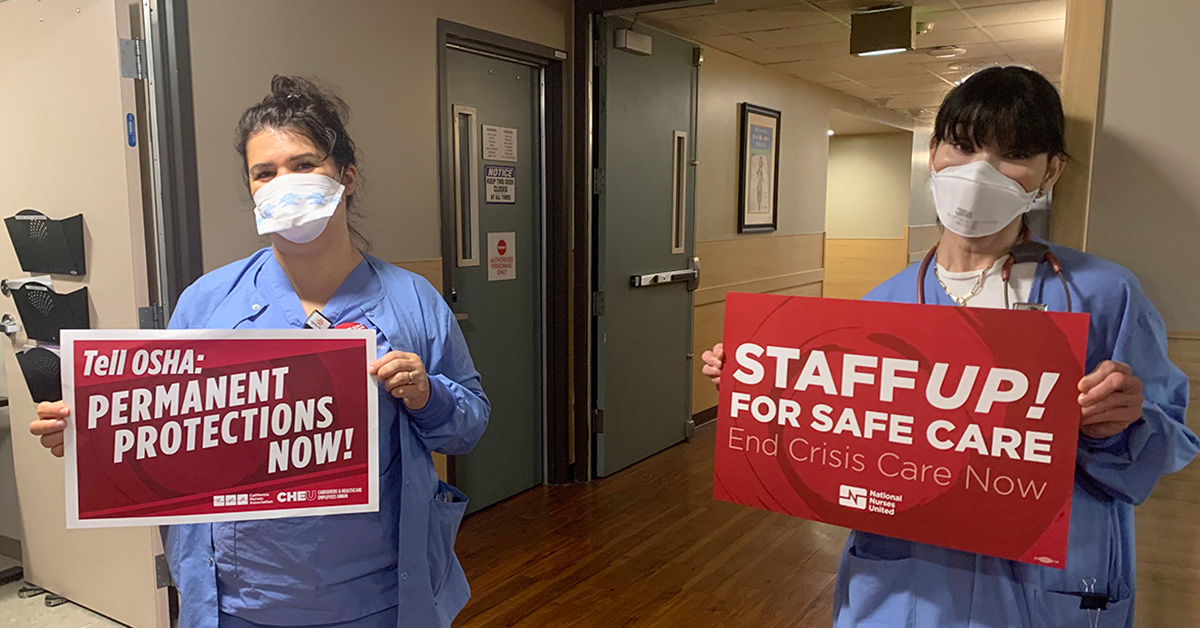 NNU urged OSHA to issue permanent standard to protect health care workers from Covid, make improvements to the temporary standard
National Nurses United (NNU), the nation's largest union of registered nurses, testified yesterday at the Occupational Safety and Health Administration's (OSHA) informal rulemaking hearing for occupational exposure to Covid-19 in health care settings. NNU Presidents Jean Ross, RN, and Deborah Burger, RN, and NNU industrial hygienist Rocelyn de Leon-Minch spoke at the hearing.
At the hearing, NNU urged OSHA to issue a permanent standard that requires employers to protect health care workers from Covid-19 and improves upon the existing emergency temporary standard (ETS). NNU also urged OSHA to not align its final rule with the Centers for Disease Control and Prevention's (CDC) guidance because the CDC's guidance is often antithetical to OSHA's mission to ensure safe and healthful working conditions. The union pointed to the CDC's decision last December to weaken isolation guidance for employers as an example.
NNU has been advocating for workplace protections since the beginning of the pandemic. On March 4, 2020, NNU filed a petition with OSHA, seeking an ETS to protect nurses and other health care workers from occupational exposure to Covid-19. Less than three weeks later, NNU sent Congress a petition with a quarter of a million signatures demanding that lawmakers ensure that nurses and health care workers are immediately given the protections they need to avoid exposure to Covid.
NNU worked extensively with the Biden transition team and the Biden Administration to urge prompt action on an OSHA standard. President Biden responded by issuing an executive order on Jan. 21, 2021 (the day after he was sworn into office), saying, "It is the policy of my Administration to protect the health and safety of workers from Covid-19." OSHA issued the ETS on June 21, 2021. In November, NNU urged OSHA to adopt a permanent standard. On Dec. 16, NNU, along with more than 40 unions and other organizations as well as more than 6,300 individuals, signed and delivered a petition to OSHA urging the agency to adopt a permanent standard. However, thus far, OSHA has failed to adopt a permanent standard on Covid-19 in health care workplaces and stopped enforcing the ETS in late December 2021, despite the Omicron surge occurring at that time.
On Jan. 5, 2022, NNU and other leading labor organizations filed an emergency petition with the U.S. Court of Appeals for the District of Columbia Circuit to urge the court to order OSHA to issue a permanent standard and retain the existing ETS, as required by law, until the permanent standard goes into effect. NNU argued before the court on April 4, and a decision by the court is still pending. The petitioners were NNU; AFL-CIO; American Federation of Teachers (AFT); American Federation of State, County, and Municipal Employees (AFSCME); New York State Nurses Association (NYSNA); and Pennsylvania Association of Nurses and Allied Professionals (PASNAP).
At today's hearing, NNU President Jean Ross, RN, discussed the impact of Covid on nurses, the importance of using multiple measures of infection control (optimal PPE, surveillance testing, contract tracing, exposure notification, quarantining, optimal air ventilation, and isolation rooms), the alarming and increasing mental health impact of Covid exposure on nurses, and shared personal stories of nurses.
"On the front lines of the pandemic, nurses and other health care workers have experienced high rates of exposure, infection, death, and deep moral harm because our employers continue to fail to prepare and protect us and our patients from Covid," said Ross. "Health care workers are still at significant risk of Covid exposure. Since the beginning of 2022, each week, an average of 20,982 health care workers have been infected, and an average of 22 of them have died. This is certainly an undercount, since reliable exposure notification and access to testing continues to be an issue for many health care workers."
"We must continue to prioritize preventing Covid infections and exposure at work, since we know that even mild or asymptomatic cases can have long-term, debilitating health effects," said Ross." And when we are not allowed by our employers to properly quarantine or isolate, we worry about infecting our patients."
Rocelyn de Leon-Minch, NNU industrial hygienist, testified about the science of Covid-19 and the importance of providing optimal workplace protections through a strong permanent OSHA standard for nurses and other health care workers and why it is critical to safe patient care. "Overwhelming scientific evidence shows that SARS-CoV-2, the virus that causes Covid-19 disease, is transmitted through infectious aerosols that are emitted when infected individuals breathe, speak, cough, or sneeze, regardless of symptoms or vaccination status," said de Leon-Minch. "In fact, asymptomatic or pre-symptomatic infections have played a significant role in the spread of SARS-CoV-2. Studies indicate that approximately half of all transmission events are from cases that have no symptoms at the time of transmission."
"Nurses and health care workers need an OSHA standard based on the best science and the precautionary principle," continued de Leon-Minch. "But for over two years, health care employers have relied on a menu of weak guidelines from the CDC that are not based on science and endanger workers, patients, and public health. These weak CDC guidelines automatically become a race to the bottom for employers, constantly finding ways to cut costs and boost profits instead of planning for patient and public health needs."
NNU President Deborah Burger, RN, articulated the union's position on the permanent standard and how OSHA can ensure health care facilities are safe for workers and patients, including the importance of not adopting triggers or exemptions based on screening, vaccination status, community levels of Covid, or where someone works in a facility. She urged OSHA to update the Covid health care ETS when issuing a permanent standard and said that the agency "should not rely on weak CDC guidance in the final standard." Burger also stated that "OSHA should require employers to proactively establish surge plans, including plans to expand isolation beds with negative pressure ventilation and HEPA filtration, plans to establish PPE stockpiles, and plans to provide safe staffing during Covid surges."
Burger listed additional areas to update, such as having OSHA "ensure that fully vaccinated and boosted workers and workers with recent Covid infections are not exempted from medical removal and related benefits" and that OSHA's final standard reflects "the best available scientific evidence on aerosol transmission of Covid."
In closing, Burger recognized a few registered nurses whose lives were tragically lost to Covid and stated, "We implore OSHA to fulfill its mission of ensuring safe and healthful working conditions and protect every health care worker so that we do not have to mourn any more of our colleagues."