Press Release
DC Circuit Court hears oral arguments urging OSHA to retain emergency standard and issue permanent standard to protect health care workers against Covid-19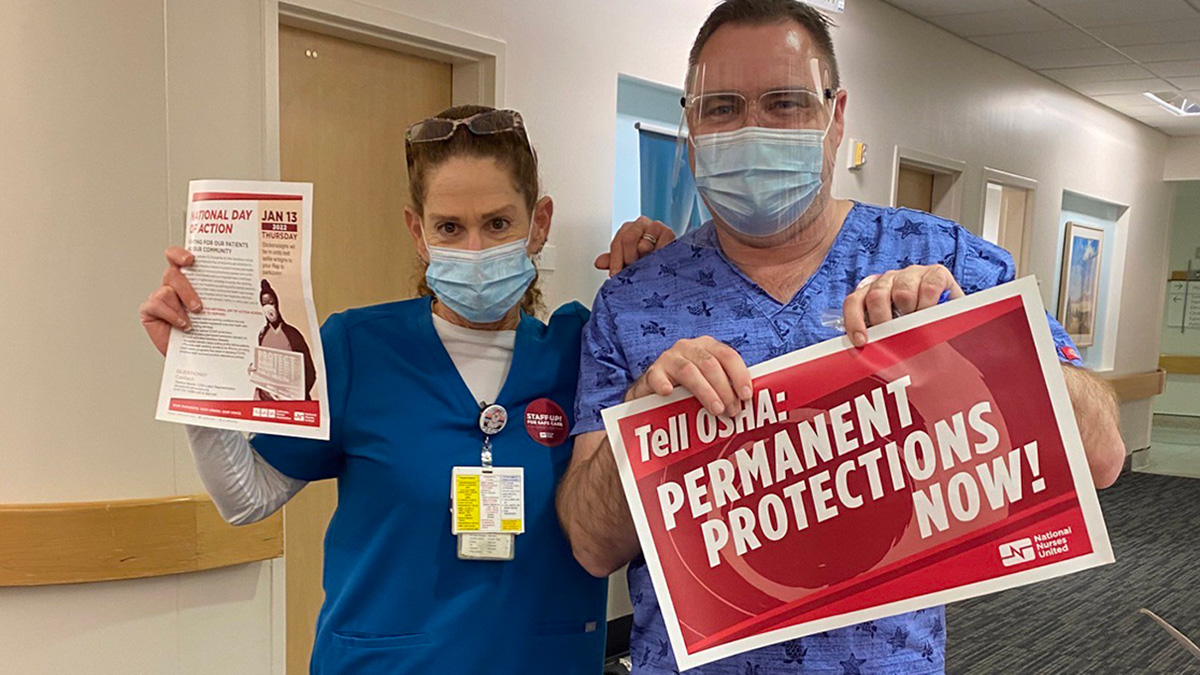 NNU argued today before the U.S. Court of Appeals for the D.C. Circuit on behalf of leading national labor organizations and unions representing nurses and health care workers
This morning the U.S. Circuit Court of Appeals for the District of Columbia Circuit heard oral arguments from National Nurses United (NNU) about the emergency petition filed on Jan. 5, 2022, by NNU and other leading labor organizations and unions to order the Department of Labor's Occupational Safety and Health Administration (OSHA) to issue a permanent standard that requires employers to protect health care workers against Covid-19, and retain the existing emergency temporary standard (ETS), as required by law, until the permanent standard goes into effect. The petitioners include National Nurses United; AFL-CIO; American Federation of Teachers (AFT); American Federation of State, County, and Municipal Employees (AFSCME); New York State Nurses Association (NYSNA) and Pennsylvania Association of Nurses and Allied Professionals (PASNAP).
The unions took this legal action after the Department of Labor failed to make permanent the ETS on Covid-19 that took effect on June 21, 2021, arguing that without the protections of a permanent standard, the health and well-being of nurses and other health care workers are in grave danger. NNU has been advocating for mandatory protections since the beginning of the pandemic to protect nurses and other health care workers, filing a petition on March 4, 2020, seeking an ETS to protect nurses from occupational exposure to Covid-19. As of March 30, 2022, nearly 500 registered nurses and more than 4,500 other health care workers have died due to Covid-19.
The Covid-19 pandemic is far from over, as cases spike in Europe and Asia and public health experts brace for a potential new surge arising from the BA.2 subvariant, waning immunity, and almost complete abandonment of public health infection control protections.
The unions petitioned the federal appellate court to issue a writ of mandamus ordering OSHA to issue a permanent standard for health care occupational exposure to Covid-19 "aimed at protecting the life and health of millions of nurses and other frontline health care workers throughout the United States in grave danger from the deadly Covid-19 pandemic," and retain and enforce the June 21 ETS until it is properly superseded by the permanent standard.
During oral argument, NNU Legal Director Nicole Daro stated, "The impact of this pandemic has been borne disproportionately by the healthcare workers tasked with caring for those infected by this disease. … Yet OSHA has left these very workers without necessary protections, despite a clear statutory mandate to protect workers in precisely this situation."
When asked what the writ of mandamus would look like, Daro answered, "What we seek is an order that OSHA give full effect of the emergency temporary standard until it is superseded by a permanent standard."
Joseph Gilliland represented the U.S. Department of Labor.
Oral arguments for this case can be found here after 2 pm ET.
National Nurses United is the largest and fastest-growing union and professional association of registered nurses in the United States with more than 175,000 members nationwide.