Press Release
Unions, public health, and occupational safety organizations call for permanent OSHA Covid-19 standards for health care and other workers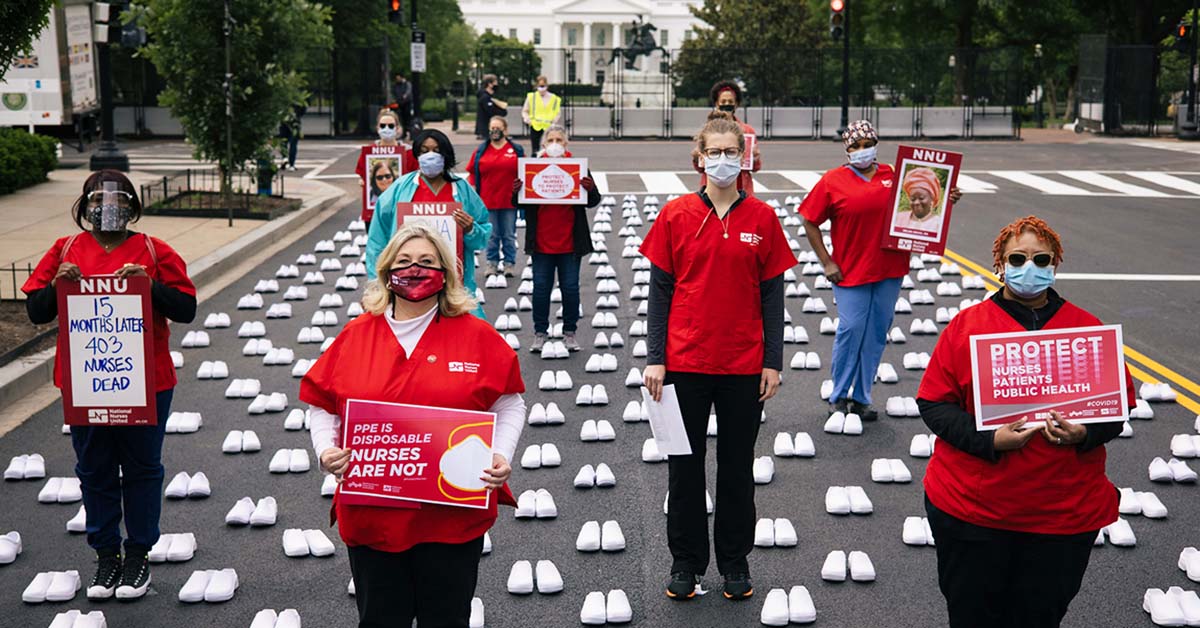 More than 40 unions and organizations representing more than 14 million people signed a petition urging immediate action
More than 40 unions and other organizations signed a petition, along with more than 6,300 individuals, to urge the U.S. Occupational Safety and Health Administration (OSHA) to adopt a permanent standard on Covid-19 in health care workplaces, building on the emergency temporary standard (ETS) OSHA adopted in June and set to expire on Tuesday, Dec. 21, 2021. The petition also encouraged OSHA to work expediently to issue a separate, broader standard to protect all workers from workplace exposure to Covid-19 and other aerosol transmissible diseases. The petition was delivered to OSHA today, announced National Nurses United (NNU).
NNU, along with six other national unions, plus the AFL-CIO and North America's Building Trades Unions, several state and local unions, and dozens of public health, occupational health and safety, and nonprofit organizations across the country signed the petition. Earlier this month, NNU called on OSHA to adopt a permanent standard before the current temporary standard expires. The Covid-19 health care ETS has imposed mandatory requirements for health care employers on infection control protections, with penalties for those who violate those requirements.
 
"The Covid-19 health care ETS helped ensure safe working conditions for frontline health care workers by mandating optimal PPE and other protections, but now we need to make these lifesaving protections permanent," said NNU Executive Director Bonnie Castillo, RN. "We must ensure that nurses and other health care workers can protect patients and protect themselves."
"Nurses in hospitals in a large swath of states are once again being overwhelmed by Covid-19 patients and it is critical that the vital protections instituted last June are not allowed to lapse," said Castillo. "This is essential to protect frontline caregivers and to ensure that our hospitals do not become disease vectors."
"OSHA must act swiftly to extend life-saving protections for health care workers and to create new Covid-19 safety rules for all workers," said Marcy Goldstein-Gelb, co-executive director of the National Council for Occupational Safety and Health (National COSH). "We're facing a highly contagious new variant and hospitals in many communities are again overwhelmed with Covid-19. We can't afford to let our guard down, because workers and families still face grave risk from a deadly infectious disease."
"NELP stands in solidarity with National Nurses United and our nation's health care workers in urging OSHA to issue a permanent standard to protect workers from Covid-19," said Rebecca Dixon, executive director, National Employment Law Project. "Health care workplaces must have permanent protections to keep our communities healthy and safe as we continue to work toward a just and inclusive recovery."
 
Supporting Organizations (in alphabetical order):
AFL-CIO
AFSCME 1526 - Boston Public Library Employees Union
American Federation of Government Employees, AFL-CIO
American Public Health Association, Occupational Health Section
Arts, Crafts & Theater Safety
Center for Science in the Public Interest
Government Accountability Project
International Association of Machinists and Aerospace Workers
International Federation of Professional and Technical Engineers (IFPTE)
International Union of Bricklayers and Allied Craftworkers
International Union, UAW
Jacobs Institute of Women's Health
Labor Occupational Health Program
Massachusetts Coalition for Occupational Safety & Health (MassCOSH)
MDC Consulting and Training
Migrant Clinicians Network
Miller Children's Diabetes Center
National Council for Occupational Safety and Health
National Immigration Law Center
National Nurses United
New England Complex Systems Institute
New York State Nurses Association
NJ Work Environment Council
North America's Building Trades Unions (NABTU)
NYS Public Employees Federation
Oakland County Parents for Safe In Person School
Occupational Health Clinical Center, Syracuse NY
Occupational Health Management Services inc.
PhilaPOSH
Public Citizen
SafeWork Washington
Sheet Metal Occupational Health Institute Trust Inc.
Shriver Center on Poverty Law
Union of Concerned Scientists
UNITE HERE International Union
Utility Workers Union of America
WisCOSH, Inc.
"OSHA's ETS requiring PPE and other infection control protections for health care workers has been one of the more effective aspects of the Covid-19 response; for the sake of the health care workers and all the patients they will serve, we can't afford to let it lapse," said Peter Lurie, MD, MPH, executive director and president of Center for Science in the Public Interest.
"Covid-19 is not expiring on Dec. 21, neither should OSHA's ETS. That's why we are demanding a permanent OSHA standard," said Debra Coyle of the NJ Work Environment Council. "Our healthcare heroes deserve workplace protections."
"Nurses are there when we need them, helping us through many of the most difficult times of our lives," said Yaneer Bar-Yam, professor and president of New England Complex Systems Institute and founder of the World Health Network. "OSHA represents all of us. Please do the right thing now and protect them when they need us."
As of this week, 476 RNs have died of Covid-19, among 4,670 health care worker deaths overall, according to NNU tracking data. Since the data has not been collected in many places, a full accounting may never be known. To date, more than 1 million U.S. health care workers have been infected.
 
National Nurses United is the nation's largest and fastest-growing union and professional association of registered nurses, with more than 175,000 members nationwide.