Press Release
Covid-19 RN Urges U.S. House Panel to Follow Science to Help Protect Health Care Workers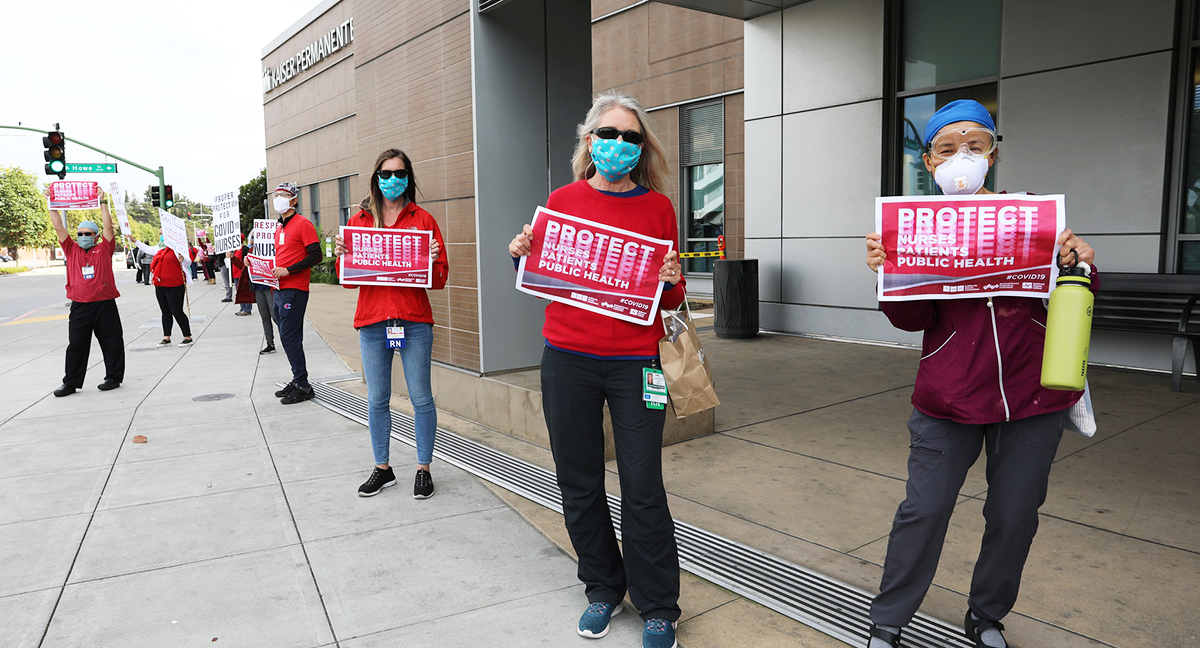 NNU-represented nurse explains importance of optimal PPE, updating CDC guidelines to recognize aerosol transmission of Covid-19 to help bring virus under control
A registered nurse member of National Nurses United (NNU) today testified before a U.S. House Education and Labor subcommittee urging the federal government to recognize aerosol transmission of Covid-19 and ensure that the Occupational Safety and Health Administration (OSHA) issue an emergency temporary standard that will mandate optimal respiratory protections to prevent exposure for frontline workers.
Pascaline Muhindura, an RN in the critical care unit at Research Medical Center in Kansas City, Mo., described her experiences as a nurse caring for Covid-19 patients during the Workforce Protections subcommittee hearing, titled "Clearing the Air: Science-Based Strategies to Protect Workers from Covid-19 Infections." Muhindura testified that hospital management at her HCA Healthcare facility is failing to protect nurses and other workers, therefore putting them in danger of exposure, illness, and death.
Full Congressional hearing - NNU RN Pascaline Muhindura's testimony begins at 44:42
The hospital continues to ration personal protective equipment (PPE), a policy that hospital administrators say is following U.S. Centers for Disease Control and Prevention (CDC) guidelines.
"Management withholds PPE and they use the CDC guidelines as their justification for putting our lives at risk," Muhindura relayed to the committee, detailing the ways that union nurses have pushed back against management's dangerous decisions since the beginning of the pandemic.
"Every single nurse and health care worker in my unit has contracted Covid because we were not given the protections we need," Muhindura said, adding that she felt angry and anxious when she tested positive for Covid-19.
Muhindura also described how the loss of colleague Celia Yap Banago, a longtime RN who died in April of Covid-19, has not resulted in safer conditions at her facility.
"Despite Celia's death, the hospital continues to ration N95s. Management is still forcing us to unsafely reuse the same N95 for an entire shift, and is recommending that we use surgical masks with Covid patients," she said. "To be clear, nurses on my unit are still caring for Covid patients without adequate respiratory protection."
Muhindura urged members of the House subcommittee to push for CDC guidance that recognizes aerosol transmission of SARS-CoV-2, as well as an OSHA standard that mandates that employers provide optimal respiratory protections from aerosol transmission at work.
Muhindura's testimony comes a day after NNU on March 10 released February's survey results of more than 9,200 nurses across the country, which found that 81 percent of nurses still have to reuse at least one type of single-use PPE.
The NNU and 44 allied unions and organizations, representing over 13 million members and their communities, have joined together to urge the CDC to update the guidance.
NNU first petitioned OSHA for an emergency temporary standard on infectious diseases over one year ago, on March 4, 2020.
"If these recommendations had been implemented one year ago, my colleague Celia, along with thousands of other health care workers, would be alive today," Muhindura said. "We need immediate action so that nurses and our patients get the protections we need."
Muhindura also fielded questions from the House subcommittee, including about NNU's support of the recent reintroduction of the Workplace Violence Prevention for Health Care and Social Service Workers Act (H.R. 1195).
The federal legislation, reintroduced by U.S. Rep. Joe Courtney (CT-2), would mandate that OSHA create a national standard requiring health care and social service employers to develop and implement a comprehensive workplace violence prevention plan.
Muhindura discussed the urgent need for OSHA to issue a Workplace Violence Prevention Standard. Violence in the workplace has long been an issue in hospitals, but the frequency and severity of workplace violence incidents have increased during the pandemic. She credited NNU for negotiating for collective bargaining agreements with provisions that address workplace protections for its members.