Press Release
Nurses, Unions, Allies Urge CDC to Acknowledge Covid-19 Aerosol Transmission to Help Bring Virus Under Control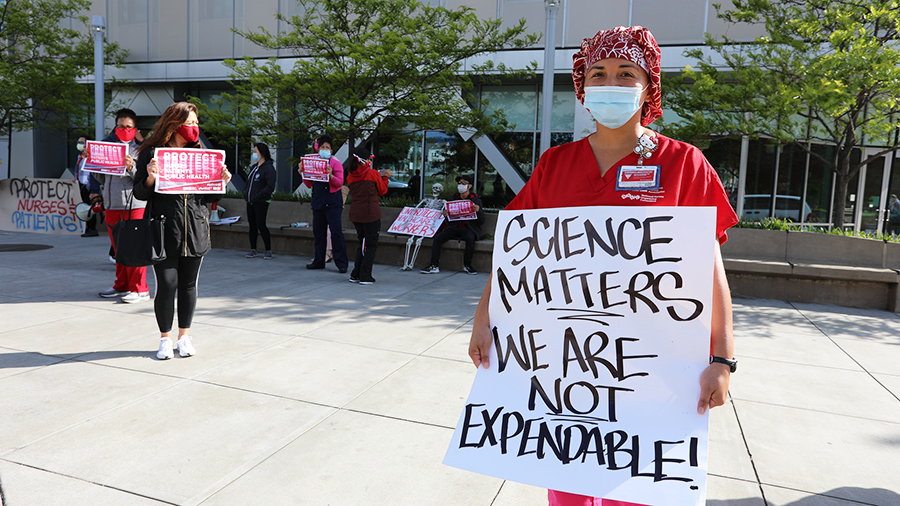 National Nurses United (NNU) and 44 allied unions and organizations, representing over 13 million members and their communities, are joining in coalition to urge the U.S. Centers for Disease Control and Prevention (CDC) to update its Covid-19 guidance to fully reflect the latest scientific evidence regarding SARS-CoV-2 transmission through aerosols that infected people emit when they breathe, speak, cough, sneeze, or sing.
Today, the undersigned unions and organizations delivered a petition with over 10,000 signatures, including scientific experts, urging the CDC to fully recognize Covid-19 aerosol transmission now.
The Biden administration has made a commitment to science and transparency in the efforts to combat the pandemic. Under the previous administration, the CDC's refusal to recognize aerosol transmission of SARS-CoV-2 led to weak guidance, leaving workers and the public unprotected from Covid-19. As a result, countless workers in every industry—including health care, grocery, meatpacking and processing, warehousing, food service, education, transportation, and manufacturing—have been infected, hospitalized, and died from Covid-19 because their employers followed weak CDC guidance and they were not protected at work.  
Fully recognizing aerosol transmission would require the CDC to update and strengthen its Covid-19 guidance to provide protection from inhalation of virus in the air, including through ventilation, filtration, and optimal respiratory protection, among other measures. It would also require the CDC to update its definition of "exposure," which would improve the efficacy of contact tracing and case isolation. Recognizing the scientific evidence and making these improvements are essential and necessary steps to bringing the Covid-19 pandemic under control.
"Since the start of the pandemic, the nation's nurses have demanded that the CDC's guidelines be based on scientific evidence. Nurses know that to effectively battle this virus, we all need to get on the same page about how it spreads. The CDC's failure up to this point to recognize aerosols as the primary mode of transmission hurts all other guidance and efforts that stem from this lack of understanding. We urge the Biden administration to honor its commitment to listen to experts in the battle against Covid-19, which includes having CDC and other federal agencies explicitly recognize aerosol transmission," said Bonnie Castillo, RN and executive director of NNU.
"Ensuring strong COVID-19 protections for working people is key to preventing outbreaks, pulling us out of the pandemic and rebuilding our economy—and that starts with policies based on science. Workers' lives and all of our lives depend on the CDC updating its guidelines and strengthening protections on the job," said Richard Trumka, AFL-CIO President.
"Recognizing the ever-changing science of COVID-19 transmission is key to fighting the virus effectively, and keeping our nurses, healthcare professionals, educators and communities protected from further transmission. As it becomes increasingly clear that aerosol transmission – breathing, speaking, coughing, sneezing, and singing – can spread the virus, we urge the CDC to officially recognize this issue and offer the science-based guidance we have come to trust and expect from the agency," said Randi Weingarten, President, American Federation of Teachers.
"We have hundreds of thousands of members considered essential workers and risking their lives every day to support us all. They and their employers depend on accurate science from CDC. And the science clearly shows the danger of aerosol transmission," said Thomas M. Conway, International President, United Steelworkers.
"For the past year, the CDC guidance on COVID-19 has been ignoring science and health experts. The ATU has been saying aerosol transmission of SARS-CoV-2 is a problem on public transit as evidenced by our 135 brothers and sisters killed by this deadly virus and more than 4,600 infected. The ATU has been pushing for better airflow, more effective filtration systems on buses and trains, and improved PPE for transit workers and riders to help stop the spread of COVID-19 along with other safety measures.  We are encouraged by the Biden Administration's CDC Director Dr. Walensky's call for a comprehensive review of all CDC guidance on COVID-19. We hope the CDC acknowledges the danger of aerosol transmission of this deadly virus and makes serious safety recommendations that will help save the lives of transit workers, riders and the public," said John Costa, International President of the Amalgamated Transit Union, the largest union representing transit workers in the United States and Canada.
"The CDC's failure to update their guidelines has life and death consequences. Workers are going into confined spaces every day without sufficient control measures and employers are justifying it by saying they are following CDC guidelines. If workers are going to be given the title "essential", then they deserve the essential measures that keep them safe," said Marcy Goldstein-Gelb, co-executive director of the National Council for Occupational Safety and Health (National COSH). 
"We must remain vigilant as we continue to fight the pandemic. Recognizing COVID-19's spread through aerosol transmission by the CDC is an important step that can slow the spread of this deadly virus. This is an essential piece of a science-based response that will influence the way federal, state and local governments respond moving forward," said James Slevin, President of the Utility Workers Union of America.
"Nurses know this virus is spread through the air. We are literally face-to-face with our patients, and we have to continue working with masks, gloves, and gowns that have been contaminated after hours with patients. We even have to watch how we put on and take off our equipment so we don't infect ourselves. We need the law to follow the science that shows the virus is an airborne threat. We need the CDC to make sure our nurses and healthcare workers are safe," said Mary C. Turner, ICU nurse and Minnesota Nurses Association (MNA) President.
"Nurses in New York and around the country have been both relieved and hopeful that the Biden Administration has promised to follow the science on protection of the American workforce from COVID-19. The healthcare and other essential workforces have been devastated by COVID-19 infection and thousands have died due to their occupational exposure. Many of those exposures could have been avoided if the CDC had recognized the wealth of data that proves that SARS-CoV-2 is spread through inhalation of airborne virus particulates. The 42,000 members of NYSNA and essential workers everywhere deserve federal guidance that fully recognizes the risk of airborne exposure and recommends controls that effectively limit this exposure," said Pat Kane, RN, New York State Nurses Association (NYSNA) Executive Director.
"It's critical that the CDC recognize that COVID-19 can spread via infectious aerosols. For our members, the implications of the CDC not accepting aerosolized COVID-19 transmission poses grave risk as employers rely on the CDC's guidance to implement appropriate mitigation measures. We must follow the science and acknowledge how the virus spreads to adequately protect communities, particularly as the virus mutates and potentially more virulent strains spread," said Stuart Appelbaum, president of the Retail, Wholesale and Department Store Union.  
"AFSCME 1526 believes that all workers are entitled to be treated with respect and dignity, and return home to their families alive and well. A primary focus by organizations has been on social distancing, cleaning and disinfecting, without taking into consideration the aerosol transmission of Covid-19. Having the CDC recognize Covid-19 aerosol transmission as a significant form of transmission will prompt changes in workplace protocols to reduce the overall spread of this virus. With strong CDC guidance, workplaces will be mandated to address one of the key ways workers are exposed through aerosol transmission of micro-droplets, which in turn will save lives," said Elissa C. Cadillic, President, AFSCME 1526, Boston Public Library Employees Union.
"Throughout the pandemic, HPAE members have been exposed and sickened in the workplace due to a lack of protection against this deadly virus. Some have died. No wonder our healthcare workers frequently report feeling "disposable". Now is the time for the CDC to abolish guidance that would continue to leave our workers exposed and at risk, and to establish safer standards that would provide the necessary protections," said Debbie White, President, Health Professionals and Allied Employees.
"The Nurses of MercyOne Siouxland and members of the UFCW Local 222 feel that seeing the CDC take the step to recognize SARS-CoV-2 as an aerosol transmission would validate an exhaustive year and place trust back into the institution that is the CDC. As a nation we look towards the CDC for guidance to keep frontline healthcare workers and patients safe, this year has strained that trust. The frontline healthcare workers deserve to be given the correct protective measures that keep themselves, their patients, and their families safe. Recognizing SARS-CoV-2 as an aerosol transmission will be the first of many steps to rebuild the trust within the healthcare community. Seeing the CDC place the safety of our healthcare workers and the patients they care for as a priority is long overdue, and absolutely necessary at this time," said UFCW Local 222.
"Workers deserve COVID-19 protection based on the best science available. Aerosol transmission is a significant danger that requires strengthened protection guidance from CDC and the National Institute for Occupational Safety and Health. The COVID-19 Emergency Temporary Standard being developed by OSHA must also include strong protections against aerosol transmission. A failure to follow the science is a failure to protect essential workers and a threat to economic growth," said Juley Fulcher, Public Citizen's Worker Health and Safety Advocate. 
 "Some of the populations with the highest rates of COVID-19 infection are also populations that are hardest to reach with good culturally relevant information. We need the CDC to lead the way with clear, concise, and accurate messaging on aerosol transmission of COVID-19, so that community health workers, outreach workers, and health care providers around the country are supported in their work," said Migrant Clinicians Network.
"The continuing workplace outbreaks among workers in such industries as health care, retail, grocery, food processing, warehousing, among many others, points to the critical need for improved protections based on the latest science about airborne transmission. We urge the CDC to follow the science, fully recognize aerosol transmission, and update their guidance now," said Laura Stock, Executive Director, UC Berkeley Labor Occupational Health Program.
Unions and organizations that signed the petition urging the CDC to fully recognize aerosol transmission now (listed alphabetically):
 
AFL-CIO
AFSCME 1526, Boston Public Library Employees Union 
Alaska Community Action on Toxics
Amalgamated Transit Union
American Federation of Teachers
Arts, Crafts & Theater Safety
Bakery, Confectionery, Tobacco Workers and Grain Miller's International Union
Communications Workers of America (CWA)
Core Extension Health & Safety Company Ltd 
COVID Action Group
Dr. Yolanda Whyte Pediatrics
Finding Your Balance Counseling
Franchimon ICM
Government Accountability Project
Health Professionals & Allied Employees (Debbie White, President, RN)
HEALTHY SCHOOLS NETWORK
Immigrant Service Providers Group/Health
International Association of Machinists and Aerospace Workers
International Chemical Workers Union Council 
International Federation of Professional and Technical Engineers
International Union of Bricklayers & Allied Craftworkers
Jacobs Institute of Women's Health
Kids for Saving Earth
Labor Occupational Health Program 
LEGACY-The Landscape Connection
MassCOSH
Migrant Clinicians Network
Minnesota Nurses Association
National Center for Health Research 
National Council for Occupational Safety and Health
National Nurses United
New York State Nurses Association 
NYS Public Employees Federation
Occupational Health Management Services inc
Pennsylvania Association of Staff Nurses and Allied Professionals 
Public Citizen
Quality First EHS, Inc.
Retail, Wholesale and Department Store Union
SafeWork Washington
Sheet Metal Occupational Health Institute Trust Inc.
Transport Workers Union of America
UFCW Local 222
United Steelworkers
Utility Workers Union of America