Press Release
National RN survey highlights continued hospital failures to prioritize nurse and patient safety during pandemic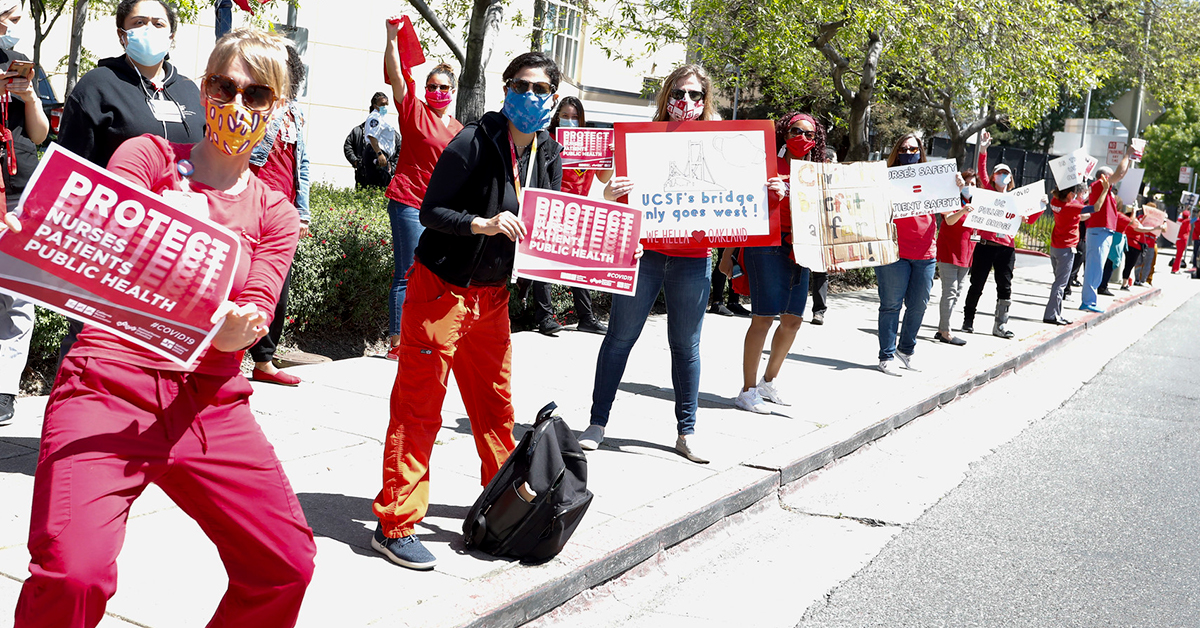 Results show that at pandemic's one-year marker, employers are still failing to provide safe staffing, optimal PPE, and testing
National Nurses United's (NNU) new nationwide survey of more than 9,200 registered nurses reveals that a year into the pandemic, registered nurses are still being placed in harm's way. RNs face continued issues ranging from unsafe staffing levels to hospital administrators failing to observe basic infection control and prevention measures — such as forced reuse of personal protective equipment (PPE) despite manufacturers confirming adequate supplies.
This survey is the fifth national survey of nurses during the pandemic by NNU, the nation's largest and fastest-growing union of registered nurses. NNU's latest survey also reveals that in addition to the unsafe reuse of single-use PPE, nurses continue to experience challenges getting tested, are not being notified in a timely manner when they are exposed, are suffering mental health impacts, and are enduring increasing workplace violence.
"We are a year into this deadly pandemic and hospitals are still failing to provide the vital resources needed to ensure safety for nurses, patients, and health care staff," said NNU Executive Director Bonnie Castillo, RN. "This survey shines light on how hospital administrators are continuing to jeopardize one of society's most valuable workforces during Covid-19, registered nurses, by prioritizing profits over basic safety and infection control measures. Testing health care workers and patients for Covid-19, providing optimal PPE, and ensuring safe staffing is a no-brainer to help combat this pandemic."
Short staffing remains a major problem in hospitals, with nearly 53 percent of nurses reporting that it is their top safety concern. Nearly half of hospital nurses (47 percent) report that staffing has gotten slightly or much worse recently. In addition, 26 percent of nurses report being reassigned to units where new skills or competencies are required, often without adequate training.
Employers fail to provide RNs with the optimal PPE to do their job safely. A total of 81 percent of nurses report they are forced to reuse single-use PPE, which is practically unchanged from the more than 80 percent who reported having to do so in our November survey. The virus that causes Covid-19 is transmitted through infectious aerosols that are emitted when Covid-positive individuals breathe, vocalize, cough, or sneeze. Optimal PPE—including respiratory protection at least as protective as an N95—is an essential measure to battle this pandemic. Recent reports indicate that there is substantial N95 supply; which means these survey data indicate that hospitals are choosing to maintain crisis standards of care in order to cut costs. The health care model should focus on human needs, not profit margins.
Slightly more than half of the RNs who work in hospitals (52 percent) report that all patients are screened for Covid-19. This falls short of the necessity that all patients should be screened for Covid-19. Hospitals are failing to implement proven measures to prevent the spread of Covid-19 within the facility: Only 66 percent of RNs who work in hospitals report that their facility has a dedicated Covid unit or area.
Nurses are still not all getting tested and they are not being informed in a timely manner when they are exposed to Covid-19 at work. Slightly more than half (54 percent) of RNs overall and over half (61 percent) of RNs in hospitals report that they have ever been tested for Covid-19. This is an increase from the last survey in November, when just a third of RNs overall reported being tested, but again still falls short of the regular and on-demand testing that nurses should be able to access. Administrators must take seriously the task of identifying and responding to exposures in a timely manner, including conducting contact tracing and informing staff of exposure. But less than a third of hospital nurses (32 percent) say their employers inform them of exposures in a timely manner.
Covid-19 continues to harm the mental health of nurses, with the survey signaling that huge numbers of nurses are suffering the moral distress and injury that comes from knowing the right thing to do but receiving no support from employers to do it or even being prevented by employers from doing it.
A total of 43 percent of hospital RNs say they have more trouble sleeping than before the pandemic.
More than 61 percent of hospital RNs report feeling more stressed than before the pandemic.
A total of 57 percent of hospital RNs report feeling more anxious.
51 percent report feeling more sad or depressed.
More than 58 percent of hospital nurses who answered the survey said they fear that they will contract the virus and infect a family member.
About 22 percent of nurses report facing increased workplace violence on the job, which they attribute to decreasing staffing levels, changes in the patient population, and visitor restrictions.
This data comes as NNU recently endorsed the recent re-introduction of the Workplace Violence Prevention for Health Care and Social Service Workers Act (H.R.1195). The federal legislation, reintroduced by U.S. Rep. Joe Courtney (CT-2), would mandate that the federal Occupational Safety and Health Administration (OSHA) create a national standard requiring health care and social service employers to develop and implement a comprehensive workplace violence prevention plan.
This legislation is especially important given that health care and social service workers faced extremely high rates of workplace violence prior to the pandemic, and growing rates during the pandemic.
NNU's first survey in March focused on hospitals' lack of preparedness for Covid-19; the second survey in May highlighted government and employers' disregard for nurse and patient safety; and the third survey in July revealed the devastating impact of reopening too soon. The fourth survey in November showed hospitals and health care employers' lack of preparation for the fall/winter surge, despite more knowledge about the dangers of the virus and effective measures to prevent spread. This fifth survey shows the continuing disregard that hospitals and health care employers show for the safety of nurses and health care workers as we mark the one-year anniversary of the Covid pandemic.
The survey results were gathered from both NNU unionized nurse members as well as non-union nurses in all 50 states plus Washington, D.C. and three U.S. territories. The preliminary results cover the period Feb. 2 to Feb. 28.