Press Release
National nurse survey reveals that health care employers need to do more to comply with OSHA emergency temporary standard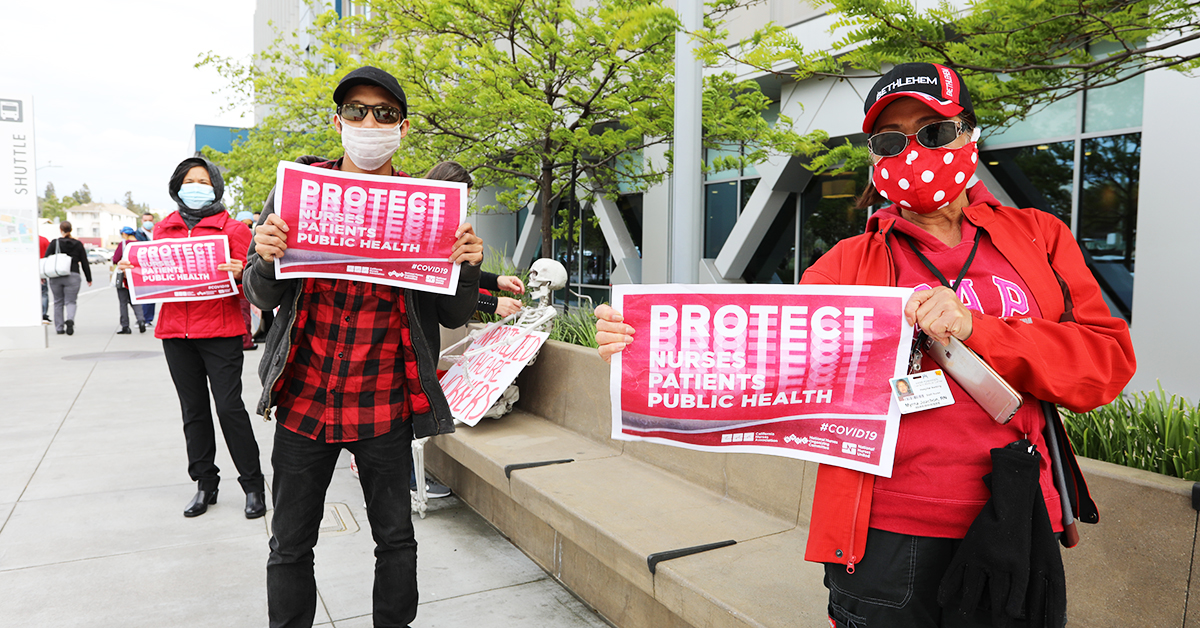 National Nurses United calls on OSHA to do robust enforcement during the pandemic
National Nurses United's (NNU) new nationwide survey of more than 5,000 registered nurses reveals that employers must do more to be fully compliant with the Occupational Safety and Health Administration (OSHA) emergency temporary standard (ETS) and to implement optimal standards to protect nurses and other health care workers from Covid-19.
This survey is the sixth national survey of nurses during the pandemic by NNU, the nation's largest and fastest-growing union of registered nurses. Most of the requirements for the ETS went into effect on July 6 and all requirements went into effect on July 21. The ETS is the first-in-the-nation enforceable federal Covid-19 standard, which nurses fought for since the beginning of the pandemic. The ETS includes requirements on personal protective equipment (PPE), patient and visitor screening, and employee notification within 24 hours of the employer becoming aware of the exposure.
"We are more than 18 months into the pandemic, yet hospitals are still not doing enough to ensure the safety of nurses, patients, and other health care workers," said NNU Executive Director Bonnie Castillo, RN. "Covid cases are surging to their highest levels yet in some areas of the country, and some ICUs are over capacity. Nurses need optimal personal protective equipment. Health care employers must notify nurses as soon as possible when they are exposed and make it easier for RNs and other health care workers to get tested."
NNU's latest survey reveals that nurses still face problems with access to testing, being notified in a timely manner when they are exposed, inadequate respiratory protection, unsafe staffing, mental health, and workplace violence. RNs also reported inadequate Covid screening and testing rates for patients who enter or are admitted to a health care facility and a decrease in dedicated Covid units compared to the last survey (March 2021).
More than 75 percent of hospital nurses are not being notified of exposures to Covid in a timely way. Only 23 percent of hospital RNs reported timely notification of exposure by their employers, down from 31.6 percent reported in March 2021. Prompt notification is essential for hospital infection control.
Access to testing is an issue at some hospitals. About 41 percent of RNs at hospitals reported that any staff who asks for testing has access; nearly 20 percent said access to testing is limited at their facility; and 7 percent said testing is not available where they work. Of the nurses who answered additional questions on employer testing, 58 percent said that only staff who are symptomatic can get tested, a troubling statistic as scientific research has found that about half of all Covid transmissions are from asymptomatic and pre-symptomatic individuals who were infected.
Not all patients and visitors are screened for Covid. Only two-thirds of hospital RNs report that all patients are screened for Covid-19 signs and symptoms before or upon arrival at the facility. Less than a third of hospital RNs reported that every patient is tested for Covid before or upon arrival at the facility. For visitors, screening and testing was reported to occur at even lower rates: Only 53 percent of hospital RNs report that every visitor is screened for Covid-19 signs and symptoms before or upon arrival at the facility and a mere 4 percent of RNs reported that all visitors are tested for Covid before or upon arrival. Screening for Covid-19 symptoms, in combination with reliable diagnostic testing and screening for recent exposure history, is necessary to effectively identify and isolate individuals who may be infectious to prevent spread of the virus within health care facilities.
Hospital nurses are still not provided optimal PPE when caring for Covid-positive patients or patients suspected of having Covid. About 61 percent of hospital RNs reported wearing a respirator for every Covid-positive patient encounter, down from nearly 75 percent in our March 2021 survey. In addition, only 40 percent of hospital RNs reported that respirators are worn when they are caring for patients who are suspected of having Covid or whose tests results are not completed; and about 62 percent reported using surgical masks for patients suspected of having Covid or awaiting test results. All nurses should be wearing a respirator for every encounter with a Covid-positive or suspected Covid-positive patient, in addition to eye protection, isolation gown or coveralls, and medical grade gloves.
Nurses diagnosed with Covid have faced lasting symptoms. Nearly a quarter of RNs who contracted Covid experienced symptoms from zero to three months, a third had symptoms lasting three to nine months, 12 percent had symptoms lasting nine to 12 months, and 12 percent more than a year. The most common symptoms reported included tiredness or fatigue, joint or muscle pain, memory or concentration difficulties, headaches or migraines, and difficulty breathing or shortness of breath.
Short staffing remains a persistent problem in hospitals, with more than 57 percent of RNs reporting that staffing has gotten slightly or much worse, up from 47 percent of nurses in our March 2021 survey. Also, nearly half of hospital RNs (49 percent) reported that their facility is using excessive overtime to staff units.
Covid-19 is still having a deep impact on the mental health of hospital nurses, who continue to face moral distress and moral injury at work:
Nearly 42 percent of hospital RNs fear they will contract Covid.
Slightly more than 50 percent are afraid they will infect a family member.
More than a third (35.1 percent) are having more difficulty sleeping.
More than half (53.5 percent) feel stressed more often than before the pandemic.
About 42 percent feel sad or depressed more often than they did before the pandemic.
More than a third feel traumatized by their experiences caring for patients.
Hospital RNs reported an increase in workplace violence. About 31 percent of hospital RNs said that they faced a small or significant increase in workplace violence, up from 22 percent in our March 2021 survey. RNs attribute the increase in workplace violence to decreased staffing levels, changes in the patient population, and fewer visitor restrictions.
NNU's four surveys in 2020 covered hospitals' lack of preparedness for Covid-19 (March); government and employers' disregard for nurse and patient safety (May); the devastating impact of reopening too soon (July); and hospitals' and health care employers' lack of preparation for the fall/winter surge, despite more knowledge about the dangers of the virus and effective measures to prevent spread (November). The fifth survey (March 2021) highlighted the continuing disregard that hospitals and health care employers show for the safety of nurses and health care workers, more than one year into the pandemic.
The sixth survey results were gathered from both NNU unionized nurse members as well as non-union nurses in all 50 states plus Washington, D.C. and Puerto Rico. The results cover the period June 1 to July 21, 2021.