News
Chandler mom, nurse jumps at chance to help after disasters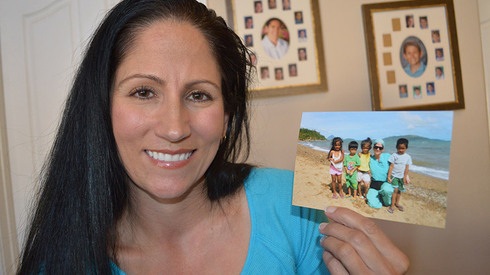 In her everyday life, Lori Barmore is a trauma-room nurse at Banner Good Samaritan Hospital in Phoenix.
When she isn't working her 12-hour shifts helping shooting, stabbing and accident victims, she is a Chandler wife and mom.
She also helps Third World countries after disasters. Since 2010, she also has volunteered in Haiti and Guatemala. When RN Response Network, a unit of National Nurses United, contacted her after Typhoon Haiyan hit the Philippines on Nov. 20, she did not hesitate to go.
"They were devastated," Barmore said, "We conducted clinics on basketball courts covered with tarps and at a school. Most of the people's homes were destroyed."
To join the relief effort, she had to arrange for coverage for her job on short notice and make sure her sons, whose birthdays came during those two weeks, were OK with her being away.
"You're helping people. It's OK," Barmore said her sons, Casey, 13, and Corey, 20, told her.
Her husband, Ryan, knew how much she enjoyed the work.
She left on Dec. 12 for 22 hours of plane travel to Manila. She traveled to Roxas City the next day.
On arrival, she was greeted by overwhelming humidity and devastation. She saw people still living in their palm-frond-covered homes, power lines perched on the ruins.
"They have nothing, but they go out of their way to make you feel at home," Barmore said. "We got that everywhere we went. When we took a break, the women would fan us. They have nothing, but they couldn't be more cheerful or friendly."
She served in impoverished villages on several Philippine islands where the main work is fishing. Fishermen were trying to create makeshift boats.
Oil spills were contaminating the water. Bodies were popping up in the ocean, victims of the storm weeks before. Children who normally played in the ocean did not want to go in the water.
Barmore smiled as she spoke of the children. They collected shells, insisting that she take them with her. When they could, the nurses played volleyball, soccer and basketball with the children.
The nurses had grueling schedules. They might see 500 patients in a day. In Phoenix, Barmore sees about 10 a day.
At the island clinics, she treated diseases, coughs and pneumonia, and dealt with patients who were in the throes of post-traumatic stress. They had nightmares and anxiety, so she listened.
Perhaps her saddest, yet most uplifting, experience was with a 3-year-old boy brought to her for a finger that was almost severed. She and her colleagues wanted to use a suture, but the suture was old and not usable. To save the child, because the infection could be fatal, they told the mother to take the child to the hospital. Through an interpreter, they heard that money was not available for a hospital stay. The interpreter, poor herself, reached into her pocket and pulled out money, handing it to the mother. The nurses also took up a collection so the child could receive proper treatment.
"There is such a sense of community. It is so huge there. We don't have that (here)," Barmore said. "We are very fortunate. At least we know if there is a disaster our government will be there to help us."
When the clinic was done in one village, the community invited the medical volunteers to a feast in the best home in the village, which had part of the roof missing. The hospitality outweighed the inconveniences of mosquitoes.
She returned home Dec. 21.
"I would do it again in a heartbeat," Barmore said. "They are the sweetest people, which is why I want to go back and help some more."
Donations to typhoon relief: sendanurse.org. Donations are tax deductible.
By Shelley Gillespie