Press Release
National Nurses United statement on Biden's comprehensive Covid strategy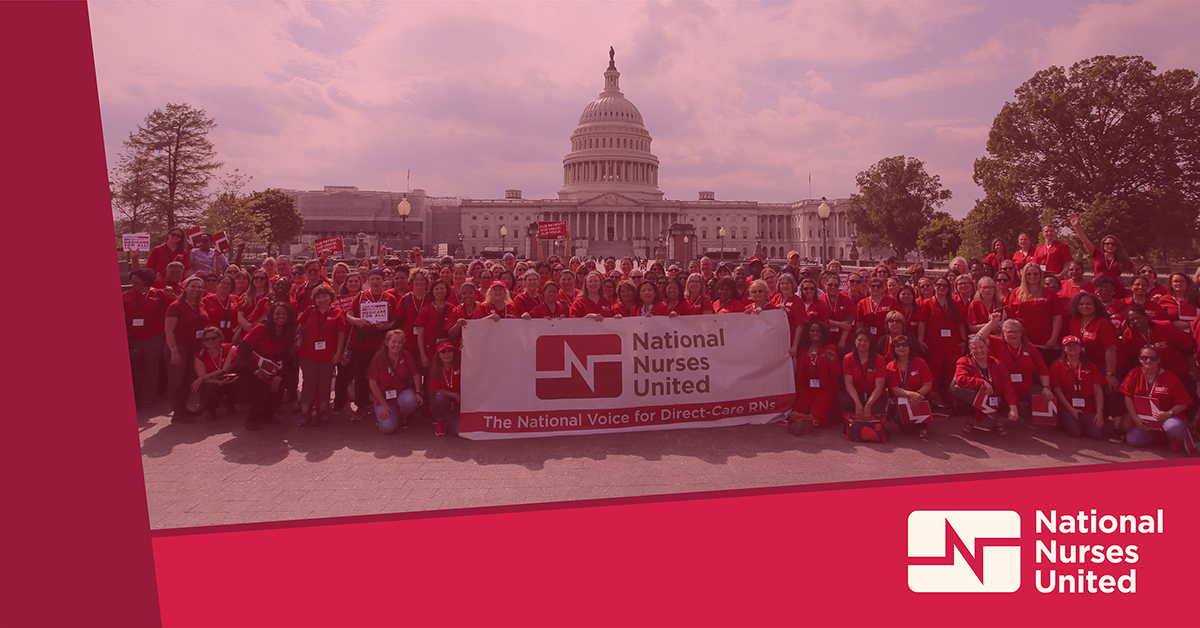 National Nurses United (NNU), the largest union of registered nurses in the United States, today applauded President Biden's announcement of a comprehensive strategy on Covid-19 as a step in the right direction to get the pandemic under control.
NNU's statement on Biden's Sept. 9 announcement:
With high rates of Covid transmission across the country, NNU praised President Biden for taking further action to stop the spread of the deadly and highly contagious Delta variant. While NNU is still in the process of reviewing all the specifics of today's announcement, nurses have advocated since day one for multiple measures of infection control to be taken to stop the spread of Covid-19.
NNU agrees that vaccination is a critically important part of a comprehensive public health program for infection control. We strongly believe all eligible people should be vaccinated, while respecting the need for medical and religious accommodations. The Biden administration is to be applauded for its robust vaccination program, including the uptick in the numbers of people getting vaccines for the first time over the past month.
However, as advocates for public health, registered nurses want to be extremely clear: There is no such thing as a pandemic of only the unvaccinated. The science of epidemiology tells us there is just one deadly, global pandemic that has not yet ended, and we are all in it together. To get out of it, we must act together. All of us.
Science shows that a multiple-measures approach to infection control is the most effective, and vaccination is just one, albeit critical, component. In addition to encouraging vaccination, from the very beginning of this pandemic NNU has called for proven and effective public and workplace infection control measures that the entire country must adopt now, including robust and routine testing (and we applaud Biden's orders for aiming to increase testing capacity) and contact tracing, masking in all public settings (no matter one's vaccination status), and social distancing. In addition, in hospitals and other health care facilities, nurses and other health care workers must be protected with optimal PPE, providing safe staffing levels, proper isolation, contact tracing and notification, proper quarantining, ventilation, universal masking, social distancing, and diligent hygiene.
These measures, which are essential in health care facilities, are equally important for other places of employment, especially those that employ essential workers, including teachers, retail workers, grocery workers, food industry workers, and more. That's why NNU champions an Emergency Temporary Standard (ETS) on infectious diseases that mandates optimal, comprehensive workplace protections for all workers. Thanks to unrelenting nurse advocacy, OSHA issued an ETS in June for health care settings. NNU reiterates its call for OSHA to promulgate an ETS for all non-health care workplaces.
NNU's pediatric nurses across the country also emphasize the importance of taking multiple, proven measures of infection control in our country's schools—including masking and distancing—and we applaud Biden's orders for investing in schools. Earlier in the pandemic, people falsely believed that children were somehow immune to Covid or only kids with preexisting conditions could get infected. Of course, children can become infected and transmit the virus at the same rate as adults. And, yes, kids can also get severe illness and complications from Covid-19 and be hospitalized; pediatric hospitalizations are now at their highest point in the pandemic. Researchers are also now finding that even children and teens with mild cases of Covid can suffer lingering, harmful neurological, psychological, and physical symptoms and organ damage that may plague them for the rest of their lives. All of this must be taken into consideration when states and school districts make decisions about in-person learning.
Nurses know we will never emerge from this pandemic until we can ensure that the SARS-CoV-2 virus cannot find an opening, through as many possible layers of protection, to pass from one student, one essential worker, or one person to another.
National Nurses United is the country's largest union and professional association of registered nurses, with more than 175,000 members nationwide.