Press Release
Saint Louis University Hospital nurses set to hold one-day strike for patient safety and nurse retention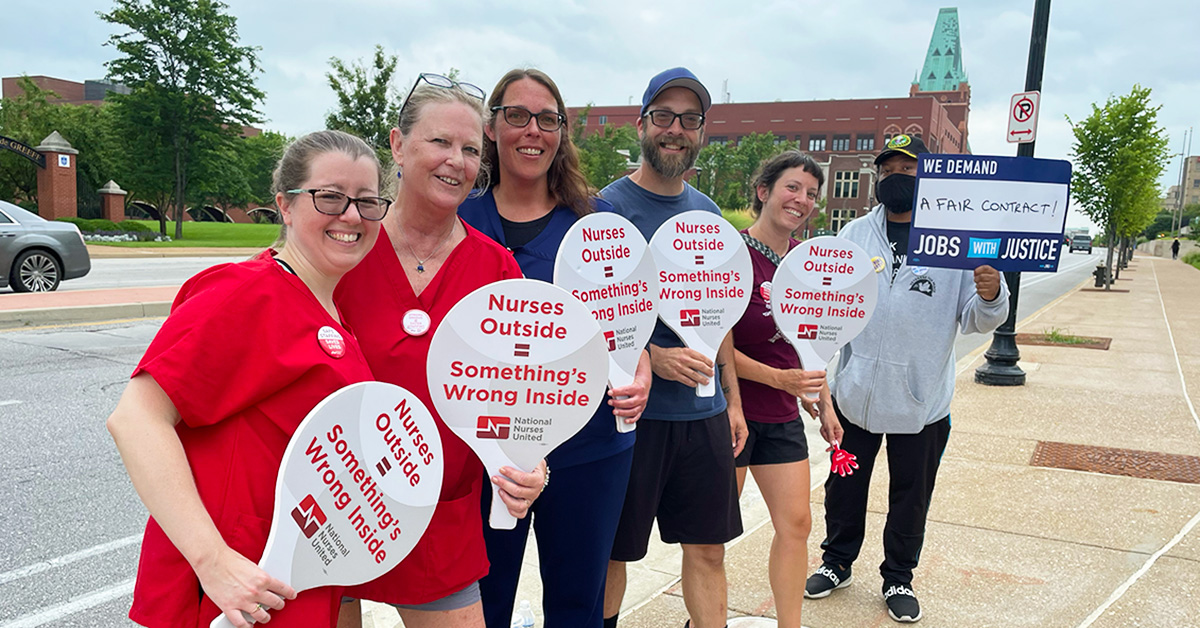 Strike starts at 7 a.m. on Monday, Sept. 25, rally at 11 a.m. with nurse speakers, elected officials, and community members
Registered nurses at SSM Health Saint Louis University Hospital in St. Louis, Mo., will hold a strike for 24 hours from Sept. 25, 7 a.m., to Sept. 26, 6:59 a.m., to protest the administration's refusal to address RNs' deep concerns about patient care, safe staffing, and workplace violence, announced National Nurses Organizing Committee/National Nurses United (NNOC/NNU) today.
The strike follows a 94 percent yes vote on strike authorization on Sept. 1. Nurses have given advance notice to the hospital to allow for alternative plans to be made for patient care.
SLU Hospital nurses have been in negotiations since May 2023 for a new contract with little to no movement on key issues. Their contract expired on June 15, 2023. The RNs held an informational picket about the issues on July 19. The nurses urge management to invest in nursing staff and agree to a contract that addresses nurse retention and workplace violence prevention.
The nurses have presented several proposals and attempted to compromise, but SSM continues to refuse to address the RNs' concerns about recruitment and retention as well as workplace violence prevention.
"We are striking because SSM Health must do more to recruit and retain nurses," said Maddi O'Leary, RN in the bone marrow transplant clinic at SLU Hospital. "SSM Health has hired more than 1,600 nurses since 2020, but most of those nurses have left. Hundreds of RN positions — more than 30 percent of all nursing positions at SLU Hospital — have not been filled since the spring of 2022."
Who: Registered nurses at Saint Louis University Hospital

What:

One-day strike for patient safety and a fair contract

When:

Monday, Sept. 25, 7 a.m. to Tuesday, Sept. 26, 6:59 a.m., rally at 11 a.m. with nurse speakers, elected officials, and community members

Where:

Saint Louis University Hospital, at 1201 S. Grand Blvd., St. Louis, Mo.
"We nurses are invested in our community, and we want to give our patients the best care," said Laura Decker, RN in the medical ICU. "We risked our lives during the pandemic to care for our patients. All we are asking is that SSM Health invests in nurses so we can continue to do our jobs to the best of our ability."
"The last thing we want to do is strike, but we have no choice, especially when workplace violence is happening every day," said Nancy Steele, RN on the transplant floor. "We should not come to work with the expectation that we will be punched, kicked, or threatened with violence from patients or visitors. SSM Health must do more to make the workplace safer for nurses and patients."
The latest data from the Bureau of Labor Statistics and the National Council of State Boards of Nursing shows that in Missouri and across the country, there is no nurse "shortage." In fact, in Missouri, there are more than 38,000 RNs with active licenses who are not working as nurses in the state. Nationwide, there are more than a million registered nurses with active licenses who are choosing not to work at the bedside because of the hospital industry's unsafe working conditions. More data and information debunking the nurse "shortage" myth can be found here.
National Nurses Organizing Committee has represented nurses at Saint Louis University Hospital since 2012.
---
National Nurses Organizing Committee is an affiliate of National Nurses United, the largest and fastest-growing union and professional association of registered nurses in the United States with nearly 225,000 members nationwide. NNU affiliates also include California Nurses Association, DC Nurses Association, Michigan Nurses Association, Minnesota Nurses Association, and New York State Nurses Association.