Press Release
Saint Louis University Hospital nurses to hold informational picket to protest staffing crisis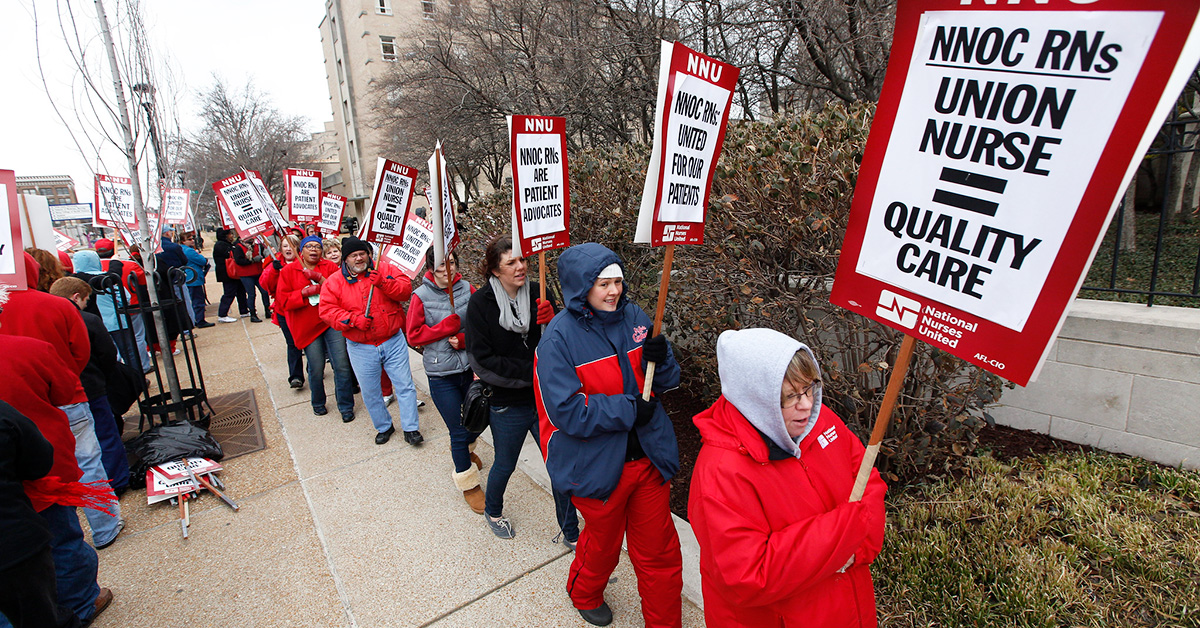 Registered nurses at Saint Louis University Hospital say chronic short staffing, failure to recruit and retain experienced RNs puts patients and staff at risk
Registered nurses at SSM Health Saint Louis University Hospital (SLUH) in St. Louis, Mo., will hold an informational picket on Wednesday, July 19, to demand that management address the staffing crisis at the facility and its impact on patient safety, announced National Nurses Organizing Committee/National Nurses United (NNOC/NNU) today. Nurses say chronic short staffing of nurses and ancillary staff, high turnover rates, and a failure to recruit and retain experienced nurses puts patients and staff members at risk.
"Patients at SLUH are some of the most vulnerable, marginalized, and underserved in the St. Louis area and they deserve quality care from well-staffed units," said Earline Shepard, a registered nurse in the cardiac cath lab at SLUH. "It is deeply disturbing that management has shown itself unwilling to adopt staffing standards that have been proven to save lives."
Who: Registered nurses at SSM Health Saint Louis University Hospital
What: RNs to hold informational picket and rally
Where: Saint Louis University Hospital, at 1201 S. Grand Blvd, St. Louis, MO

When:

Wednesday, July 19, 5:30 p.m. to 8:30 p.m., rally at 7:30 p.m.
At SLUH, the vacancy rate for RN positions has been more than 30 percent since the spring of 2022. SLUH nurses say they have been sounding the alarm for nearly two years and making suggestions to management about improving retention, with little progress. Since 2020, SLUH has hired more than 1,600 nurses, but those nurses have not stayed. Nationwide, there are more than a million registered nurses with active licenses who are choosing not to work at the bedside because of the hospital industry's unsafe working conditions. More data and information debunking the nurse "shortage" myth can be found here.
SLUH nurses have documented regular short staffing throughout the hospital, which they say has jeopardized and delayed patient care. Chronic short staffing has also resulted in increased risk of violence for both nurses and patients.
"The issue is that hospital administration is focused on hiring new graduates but not addressing the reasons we are losing nurses at alarming rates," said Sarah DeWilde, a registered nurse in the medical-surgical unit. "We have a revolving door of new nurses who aren't getting the training and support they need and deserve. Experienced nurses provide invaluable mentorship to newer nurses. When experienced RNs leave, patients are also deprived of their knowledge."
"Over the last few years, we have seen an increase in workplace violence," said Jessica Tulk, a registered nurse in the emergency room at SLUH. "We know this violence is directly related to the short staffing in our hospital. As patients and their loved ones are forced to wait for treatment and medications, they can become agitated, confused, angry, and anxious. If we have appropriate staffing, we can deescalate tense situations or calm confused patients before the trouble starts." 
National Nurses Organizing Committee has represented the nurses at St. Louis University Hospital since 2012.
---
National Nurses Organizing Committee is an affiliate of National Nurses United, the largest and fastest-growing union and professional association of registered nurses in the United States with nearly 225,000 members nationwide.