Press Release
Saint Louis University nurses give notice for historic one-day strike for patient safety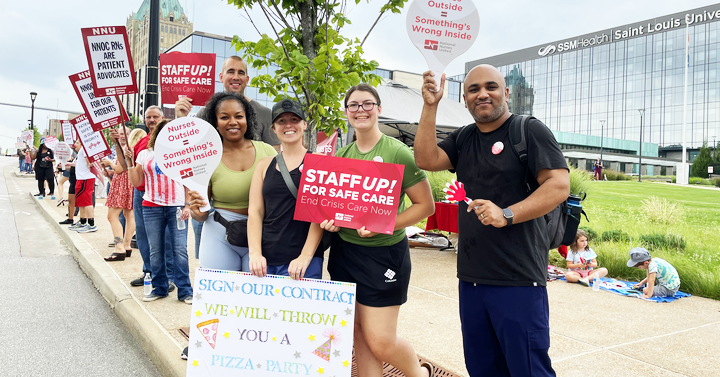 This is the first SLU nurses strike in the history of the hospital.
Nurses at SSM Health Saint Louis University Hospital (SLU) in St. Louis, Mo., gave notice today to their employer that they will hold their first-ever strike for 24 hours from Sept. 25, 7 a.m., to Sept. 26, 6:59 a.m., to protest the administration's refusal to address RNs' deep concerns about patient care, safe staffing, and workplace violence, announced National Nurses Organizing Committee/National Nurses United (NNOC/NNU).
This 10-days' notice of the nurses strike follows a 94 percent strike authorization vote on Sept. 1. Nurses always give at least 10 days of advance notice to the hospital to allow for alternative plans to be made for patient care.
Also, at a meeting this afternoon, the St. Louis Board of Aldermen voted in favor of a resolution that supports the union nurses at SLU Hospital in "their campaign for safe staffing and working conditions" and "urges SSM to negotiate in good faith to swiftly reach an agreement with National Nurses Organizing Committee that recognizes the essential work of registered nurses." The board also "urges SSM to report on efforts to hire and retain registered nurses and report back to this Board on a regular basis, at least once every 30 days."
SLU Hospital nurses have been in negotiations since May 2023 for a new contract with little to no movement on key issues. The vacancy rate for RN positions at SLU Hospital has been higher than 30 percent since the spring of 2022. Short staffing jeopardizes patient and staff safety and also results in increased workplace violence. The RNs held an informational picket about their deep concerns on July 19. The RNs urge management to invest in nursing staff and agree to a contract that addresses nurse retention and workplace violence prevention.
"For us nurses, a strike is a last resort, but we are at the point where more patients will be harmed if we don't strike," said Jay Weaver, RN in the post-anesthesia care unit at SLU Hospital. "We want to give our patients the best care, and we know that staff nurses provide the high-quality care our patients deserve. Management must do more to retain and recruit nurses."
Who:

    Registered nurses at Saint Louis University Hospital

What:

   One-day strike for patient safety and a fair contract

When:

  Monday, Sept. 25, 7 a.m. to Tuesday, Sept. 26, 6:59 a.m.

Where:

Saint Louis University Hospital, at 1201 S. Grand Blvd., St. Louis, Mo.
"We care deeply about our community in the St. Louis area and we want to give them the high-quality care they deserve," said Kellie Allen, RN in the medical-surgical unit at SLU Hospital. "We are fighting for our patients, and that means demanding safe staffing. Studies have shown that safe staffing saves lives. Yet management refuses to adopt safe staffing standards. That's why we are striking."
"A hospital is a place of healing, and that means it should be a safe place for patients and for nurses," said Taylor Smith, RN in the medical-surgical unit at SLU Hospital. "We have proposed many protections and practices to prevent workplace violence, but management has not given them serious consideration. It is SSM Health's responsibility to provide a safe work environment. Management needs to protect the spaces where people come to be healed by stopping physical violence and threats from ever occurring in the first place."
There is an epidemic of workplace violence against nurses and health care workers. According to the U.S. Bureau of Labor Statistics (BLS), in 2020, RNs in private industry in the United States experienced a rate of 18.2 violence-related injuries per 10,000 full-time employees. This injury rate for RNs is more than four times higher than the violence-related injuries for workers overall in the same year. (See Injury to None, NNU's report on workplace violence.)
Between 2011 and 2020, as reported in the BLS Census of Fatal Occupational Injuries, at least 80 hospital workers died as a result of violence in their workplaces.
According to NNU, 40.5 percent of hospital nurses surveyed in the fall of 2022 reported a small or significant increase in workplace violence incidents.
National Nurses Organizing Committee has represented the nurses at St. Louis University Hospital since 2012.
---
National Nurses Organizing Committee is an affiliate of National Nurses United, the largest and fastest-growing union and professional association of registered nurses in the United States with nearly 225,000 members nationwide. NNU affiliates include California Nurses Association, DC Nurses Association, Michigan Nurses Association, Minnesota Nurses Association, National Nurses Organizing Committee, and New York State Nurses Association.