Press Release
Sen. Sherrod Brown to join Ohio nurses at press conference about safe staffing legislation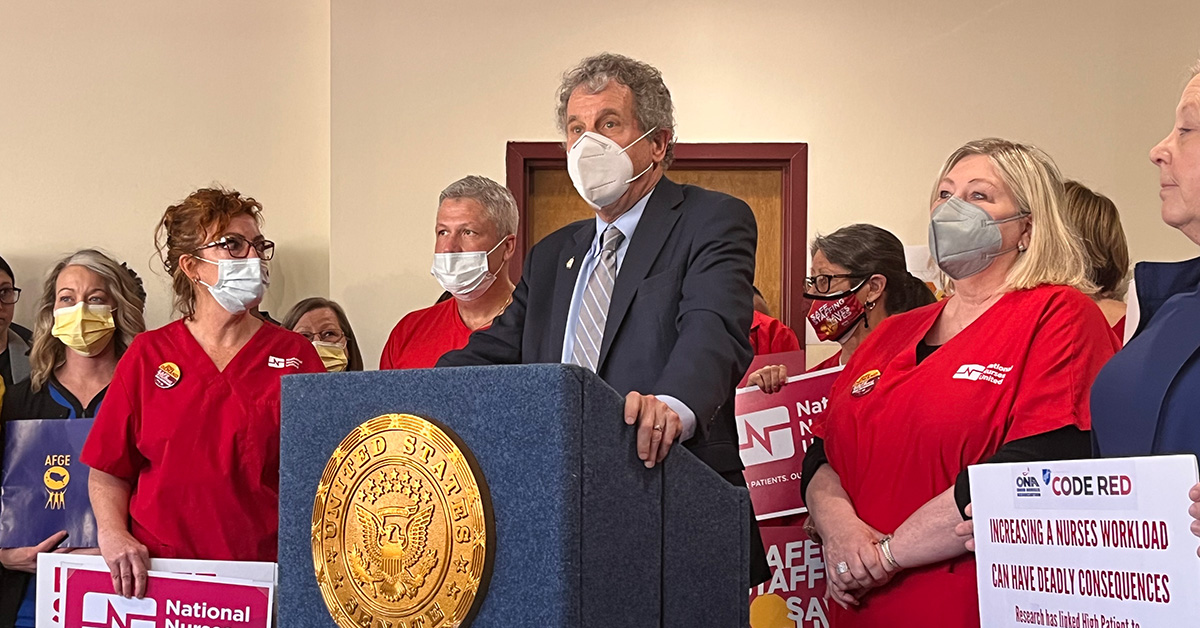 The Ohio senator is the sponsor of federal legislation seeking nationally mandated nurse-to-patient ratios, a necessary remedy to unsafe staffing in hospitals
Sen. Sherrod Brown (D-OH) will join registered nurses in Dayton, Ohio, for a press conference tomorrow, April 11, announced National Nurses United (NNU) today. NNU president Jean Ross, RN, will be among union nurses speaking out about the necessity of safe nurse-to-patient ratios in hospitals nationwide alongside Sen. Brown, the lead Senate sponsor of the Nurse Staffing Standards for Hospital Patient Safety and Quality Care Act. Sen. Brown and Ross will be joined by Ohio-area nurses who work with veterans.
"Nurses know what our patients need, and one of the most common things we hear from our members is that their units are not safely staffed, which stretches nurses thin," said President Ross. "We're excited to stand with Senator Brown in support of this legislation, which has the potential to improve patient care across the United States by setting clear limits to how many patients a nurse can be assigned at a time depending on their unit."
Who:

Sen. Sherrod Brown, NNU president Jean Ross, RN, and Ohio union nurses

What:

Press conference about federal safe staffing legislation

When:

Tuesday, April 11, 1:15 p.m.

Where:

Central State West Campus, 840 Germantown St., Dayton, Ohio
The Nurse Staffing Standards for Hospital Patient Safety and Quality Care Act, authored by Sen. Brown in the Senate and Rep. Jan Schakowsky (D-IL-09) in the House, would establish minimum RN-to-patient ratios for every hospital unit, effective at all times. The bill also provides whistle-blower protections to ensure that nurses are free to speak out for enforcement of safe staffing standards.
The federal bill is mirrored after a California law, fought for and won in 1999 by the California Nurses Association/NNU. The law, which took effect in 2004, has saved patient lives, improved patient outcomes and the quality of care, attracted nurses back to direct-care nursing, and reduced nurse burnout, keeping experienced RNs at the patient bedside. A 2021 study by leading nurse staffing researcher Dr. Linda Aiken showed that if New York state had the same staffing mandate as California, at least 4,370 lives would have been saved that year alone.
In NNU's most recent survey of more than 2,800 nurses from Sept. 22 through Nov. 28, 2022, 56.8 percent of hospital nurses report that staffing has gotten slightly or much worse recently and nearly half of hospital nurses report that their facility is using excessive overtime to staff units. More than half of nurses (55.5 percent) surveyed reported that they have considered leaving nursing.
---
National Nurses United is the largest and fastest-growing union and professional association of registered nurses in the United States with nearly 225,000 members nationwide.