Press Release
Registered nurses top Gallup poll for 20th year in a row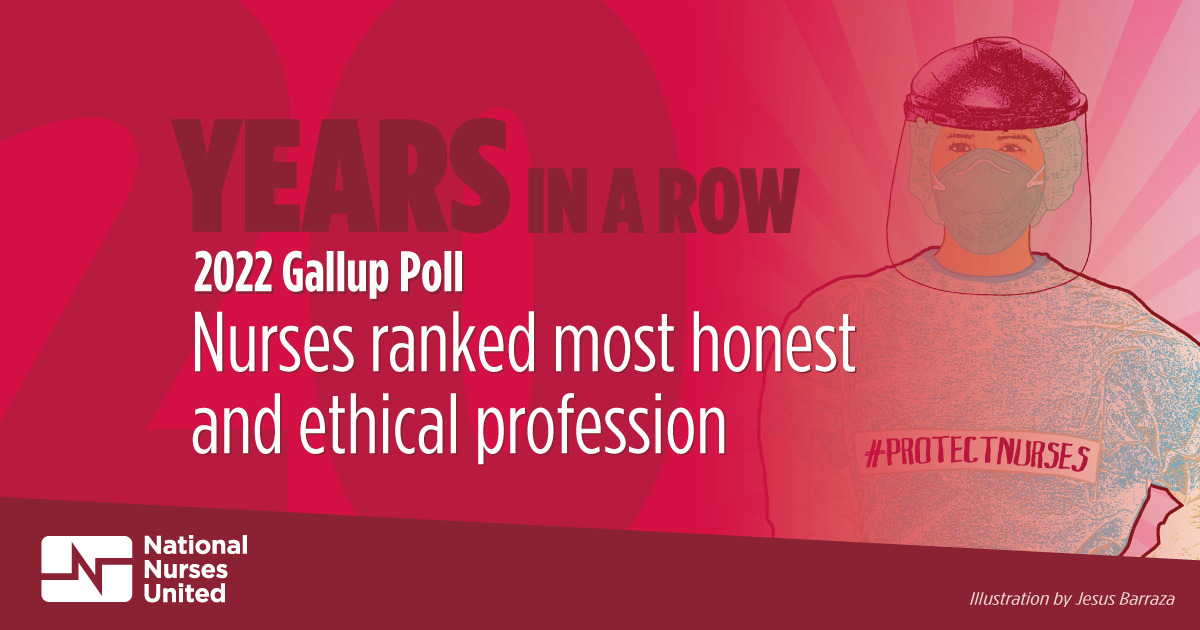 National Nurses United, the largest union of registered nurses in the United States, today celebrated the milestone of registered nurses topping Gallup's annual poll as the most honest and ethical profession for the 20th year in a row.
"Every year, nurses are honored and humbled to be ranked as the most honest and ethical profession in the United States—especially now, when the 20th year of receiving that honor coincides with entering the third year of the Covid-19 pandemic," said National Nurses United President Zenei Triunfo-Cortez, RN. "We know we share a sacred bond of trust with our patients, to always act as their advocates, and we all strive every shift to live up to those duties. But what the pandemic has shown us is that our money-driven employers and often our government agencies will not value our lives and our labor without a collective fight from us  nurses."
Nurses earned 81 percent very high/high score for their honesty and ethics this year. The latest results are based on a Dec. 1-16 Gallup poll in which people in the United States were asked to rate the honesty and ethics of 22 different occupational groups as very high, high, average, low or very low. Gallup first conducted its Honesty and Ethics poll in 1976 and has updated it annually since 1990. A handful of professions have been on the list every year, while Gallup asks about others periodically. Medical doctors, grade-school teachers, and pharmacists also ranked high this year, but not nearly as high as nurses.
Nurses have taken the number one spot on Gallup's Honesty and Ethics list in all but one year since they were added in 1999. The exception is 2001, when firefighters were measured on a one-time basis shortly after the Sept. 11 terrorist attacks.
National Nurses United RNs say these milestone Gallup poll results fuel their ongoing commitment to patient advocacy, which nurses are advancing in a big way today with an NNU national day of action. Nurses are standing up across the country today to demand the hospital industry and the Biden administration act to protect nurses, so nurses can protect their patients.
"Our patients rank us the most trusted profession because they know we will never stop fighting for them, and that's why nurses across the country are holding actions today," said Triunfo-Cortez. "We can't just sit by while patient and health care worker protections are continually eroded by our employers and the government. We will use our collective power to fight for the safe patient care conditions and public health protections that patients and workers across this country deserve."
National Nurses United is the largest and fastest-growing union of registered nurses in the United States with more than 175,000 members nationwide.