Press Release
Nurses condemn OSHA's failure to adopt permanent Covid-19 and infectious disease protections for health care workers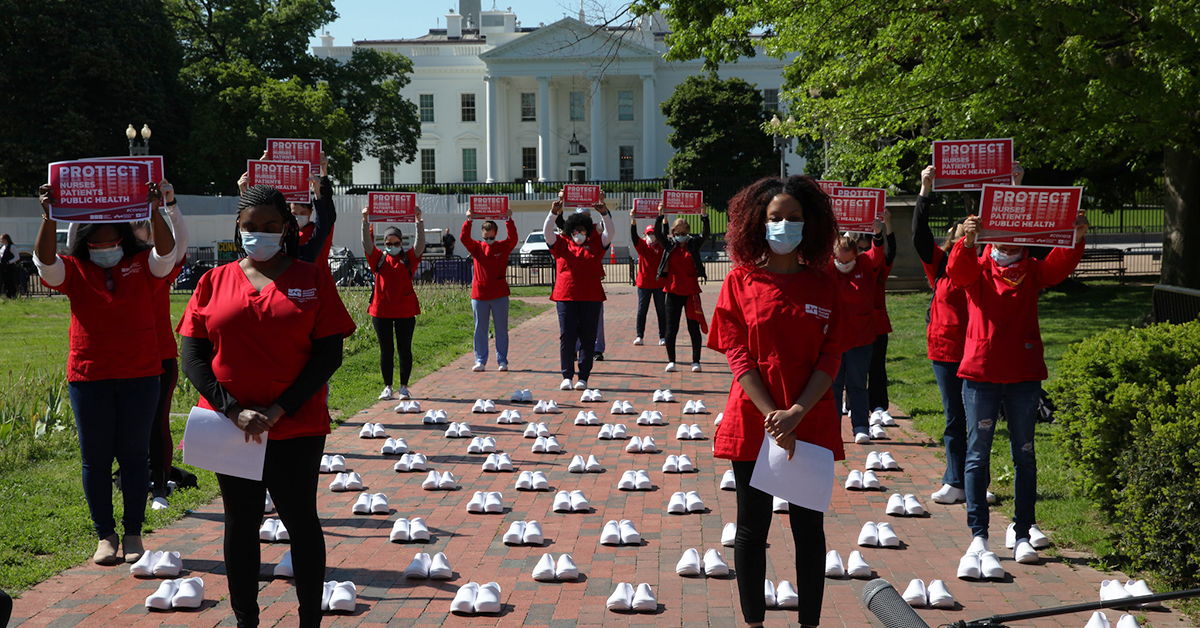 NNU nurses will continue to fight to enforce the temporary standard in hospitals across the country
National Nurses United (NNU) condemns the failure of the U.S. Occupational Safety and Health Administration (OSHA) to adopt a permanent standard on Covid-19 in health care workplaces. OSHA adopted an emergency temporary standard (ETS) in June, but health care workers need the long-term protection of a permanent OSHA standard.
"It is unconscionable that OSHA would not issue a permanent Covid-19 health care standard to protect nurses and other healthcare workers," said NNU Executive Director Bonnie Castillo, RN. "Without an eventual permanent standard, we will see more transmission of the virus, more hospitalizations, and more deaths from Covid-19. Nurses and other health care workers have been putting their lives on the line since the pandemic began.
"It is absolutely essential that our frontline health care workers have these lifesaving protections to do their jobs safely so they can continue to care for patients, especially now, when we are now facing Delta and Omicron variants as well as flu season," said Castillo. "We will hold hospital employers accountable to the highest occupational health and safety standards."
The ETS has imposed mandatory requirements for health care employers on infection control protections, with penalties for those who violate those requirements. Registered nurses noted that this was the first OSHA emergency temporary standard since 1983, and it was promulgated thanks to unrelenting union nurse advocacy over the extensive opposition of the hospital industry and other corporate interests.
Nurses demand that OSHA adopt a permanent standard without delay.
More than 40 unions and other organizations signed a petition, along with more than 6,300 individuals, urging OSHA to adopt a permanent standard for health care workers and encouraged OSHA to work expediently to issue a separate, broader standard to protect all workers from workplace exposure to Covid-19 and other aerosol transmissible diseases. The petition was delivered to OSHA on Dec. 16. Earlier this month, NNU called on OSHA to adopt a permanent standard. By law, the ETS remains in effect until it is superseded by a permanent standard.
"NNU registered nurses will continue to insist on enforcement of the temporary standard in hospitals across the country, just as we have been doing over the past six months" said Castillo. "Nonetheless, OSHA needs to act expeditiously to make the temporary standard permanent."
Before the ETS was issued, health care workers resorted to using garbage bags and bandanas to attempt to protect themselves from Covid-19, and thousands have died due to lack of adequate workplace protections.
"We are never going back," said NNU President Zenei Triunfo-Cortez, RN. "Health care workers have been the backbone of this nation during the pandemic, and we deserve the long-term protection of a permanent standard that we can count on."
"While we appreciate what President Biden said today in his speech on the fight against Covid-19," said Triunfo-Cortez. "And it is important that he has our backs, having our backs means making the OSHA Covid-19 health care standard permanent."
As of this week, 476 RNs have died of Covid-19, among 4,696 health care worker deaths overall, according to NNU tracking data. Since the data has not been collected in many places, a full accounting may never be known. To date, more than 1 million U.S. health care workers have been infected.
National Nurses United is the nation's largest and fastest-growing union and professional association of registered nurses, with more than 175,000 members nationwide