Press Release
National Nurses United launches animated series exploring nurses' work and power throughout the pandemic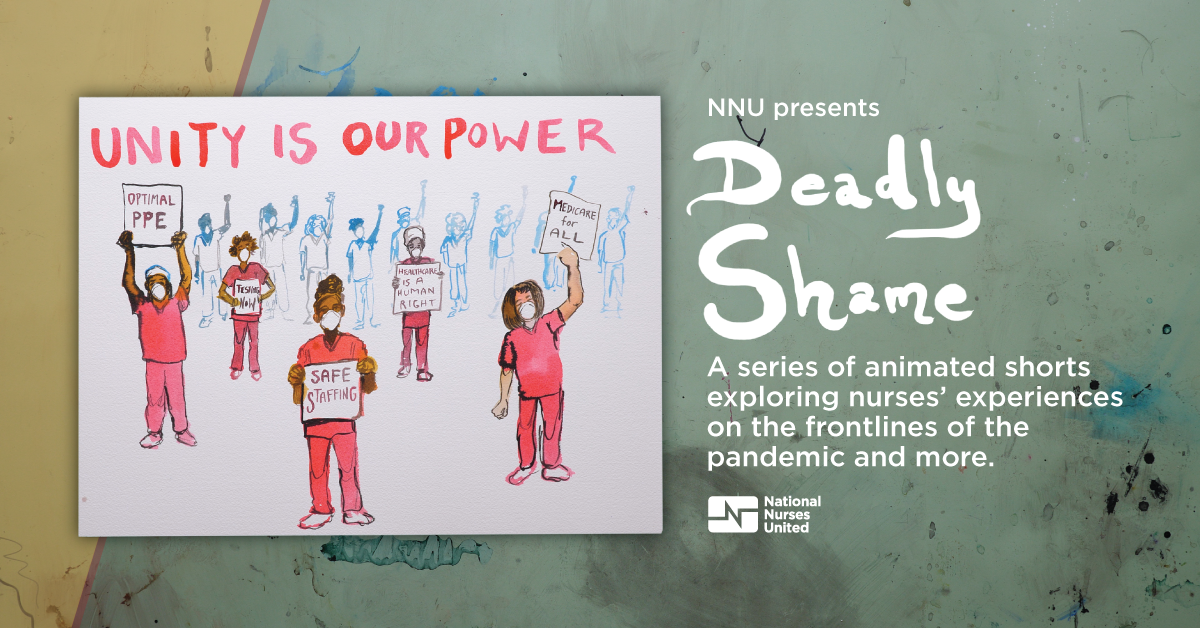 As part of Nurses Week, National Nurses United is releasing a series of animated shorts, developed in collaboration with award-winning artist Molly Crabapple and Sharp as Knives, that explore the nature of nurses' work and help reconcile their role as one of the most publicly respected professions with how poorly they are treated by their employers and the government. "The Deadly Shame" series consists of three episodes that illustrate how the pandemic exposed the devaluation of nurses' care work by employers and elected officials who put profits before patients and workers, and how reversing this dynamic requires nurse organizing and solidarity.
The videos can be accessed at this link.
"This series is a magnificent piece of work, both visually stunning and evocative, which clearly describes the systemic failures that devalue both nurses and patients in our current dysfunctional health care industry," said Cathy Kennedy, RN and president of California Nurses Association/National Nurses Organizing Committee and vice-president of National Nurses United. "If you really want to understand nursing and what we nurses experience, you have to watch these films. While nurses are lauded as 'heroes' and honored with tributes, our employers continue to treat us as expendable. Through this powerful medium, we are able to share our frustrations, disappointments, anger, and loss while encouraging the collective action to fight back for the well-being of all our patients."
Each animated short is narrated by a nurse leader who is providing care throughout the pandemic and who has fought for years for nurse and patient safety.
"It is unconscionable that more than 400 nurses lost their lives in this pandemic because while nurses were committed to protecting their communities, their employers were not committed to protecting them," said Zenei Triunfo-Cortez, RN and also a president of California Nurses Association/National Nurses Organizing Committee and National Nurses United. "We know that the only way we are going to get what we need to stay safe in our hospitals and to push the government to act is by coming together and using our power and our voices to make the change we need for our patients and ourselves."
Episode 1, "Deadly Shame: Care Penalty," focuses on how employers, lawmakers, and society at large have systematically devalued care work, labor that provides life-sustaining care to human beings and society. As nursing is historically characterized as "women's work," nurses pay a "care penalty" resulting in unfair wages and unsafe working conditions that threaten their very lives.
Episode 2, "Deadly Shame: Moral Distress," describes how nurses experience moral injury when they know the right thing to do, but the institutional failures resulting from a money-driven health care system make it impossible for them to do it, and also when they are disregarded and abandoned by employers and elected officials.
Episode 3, "Deadly Shame: Nurse Power," outlines how collective power allows nurses to address the care penalty, moral distress, as well as the short-staffing, lack of resources, and discrimination that are inherent in the for-profit health care system. 
The animated series is based on the findings of Deadly Shame: Redressing the Devaluation of Registered Nurse Labor Through Pandemic Equity, a white paper by National Nurses United.